Bright lights attached to fishing nets stop birds and turtles dying in them, scientists say
Cheap, effective technique has no effect on quantity of fish caught, and shows promise for preventing needless death of marine creatures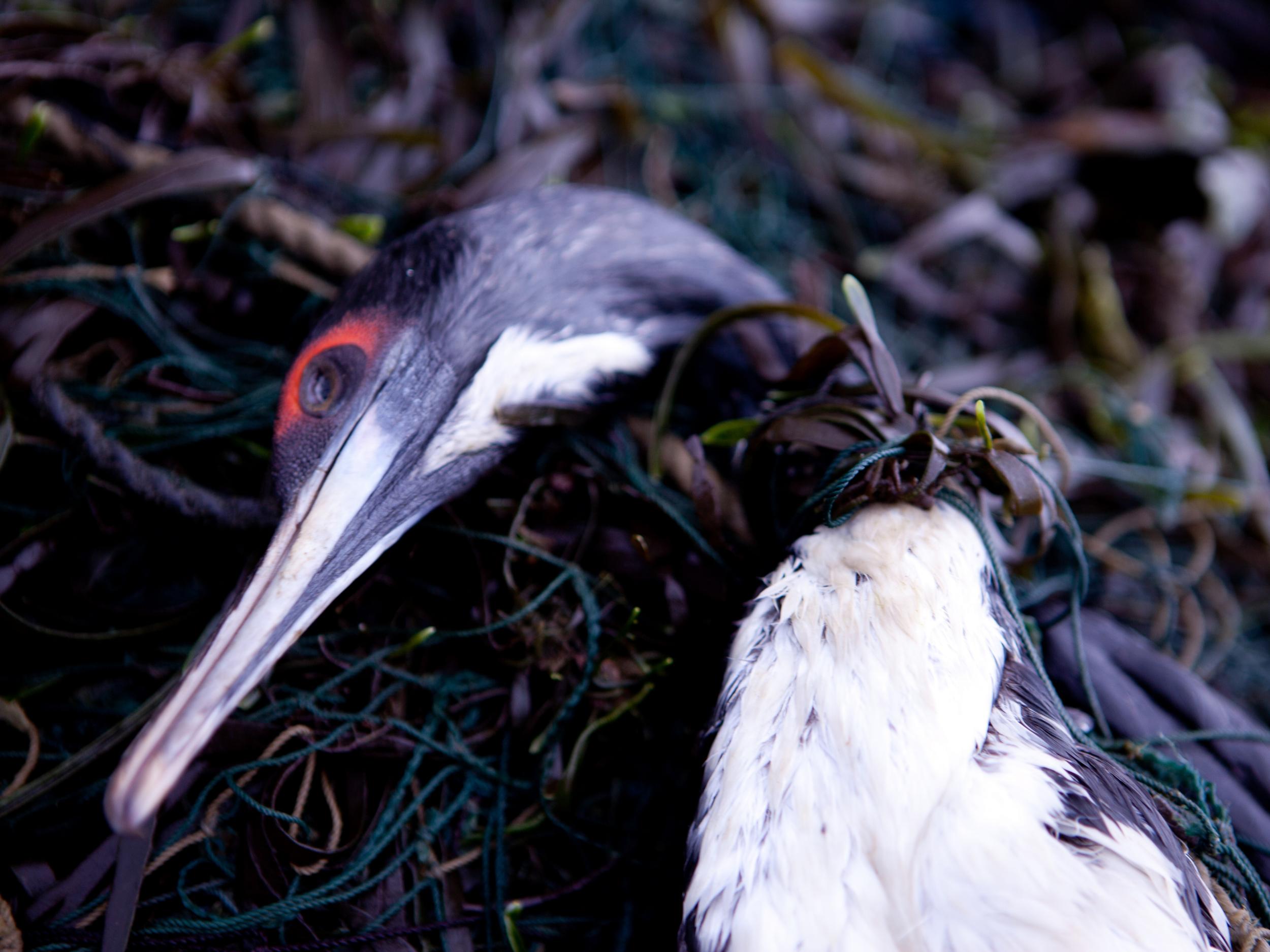 Simply attaching bright LED lights to fishing nets has the power to ward off turtles and seabirds that would otherwise become trapped in them and die.
Bycatch – animals like turtles, birds and dolphins becoming unintentionally caught in nets – has become a major international problem.
Research has shown that fishermen in just a handful of small-scale fisheries in South America kill thousands of turtles every year in this manner, and scientists have been desperately searching for ways to stop this slaughter without disrupting people's livelihoods.
The new work builds on previous techniques pioneered by scientists at the US National Oceanic and Atmospheric Administration that were found to reduce sea turtle bycatch.
Looking to replicate the success of these trials elsewhere, Dr Jeffrey Mangel from the University of Exeter tested these nets in small fishing operations in Peru.
They found that not only did it cut turtle bycatch by around two thirds, it had another happy outcome as well.
"We started to look at the data in more detail and we realised it looked like the bycatch of seabids was also going down," Dr Mangel told The Independent.
Video shows turtles nesting on Mumbai beach for the first time in 20 years
In total, nets fitted with LEDs caught 85 per cent fewer guanay cormorants – native diving birds that often find their way into nets – compared to those without lights.
"That's where it gets interesting, because until now techniques to reduce bycatch usually think about one thing – it makes it easier to find a solution if one thing works for everything."
As the lights are cheap, reliable and durable, the researchers think this could be an easy way to make a big difference to bycatch numbers.
The research was published in the journal Royal Society Open Science.
"The catch that fishermen were going for didn't change when we put the lights on the net – so they caught the same amount of fish, but they didn't catch any turtles or birds," said Dr Mangel.
This is essential, as finding ways to protect wildlife while collaborating with local fishermen will be crucial if changes are to made on any significant scale.
"We need to find ways for coastal peoples to fish with the least impact on the rest of the biodiversity in their seas," agreed Professor Brendan Godley, one of the study's authors.
The researchers are now working on larger Peruvian fisheries, experimenting with different coloured lights and finding out if the same techniques can be applied to protect more endangered species.
Join our commenting forum
Join thought-provoking conversations, follow other Independent readers and see their replies