New European fishing quotas 'disregard science and law', environmental lawyers say
Ministers 'ignoring scientific evidence' and haggling over fishing quotas 'like kids trading football cards', say campaigners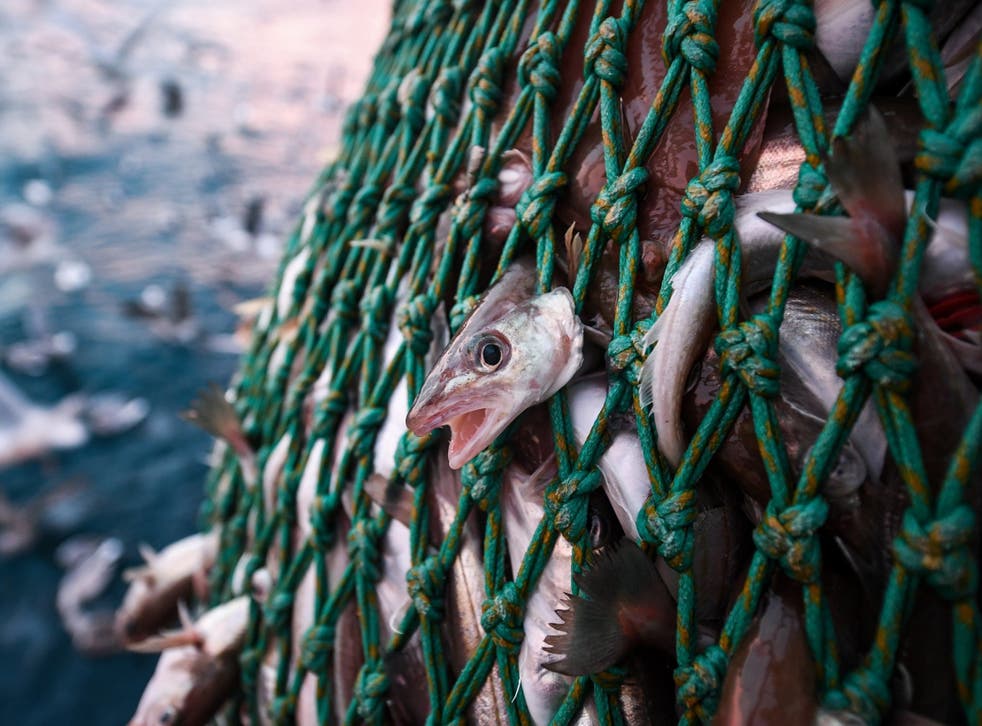 Europe's annual fishing quota limits have exceeded scientific recommendations just one year before a legal requirement to meet sustainable levels comes into force, campaigners and lawyers have warned.
After all night negotiations, the European Union's Agriculture and Fisheries Council reached an agreement early Wednesday on limits for commercial stocks in the Atlantic Ocean and the North Sea for 2019.
The council decided to increase catches for a number of stocks, including plaice in the Skagerrak strait between southern Norway and Denmark; cod, sole and plaice in the Irish Sea, and monkfish off western Scotland.
It will also allow catches to rise by a quarter and a 10 per cent increase in fishing for rays and skate in the Channel.
In keeping with tighter regulations on northern seabass, limited catches using hook and line will be permissible in 2019, including for recreational fishing in which one fish per day will be allowed.
Decreases were also agreed for some stocks, including the European eel.
There are over 100 designated stocks regulated by the EU's quota system. Each European Union member state is then allocated quotas for each stock. For 2019 more stocks are being managed, and by 2020 all fishing quotas must be within scientific advice.
For some parts of the industry the restrictions in the deal are not welcome news. The agreement has been described as "less than what was hoped" for Scottish vessels.
Scientific advice on the maximum sustainable yield for each stock was followed for 59, compared to 53 in 2018.
Campaigners have described the levels as "very modest progress", and said the council was delaying stock recovery and "risking even more painful quota cuts next year".
"This should have been the year in which fishing quotas finally followed scientific advice, and EU fisheries ministers made history by ending overfishing in EU waters" said Rebecca Hubbard, program director for conservation group Our Fish.
"Instead, we saw another absurd all-night meeting behind closed doors, where ministers haggled over fishing quotas like kids trading football cards. By choosing to set fishing limits above scientific advice for many stocks, they have ignored European citizens and all of the evidence that shows ending overfishing will deliver healthy fish stocks, more jobs and security for coastal communities."
UK news in pictures

Show all 50
Science and policy advisor Jenni Grossmann, from environmental law charity ClientEarth, said: "With this decision EU ministers have once again signed off overfishing for certain stocks in European waters, including vulnerable species such as whiting in the Irish Sea and cod in the West of Scotland and in the Celtic Sea.
"This year's December council negotiations were the penultimate chance for ministers to get on track to meeting the legal 2020 deadline for sustainable fishing limits. By disregarding scientific advice, they are delaying stock recovery and risking even more painful quota cuts next year.
This was echoed by conservation group Oceana's European executive director Lasse Gustavsson, who said: "The EU Fisheries Council has yet again rejected calls for the sustainable management of fishing in the Atlantic. Setting catch limits that, year after year, exceed scientific recommendations is ecologically and economically unwise and should no longer go unnoticed by civil society.
"It's time EU ministers stop wasting the opportunity to provide more food, create more jobs and generate more money. What they have not done today, they will have no choice but to fix this time next year, when they will be staring the 2020 deadline right in the face."
Support free-thinking journalism and attend Independent events
UK fisheries minister George Eustice welcomed quota increases for megrim and hake and progress towards achieving sustainable fisheries in a "particularly challenging year of negotiations".
He said: "These negotiations were the culmination of months of government-led work with the devolved administrations, industry and environmental NGOs, to secure the best possible deal for the whole of the UK fishing industry. We entered into discussions knowing that a good deal needed to carefully balance progress towards sustainability targets, while ensuring that we listen to the scientific evidence on the health of fish stocks and safeguard a profitable future for our hard-working fleet."
Scottish fisheries secretary Fergus Ewing said: "This year's negotiations in Brussels have been undertaken against an extraordinary political backdrop, adding to the already significant challenge of securing a good deal for Scottish fishing. I'm sure that many within our fishing industry will share my disappointment at some of the outcomes agreed, but recognise that the Scottish government made the best of a bad situation."
Register for free to continue reading
Registration is a free and easy way to support our truly independent journalism
By registering, you will also enjoy limited access to Premium articles, exclusive newsletters, commenting, and virtual events with our leading journalists
Already have an account? sign in
Register for free to continue reading
Registration is a free and easy way to support our truly independent journalism
By registering, you will also enjoy limited access to Premium articles, exclusive newsletters, commenting, and virtual events with our leading journalists
Already have an account? sign in
Join our new commenting forum
Join thought-provoking conversations, follow other Independent readers and see their replies