Foraging: Conservationists accuse leading 'wild' food firm of destroying plant habitat
Exclusive: Concerns foraging is now so popular it is becoming unsustainable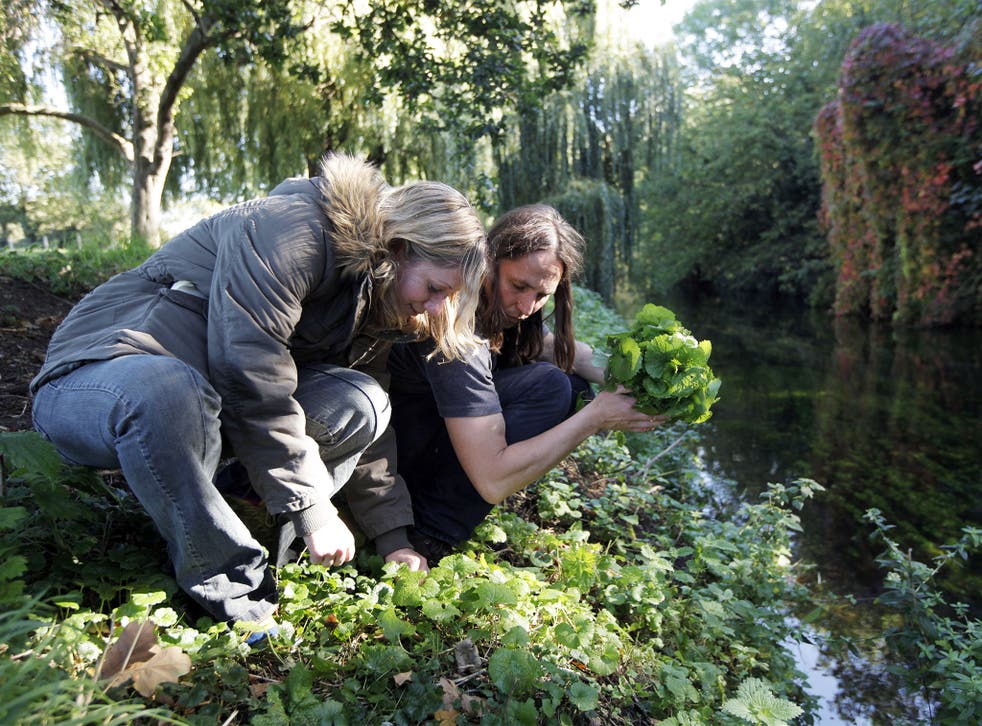 Britain's biggest "wild" food supplier could be banned from gathering sea kale along the Kent and East Sussex coast, amid a growing backlash against foraging.
The case pits Natural England against Forager Ltd, a supplier of wild ingredients including Japanese rose petals and Sea Buckthorn juice to high-end restaurants.
The firm counts London celebrity favourite The Ivy among its clients. The dispute revolves around sea kale, a vegetable so popular in Victorian times it was harvested to near-extinction and was banned in the early 20th century.
The plant, which grows naturally on the edge of shingle beaches, has recently regained popularity after being championed by celebrity chefs such as Raymond Blanc, Tom Kitchin and Darina Allen. Its roots are cooked as vegetables, with the leaves used in salads.
Natural England contends that the Canterbury-based firm is collecting sea kale on a large scale, destroying valuable plant habitat on the protected Dungeness, Romney Marsh and Rye Bay stretch of coast in the process.
The allegation is strongly contested by Miles Irving, the founder of Forager, who accuses foraging critics of being misguided.
"Conservationists are in danger of treating the natural world like a museum exhibit we can see but not touch," he told The Independent. "It is engagement with the natural world which will enable us to secure its future, not isolation from it."
Conservation groups are becoming increasingly concerned that celebrity chefs such as Hugh Fearnley-Whittingstall have made foraging so popular that it has become unsustainable in some habitats. They are particularly concerned about the volume of wild mushrooms being picked in parts of Epping Forest and the New Forest.
Foraging in coastal areas has received less attention, but Natural England insists it is has become a serious problem. David Burton, senior adviser at Natural England, said: "We have evidence that the level of foraging is likely to have a detrimental effect on the whole shingle community of plants on the site – not just the sea kale, but all the other sensitive species out there. Especially lichen, which can take years and years to grow.
"Trampling on the shingle is having a serious negative effect. We can see that over time it could really knock the community. If it carried on at this rate you could see species being lost and the community being degraded."
The Dungeness, Romney Marsh and Rye Bay Scientific Site of Special Interest (SSSI) is one of the few lowland areas in Britain where natural plant communities are virtually untainted by "man's traditional management", according to a previous Natural England analysis of the site.
The shingle supports about 600 plant species, including two that are particularly rare in the UK – the stinking hawk's-beard and the early spider orchid – as well as many that are uncommon in the region. The RSPB has a reserve on the SSSI. Foraging does not take place on the RSPB's section but the society said it was concerned about the level of kale collection elsewhere on the site.
The legal case began in April when Natural England issued a "Stop Notice" for sea kale collection against Forager Ltd. This is a legal tool that Natural England can use in its capacity as the regulator of SSSI sites in England - but which can be appealed through a tribunal.
Mr Burton appealed the "Stop Notice" and the judge is expected to make his decision in the next two to three weeks. The stop order is invalid until ruled upon, meaning kale gathering is currently sill permitted.
Mr Irving of Forager said: "The Stop Notice says we are causing serious harm to the environment, and committing an offence under the wildlife and Countryside Act... If I understand this correctly, the damage must equate to things like some kind of habitat loss or death of protected species. We haven't caused the death of anything, let alone a protected species. We certainly haven't destroyed any habitat."
"We don't think they've done a very good job of this but it is now up to the judge of the First-tier Tribunal to decide," he added.
Forager Ltd: A labour of love
Forager Ltd was set up in 2013 by Miles Irving, a lifelong forager who developed a taste for wild food aged six after going mushroom picking with his grandfather in Suffolk.
A leading figure in the foraging movement, Mr Irving supplies more than 500 food products from around 300 plants online and to restaurants. These include Heston Blumenthal's restaurant Dinner, the trendy eatery Roast in London's Borough Market, The Ivy and The Ledbury.
"I don't see this as a way of making money but as a way of changing things. There are eight people working here, and we are all committed to being sustainable," he said. Having made a significant mark in the UK, Mr Irving is turning his attention to other countries, such as Brazil and Australia. He wants to help the indigenous tribes of both countries to find the wild food that is abundant in their areas and market it to restaurants in the cities.
"We want to create a strong model for them to find a place in modernity and their traditional culture. By celebrating their culture, they will get the real wow factor with people in the city," he said.
Register for free to continue reading
Registration is a free and easy way to support our truly independent journalism
By registering, you will also enjoy limited access to Premium articles, exclusive newsletters, commenting, and virtual events with our leading journalists
Already have an account? sign in
Register for free to continue reading
Registration is a free and easy way to support our truly independent journalism
By registering, you will also enjoy limited access to Premium articles, exclusive newsletters, commenting, and virtual events with our leading journalists
Already have an account? sign in
Join our new commenting forum
Join thought-provoking conversations, follow other Independent readers and see their replies