Forest guards told to shoot poachers on sight after rash of tiger killings
India hits back against hunters who sell body parts to Asia for use in traditional medicines
Andrew Buncombe
Wednesday 23 May 2012 23:04 Comments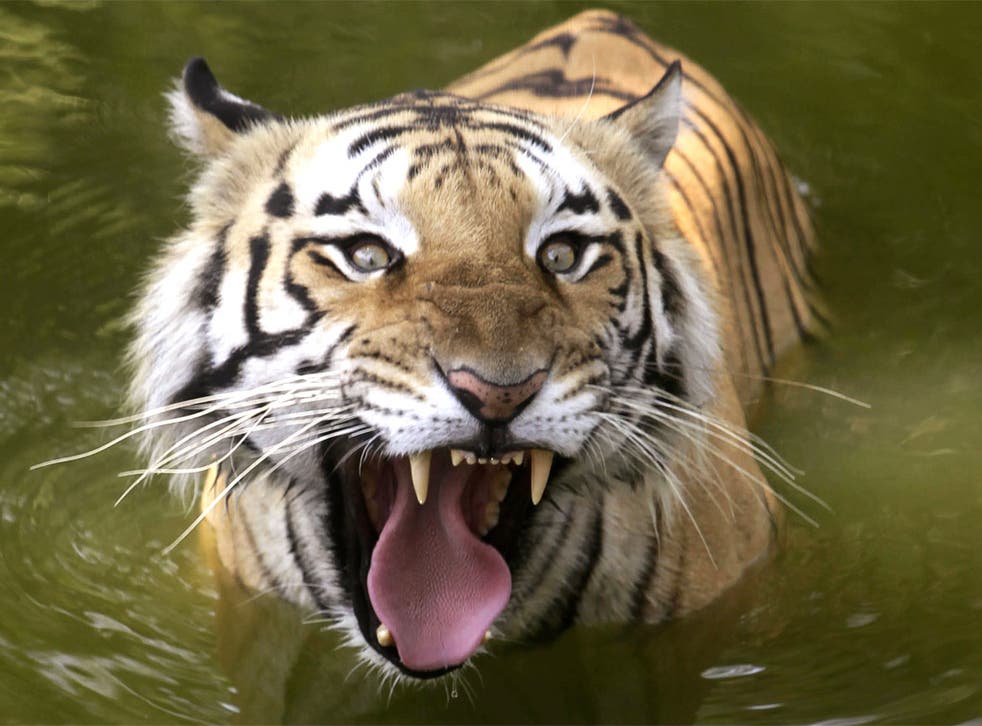 Authorities in India have told forest guards to shoot tiger poachers "on sight" in the latest effort to save the country's most famous animal.
Click HERE to view graphic
Confronted by the killing of at least eight tigers in the state so far this year, officials in the western state of Maharashtra, whose capital is Mumbai, have told forest guards they will have the same legal protection as police officers who have to use their guns on duty.
According to a report in The Indian Express newspaper, the state's Forest Minister, Patangrao Kadam, told officials this week that he wanted to do whatever was required to protect the guards. "Human rights groups come in the way if there is any such action, but there is a need to save the tigers," he said. "If the staff spot poachers committing an offence, they have been given orders to shoot on sight. They should sound a warning asking them to surrender, but if the poachers fail to do so, they should be shot."
The orders giving forest guards legal protection should they need to use weapons were apparently first issued in 2006, but reports suggest that a number of guards felt uneasy about using their guns. Most of the guards are poorly trained and badly paid and there had been cases where guards had been charged for firing a weapon.
Officials in Maharashtra were forced to act after a spate of recent tiger killings by poachers. According to the Wildlife Protection Society of India (WPSI), 14 of the animals have been killed there by poachers this year, already one more than the total for 2011. Eight of those animals were killed in Maharashtra, the most recent kill taking place last week when the body of an animal was found chopped into pieces, with its head and paws missing, in the Tadoba Tiger Reserve.
Belinda Wright, head of the WPSI, said yesterday that officials had little option but to act. "They have had to do something because they have lost a series of tigers in this area and the poachers are acting with impunity," she said. Five tigers had been killed in the Tadoba park this year, she added.
For decades, India has fought a seemingly hopeless battle to preserve its tigers, which are pursued and preyed upon by poachers who supply bones, skin, genitals and teeth to traditional medicine markets in east Asia. Most poachers are professional and belong to one of two tribal communities that move around India's national parks.
In 1900 the country's tiger population stood at an estimated 100,000; the most recent census put the number at around 1,700. That figure, published last year, represented a 20 per cent increase on the previous census. However, it included several areas of India, including the Sunderbans of West Bengal, which is home to a large population of tigers, that had not been counted before.
Ms Wright said the Tadoba Tiger Reserve, which is located in the far east of Maharashtra, was home to around 40 tigers. The dismembered carcass of last week's victim was found by a forest guard. The head and paws had been removed and there were drag marks around the area. Burns on the hind limb of the body indicated it had been electrocuted, campaigners said.
A reward of 100,000 rupees, or £1,160, has been announced for information leading to the arrest of the poachers.
Register for free to continue reading
Registration is a free and easy way to support our truly independent journalism
By registering, you will also enjoy limited access to Premium articles, exclusive newsletters, commenting, and virtual events with our leading journalists
Already have an account? sign in
Join our new commenting forum
Join thought-provoking conversations, follow other Independent readers and see their replies