Forget all those 'polite' landscape paintings and let the great Kurt Jackson show you how to do it
The brilliant 51 year old, a committed environmentalist, comes to landscapes through ecology - which makes him interested in more than mere surface appearances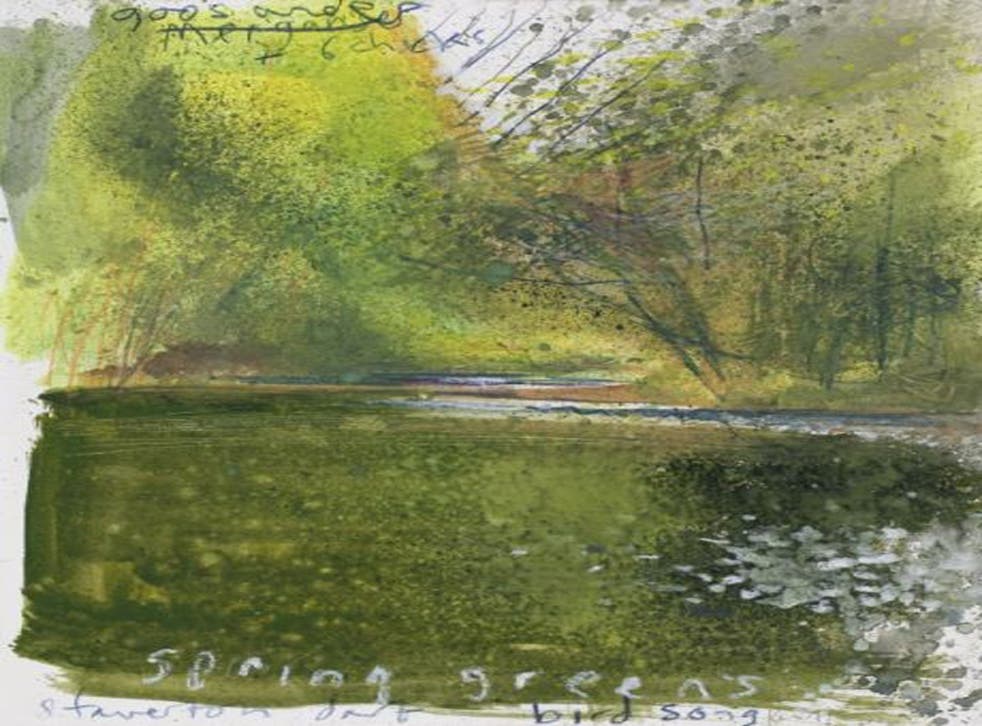 Landscape painting has tended to have a rather polite, well-mannered image in Britain, perhaps because – despite the great canvases of Constable and Turner – its most defining exponents in the British artistic tradition have been the watercolourists of the 18th and 19th centuries, from Paul Sandby and Peter de Wint to Thomas Girtin and John Sell Cotman.
Calling these artists "polite" might arouse the ire of their devotees, and indeed a small painting like Girtin's White House at Chelsea (which is in the Tate) causes your heartbeat to shoot straight up with its beauty, it rocks you back on your heels like a push from a drunk. All the same, exquisite as many of their productions were, they did tend to portray an ordered, settled, unthreatening world, where nature was seen as a rational phenomenon: it was knowable, it was predictable, it wouldn't leap out and bite you, but could be calmly appreciated.
Yet nature is not really well-mannered, or predictable, or even necessarily knowable: the mere growth of a flower involves titanic, elemental forces, from the power of the sun to the chemistry of carbon. Understanding this as we do now, it's clear that a polite, or shall we say a tame, portrayal of the natural world and its landscapes, which may be fine for wall decoration, is no longer adequate to excite us or fully engage us. This is why so many people give thanks for Kurt Jackson.
At 51, Jackson is by common consent our best landscape painter, or at least he is certainly our most celebrated: for more than a decade he has been artist in residence at the Glastonbury Festival, and has worked with Greenpeace, Friends of the Earth and other leading green groups, being a committed environmentalist. This means he comes to landscape through ecology: he is interested in the whole meaning of it, not just its surface appearance, and what he peerlessly conveys to us are those elemental forces, "the force that through the green fuse drives the flower", as Dylan Thomas put it.
He does so with a style which is anything but tame, sometimes almost violent (he's been compared to the Abstract Expressionists) yet which never leaves its subject behind. Far better judges than me have written at length of why Kurt Jackson is so compelling, but my own feeling boils down to a word that the Victorian Jesuit poet Gerard Manley Hopkins coined: inscape. It means the essence of a creature, the quality which allows for instant recognition from the briefest glimpse, the "is-ness" of it, if you like. Whether he is painting the turbulent cold sea of west Cornwall where he lives, or the olive groves of Greece in the heat of noon, however violent the brush strokes, Jackson captures the inscape of them unfailingly.
If you don't know his work, now is a good time to encounter it, because Jackson has just published his sketchbooks (Lund Humphries, £35). He works compulsively every day and, in these quickly executed pencil drawings and pint-sized paintings in mixed media, you can see him seizing the fleeting impression and homing in on it, whether it be his wife Caroline nodding off, or the crowd cavorting in front of the Glastonbury stage, or the image of Devon's River Dart we show here.
The "green tunnel" will be recognised at once by anyone who has seen a river flowing under willows and other bankside trees during that brief fortnight in springtime before the iridescent emerald of the new leaves loses its extraordinary power. There, is the scene; there, is the moment; and there, is the inscape, and that man Jackson has captured it.
m.mccarthy@independent.co.uk
Join our new commenting forum
Join thought-provoking conversations, follow other Independent readers and see their replies