Fossil fuel industry must contribute towards £44bn climate change damage in UK each year, campaigners say
'It's time the industry is held to account for the range of damage it causes and is made to foot much of the bill for the transition to clean energy'
Josh Gabbatiss
Science Correspondent
Sunday 24 March 2019 01:09 Comments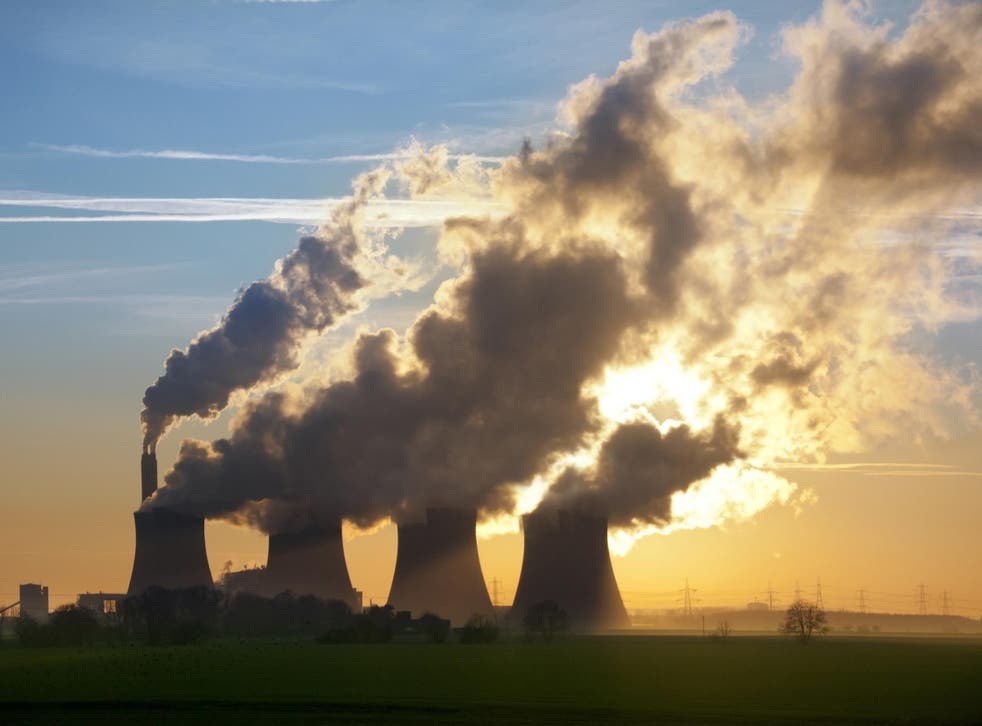 Coal, oil and gas industries in the UK cause at least £44 billion pounds of damage each year, according to a new estimate by environmental campaigners.
Friends of the Earth have called for the "polluter pays" principle to be applied, with a new carbon tax levied on companies so they can contribute to a green transition.
They argue the fossil fuel industry has long been aware of the harmful effects of climate change, such as its impact on extreme weather.
"If you pollute, you pay. It's a simple fix to help avoid catastrophic climate breakdown. For decades the oil, coal and gas industry has extracted, processed, sold and profited from fossil fuels," said Mike Childs, head of policy for Friends of the Earth.
"The costs of this industry are being felt by people and nature across the world through more extreme weather, such as floods, droughts and wildfires.
"Act now or swim later" - Children worldwide protest climate change

Show all 38
"It's time the industry is held to account for the range of damage it causes and is made to foot much of the bill for the transition to clean energy."
In their new analysis, the green group used an average "social cost of carbon" price based on a recent studies that have priced up the impact each tonne of emissions has.
The campaigners took into consideration fossil fuel companies, the "big 6" energy companies and oil refineries.
Their estimate is based solely on the contribution fossil fuels make to climate change, and not other damaging factors such as the effects of air pollution on health.
They concluded an additional £22bn a year of public investment is needed to help combat climate change in the UK, and a carbon tax could contribute to that.
Among the measures they said could be funded were making housing energy efficient, public transport, renewable energy and tree planting.
They also emphasised the need for additional funding for defences against the increased flooding and fires as temperatures and sea levels rise.
New £165m coal mine in Cumbria 'unanimously approved' by councillors despite escalating climate change crisis
Mike Tholen, upstream policy director for trade association Oil & Gas UK said there were already measures in place to ensure the industry moved towards a cleaner future.
He pointed to the EU's emissions trading scheme, which is seen as "the most effective means of reducing emissions".
"The UK government has stated plans for a similar system within its Brexit white paper," he said.
"Diversity of energy supply remains essential and there is a clear role for the UK industry to meet society's oil and gas demand from indigenous sources.
"This provides security of energy supply whilst supporting the transition to a low carbon economy, aided by new technologies such as carbon capture, usage and storage and hydrogen and our ongoing efforts to reduce emissions at source."
After president Emmanuel Macron's fuel duty contributed to the rise of the "gilets jaunes" in France, Friends of the Earth warned against measures that penalise consumers "without sufficient investment in alternatives".
With scientists warning the planet is on track for a devastating 3C of warming by the end of the century, the campaigners said the government must urgently review its spending in an effort to meets its Paris climate agreement targets.
"Whatever happens with Brexit, the cliff-edge that is definitely approaching is carbon pricing policies in the UK," said Mr Childs.
"The short-term costs of shifting to a low-carbon future are far lower than the devastating human and environmental cost of business as usual."
The Independent has contacted the Department for Business, Energy and Industrial Strategy for comment.
Support free-thinking journalism and attend Independent events
Register for free to continue reading
Registration is a free and easy way to support our truly independent journalism
By registering, you will also enjoy limited access to Premium articles, exclusive newsletters, commenting, and virtual events with our leading journalists
Already have an account? sign in
Join our new commenting forum
Join thought-provoking conversations, follow other Independent readers and see their replies