While focus is on the coronavirus, these states are criminalizing fossil fuel protests
The legislation 'strikes at the heart of every American's right to free speech and assembly', say critics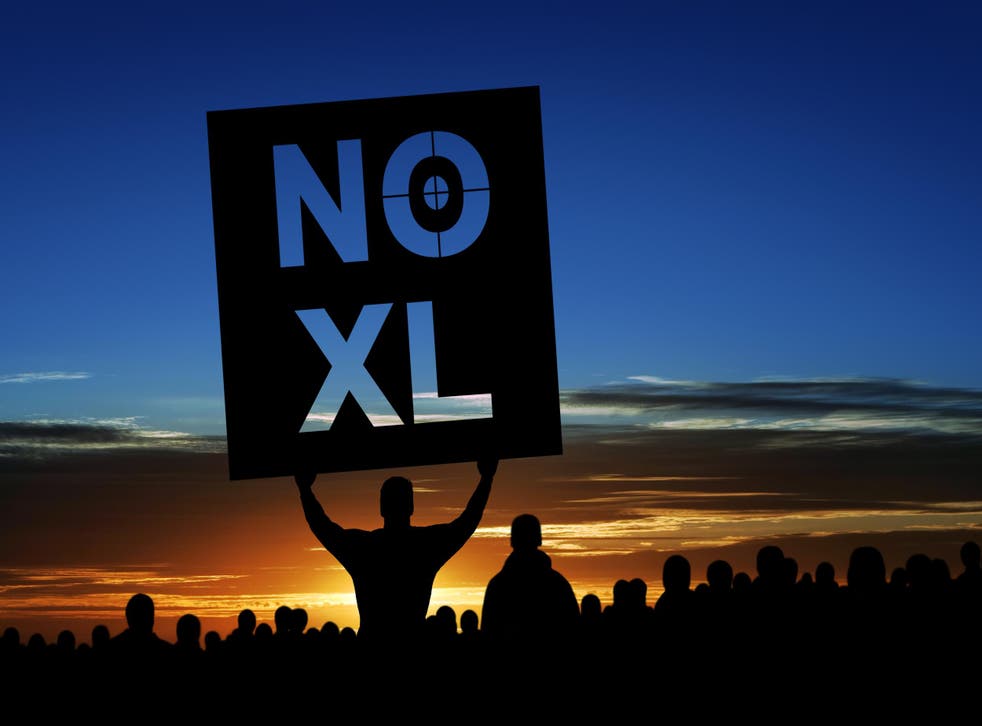 Criminal penalties for protesting against the fossil fuel industry are being introduced into law by three states with others expected to follow suit.
As the nation focuses on the raging coronavirus pandemic, governors in Kentucky, South Dakota and West Virginia signed laws last month deeming oil and gas pipelines and facilities "critical" or "key" infrastructure and enacting strong penalties for protests.
Kentucky Governor, Democrat Andy Beshear, led the way with legislation around gas and oil pipeline "assets" that make "tampering with, impeding, or inhibiting operations of a key infrastructure asset [a] criminal mischief in the first degree".
Next was South Dakota Governor, Republican Kirsti Noem, with a law designating oil, gas or utility equipment as "critical infrastructure," and a separate bill classifying a "felony riot" as "intentional use of force or violence by three or more persons" that causes "any damage to property".
Global Climate Strike – Independent's best photos

Show all 50
Republican Governor Jim Justice of West Virginia also went after protesters creating legislation for fines up to $25,000 for substantial damage to the newly-assigned "critical infrastructure" of oil, gas and pipeline facilities.
The anti-protest legislation comes in the wake of a series of rollbacks by the Trump administration in favor of the fossil fuel industry.
This week the Environmental Protection Agency rolled back vehicle emission standards and eased policing on polluters.
While the nation focuses on the mounting coronavirus death toll, mitigating new infections and worrying about the rising tide of unemployment, the legislation is being slipped under the radar, critics say.
Mitch Jones, policy director, Food & Water Action told The Independent: "Under the fog of a global health crisis, states are aggressively pursuing legislation that would strike at the heart of every American's right to free speech and assembly. The purpose of these measures is simple: to help fossil fuel corporations keep profiting to the maximum extent possible. We have been fighting these bills across the country for years, and we'll continue to do so, because we simply can't let compromised legislators continue to infringe upon American's rights at the behest of a dangerous, polluting industry."
Connor Gibson, researcher with Greenpeace USA, who alerted HuffPost to the legislation, said: "While we are all paying attention to COVID-19 and the congressional stimulus packages, state legislatures are quietly passing fossil-fuel-backed anti-protest laws. These laws do nothing new to protect communities. Instead they seek to crack down on the sort of nonviolent civil disobedience that has shaped much of our nation's greatest political and social victories."
More legislation is coming: Alabama's state senate passed a similar bill before hearings were suspended until later this month due to Covid-19. Five other states have plans in the works – Illinois, Minnesota, Mississippi, Ohio and Pennsylvania.
One of the most significant protest movements in recent years has been by tribes and environmentalists at the Standing Rock reservation in North Dakota over the Dakota Access pipeline.
Although Trump signed an executive order soon to move ahead with that project, last month a federal judge ordered the US Army Corps to conduct a full review over environmental concerns.
Register for free to continue reading
Registration is a free and easy way to support our truly independent journalism
By registering, you will also enjoy limited access to Premium articles, exclusive newsletters, commenting, and virtual events with our leading journalists
Already have an account? sign in
Register for free to continue reading
Registration is a free and easy way to support our truly independent journalism
By registering, you will also enjoy limited access to Premium articles, exclusive newsletters, commenting, and virtual events with our leading journalists
Already have an account? sign in
Join our new commenting forum
Join thought-provoking conversations, follow other Independent readers and see their replies