How to make sure your money is not funding the climate crisis
Many of us do not really know how our money is invested on our behalf, but making the right financial choices can be one of the simplest and most effective ways to have an impact, writes Ben Chapman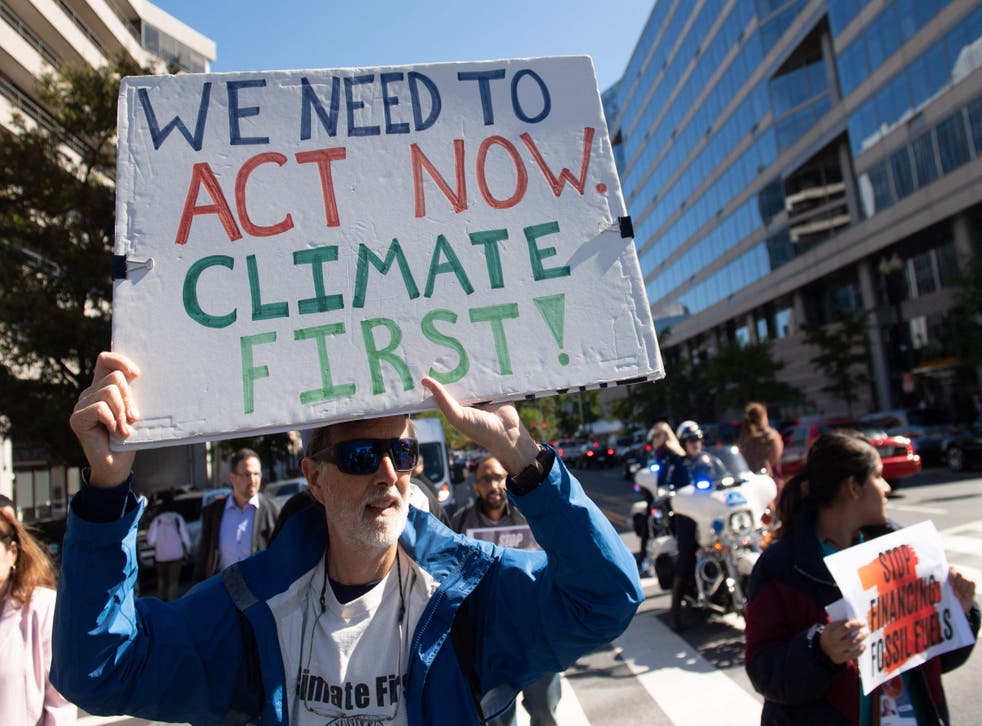 Changing who you bank with and how your savings are invested are two of the easiest and most effective ways to have a positive impact on the climate crisis.
While many people are making increasingly ethical consumer choices, such as buying products with less plastic or cutting back on meat, fewer of us have made similar decisions with our finances.
The Independent's Stop Fuelling The Climate Crisis campaign is calling for more action to stop support for fossil fuels, including from banks who are backing projects around the world.
Making simple changes to your banking can have a large and ongoing positive impact with a tiny investment of time. So what's the best way to do it?
Pensions and savings
Switching your pension pot and savings to ensure they aren't funding the climate crisis can be a very quick process if you stay with the same provider, but it's advisable to spend a little more time researching the right fund.
We are supposed to put around one pound in every eight we earn into a pension fund, so this decision probably has more impact than any other you can make.
All large pension providers offer green funds which won't invest in things like fossil fuels. There are around 300 "environmental, social and governance" (ESG) funds to choose from.
Some may have a green label but still allow your money to buy shares in firms that have a significant negative climate change impact. There is not yet an industry-wide set of standards for designating what constitutes a "responsible" fund. BlackRock's Climate Transition Fund, for example, has holdings in Exxon Mobil and Chevron.
It's best to read through the fund's policies and exclusion criteria.
Unfortunately, it can be difficult to find out exactly what is in your pension fund because managers don't publish all of the data, only a summary of the largest holdings and a breakdown of which industries your money is allocated to.
Michael Kind, of campaign group ShareAction, explains: "Lots of pension providers are coming out with net zero commitments but you really need to check that there is substance behind them.
"We would encourage providers to set out what that net zero plan looks like in practice, so that an individual who wants to move their money can know that there is actually a plan to get there."
Once you've decided on a new fund, contact your existing provider and tell them you want to switch. They will walk you through the process and provide any forms you need to fill in. Be aware that there will likely be charges to switch.
For further information try the Pensions Advisory Service and Pension Wise. If you are unsure about the option to take, speak to a qualified financial advisor.
Shareholder power
Some funds go beyond simply excluding certain companies or their bonds; they actively pressure the companies they invest in to change.
Fund managers control trillions of pounds, meaning they wield huge power that is growing as people live longer and set aside more for retirement. Pension funds are among most listed companies' biggest shareholders, which means they can influence decisions by voting in favour of shareholder resolutions that require action on climate change.
ShareAction files shareholder resolutions and can assist you if you want to tell your pension provider to back them – after all, it is your money that's being invested.
Sometimes companies change their ways even if the resolution doesn't gather the required number of votes. Both Barclays and HSBC have recently changed climate policies after shareholder pressure.
How do I know if my bank is financing fossil fuels?
Switching your current account is relatively easy and one of the biggest individual acts you can take to have an impact on the climate crisis.
The first step is to find out how good or bad your bank's record is on fossil fuels. There are a few resources available online for this. Among the simplest to use is Bank.green.
The organisation collates data from a number of trusted sources including NGOs such as BankTrack. It has done its own research to verify the numbers and spoken with banks to understand their financing of fossil fuels and commitments to change.
Banks are grouped into categories based on the level to which they are funding companies that contribute to the climate crisis.
In the worst-performing category are 60 global banks, including many of the biggest names on the UK high street.
In the five years since the Paris Agreement on climate change, the banks in this category have funnelled $3.8 trillion into coal, oil, and gas, according to the Rainforest Action Network.
Bank.green also has a list of lenders with good ethical credentials, including Monzo, Nationwide and Triodos. Bank.green says another action you can take is to call your bank directly and simply ask: do you fund fossil fuels? If you do switch as a result, make sure to let your bank know that its fossil fuel financing was a reason for your decision.
How do I switch my current account?
It's a quick process, as Alice Hu of Bank.green explains: "It might take you months to go vegan but you can set up an account with an ethical bank in a few minutes."
Once you've set up the new account, inform your current bank that you want to switch. In the UK, a current account switching service means banks must transfer all regular payments such as your salary and direct debits to your new account within seven days.
The process is a little more labour-intensive in the US and some other countries, which do not have a switching guarantee, but it offers a good environmental return on your investment.
Will it really make much difference?
According to Hu: "You can make big sacrifices in your life – like never flying or going vegan – which may not be convenient, but switching your bank is one of the most impactful things you can do."
She believes that switching your bank gives more bang for your buck because it applies pressure to the "fundamental levers" of the economy.
"Banks have massive amounts of money, massive amounts of power and are enabling the expansion of fossil fuels right now.
"The climate crisis needs to be combated collectively but individual action is still key."
Register for free to continue reading
Registration is a free and easy way to support our truly independent journalism
By registering, you will also enjoy limited access to Premium articles, exclusive newsletters, commenting, and virtual events with our leading journalists
Already have an account? sign in
Register for free to continue reading
Registration is a free and easy way to support our truly independent journalism
By registering, you will also enjoy limited access to Premium articles, exclusive newsletters, commenting, and virtual events with our leading journalists
Already have an account? sign in
Join our new commenting forum
Join thought-provoking conversations, follow other Independent readers and see their replies