Four northern white rhinos left in the world after female Nabire dies at Czech zoo
Hope to prevent total extinction is fading after years of failed breeding attempts
Lizzie Dearden
Wednesday 29 July 2015 10:14 Comments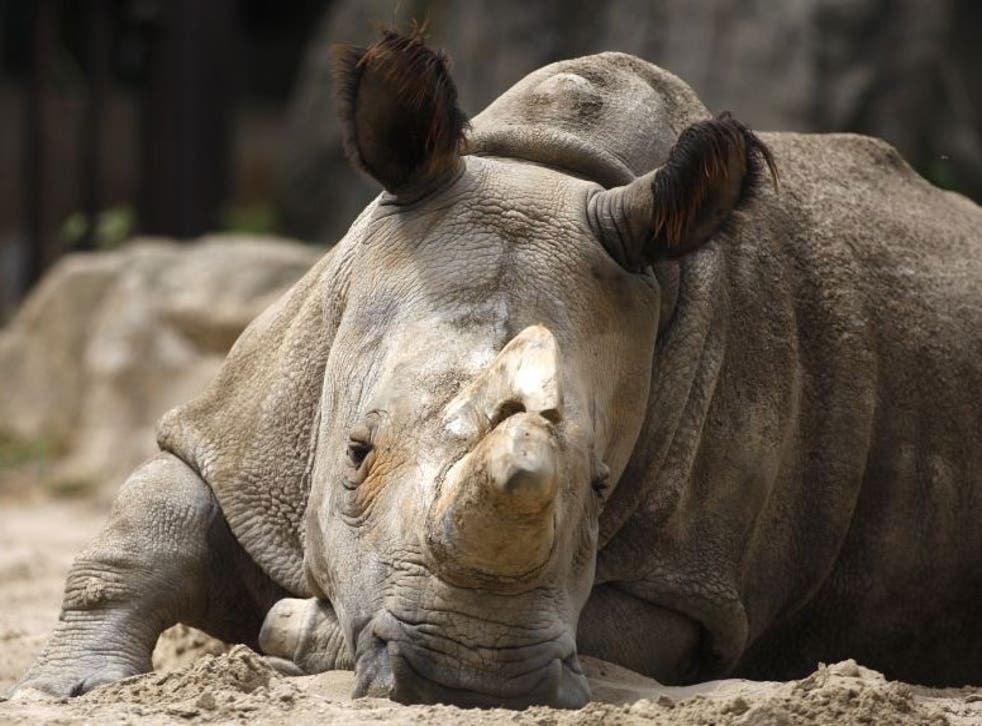 There are only four northern white rhinoceros left alive in the world after the death of one of the critically endangered animals at a zoo.
Nabiré was bred in captivity as one of the last hopes for her species but died after suffering a ruptured cyst on Monday.
Keepers at the Dvůr Králové Zoo, in the Czech Republic, described it as a "terrible loss".
Přemysl Rabas, the zoo director, said: "Nabiré was the kindest rhino ever bred in our zoo. It is not just that we were very fond of her.
"Her death is a symbol of the catastrophic decline of rhinos due to a senseless human greed. Her species is on the very brink of extinction."
Born in 1983, she spent her whole life in Dvůr Králové as part of a breeding programme and died at the age of 31.
"The pathological cyst inside the body of Nabiré was huge. There was no way to treat it," said Jiří Hrubý, a rhino curator of the zoo.
One of the two species of white rhinoceros, northern rhinos once roamed over several countries in East and Central Africa but were poached to extinction because of demand for their horns.
The last existing northern whites are a male called Sudan living with two females, Nájin and Fatu, in Ol Pejeta in Kenya, and Nola, a female in San Diego, California.
Attempts to encourage them to breed naturally and using artificial insemination have failed so far but experts from the Leibnitz Institute for Zoo and Wildlife Research in Berlin and Dvůr Králové continue their efforts.
Critically endangered species

Show all 10
Nabiré was unable to breed naturally but one of her ovaries was removed in the hope of using her eggs for future IVF attempts.
"It is our moral obligation to try to save them," Mr Rabas said. "We are the only ones, perhaps with San Diego Zoo, who have enough of collected biological material to do so. We are aware that our chances are slim, but the hopes are still alive."
After the African elephant, the white rhino is the largest land animal in existence and can reach 1.85m tall and weigh up to 3.6 tonnes.
Register for free to continue reading
Registration is a free and easy way to support our truly independent journalism
By registering, you will also enjoy limited access to Premium articles, exclusive newsletters, commenting, and virtual events with our leading journalists
Already have an account? sign in
Join our new commenting forum
Join thought-provoking conversations, follow other Independent readers and see their replies