Government accused of ignoring its own climate change experts over fracking
'Sajid Javid seems to almost be saying that fracking is good for the environment,' campaigner says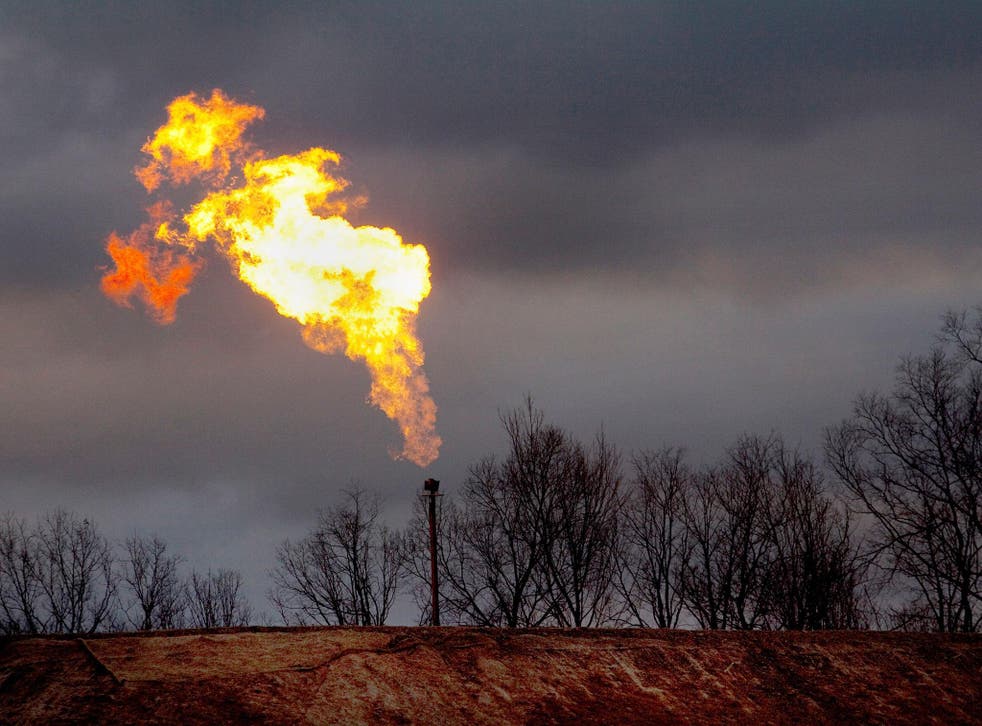 The Government has been accused of ignoring its own climate change experts in order to allow the "fracking floodgates to open across the country". Communities Secretary Sajid Javid decided to allow fracking for shale gas to take place at a site in Lancashire, overruling the county council which had refused a planning application.
Mr Javid went further with the planning report saying he believed fracking "could help to achieve lower carbon emissions and help meet [the UK's] climate change target" and that "the emissions likely to arise [from the Lancashire fracking wells] would be entirely reasonable and fully justified."
However environmentalists pointed to a report published this year by the Committee on Climate Change, set up to advise the Government. It concluded that fracking "on a significant scale is not compatible with UK climate targets" unless a number of conditions were met.
These included ensuring that British fracked gas replaced imports, rather than increasing the total supply, and making sure this new source of energy did not displace low-carbon energy.
The Government insisted it was already or would meet all the conditions in the event of fracking taking off in the UK.
But Hannah Martin, a campaigner with Greenpeace, said: "The Committee on Climate Change said that fracking would be incompatible with meeting its climate targets unless the Government set out how it would meet tough new standards on emissions.
"The Government has so far been silent on how it intends to meet these conditions.
"So until that becomes clear, expanding the fracking industry in the UK flies in the face of our climate targets and the Paris Agreement [on climate change]."
The Paris Agreement is set to become a binding international treaty next month after enough countries agreed to ratify it.
The UK has done so as a member of the European Union, but is also expected to do so as an individual state later this year.
It commits countries to reducing carbon emissions in order to keep global warming to as close to 1.5 degrees Celsius as possible – although the actual pledges made by countries at the summit could see temperatures rise by more than three degrees.
"In his ruling, Sajid Javid seems to almost be saying that fracking is good for the environment," Ms Martin said.
"The Government cannot wave through fracking permits and claim that there is no cumulative effect on climate change.
"This is the first of many fracking licenses that the Government wants to see go ahead. Theresa May declared her support for fracking soon after entering number 10.
"And so it is likely that the Government intends the fracking floodgates to open across the country."
The Department for Business, Energy and Industry Strategy – which deals with climate change issues – insisted fracking could be carried out while still reducing emissions.
"The Government, the Environment Agency and the Health and Safety Executive have put measures in place to limit and monitor emissions that meet the conditions set out in the Committee on Climate Change report, so we can continue to tackle climate change and take advantage of the benefits a fracking industry could provide," a Government spokesperson said.
In an email to The Independent, Professor Jim Watson, director of the UK Energy Research Centre, said the Government was right to say shale gas "could" help to achieve lower carbon emissions, but wrong when it said they "would" do so.
"The impact on emissions depends when shale is produced and how it is used," he said.
"If gas replaces a more high carbon source of energy, there will be a net reduction in emissions. But most of the coal-to-gas switching has already been done in the UK.
"In principle, shale gas could have lower emissions on a life-cycle basis than other sources of gas … if it is tightly regulated – but that is not the same as gas in general being a good route for reducing emissions."
Professor Watson said it was "very important" that the Government set out how gas, including gas from fracking, was compatible with its forthcoming Emissions Reduction Plan, which will explain how the UK will reduce greenhouse gases by 80 per cent by 2050, as called for in the UK's fifth carbon budget.
"There are many other major gaps in policy to meet this budget – including, for example, on energy efficiency and crucially, for the role of gas, on carbon capture-and-storage," he said.
"As Government itself has acknowledged, there are insufficient policies in place to meet the fourth or fifth carbon budgets. The Plan has been delayed, and is now expected next year."
Register for free to continue reading
Registration is a free and easy way to support our truly independent journalism
By registering, you will also enjoy limited access to Premium articles, exclusive newsletters, commenting, and virtual events with our leading journalists
Already have an account? sign in
Register for free to continue reading
Registration is a free and easy way to support our truly independent journalism
By registering, you will also enjoy limited access to Premium articles, exclusive newsletters, commenting, and virtual events with our leading journalists
Already have an account? sign in
Join our new commenting forum
Join thought-provoking conversations, follow other Independent readers and see their replies