Fracking could be delayed for up to two years across UK after Lancashire council rejects test drilling
Setback for Government after shale gas company is banned from drilling eight wells on Lancashire coastal plain
Oliver Wright
Friday 31 July 2015 01:32 Comments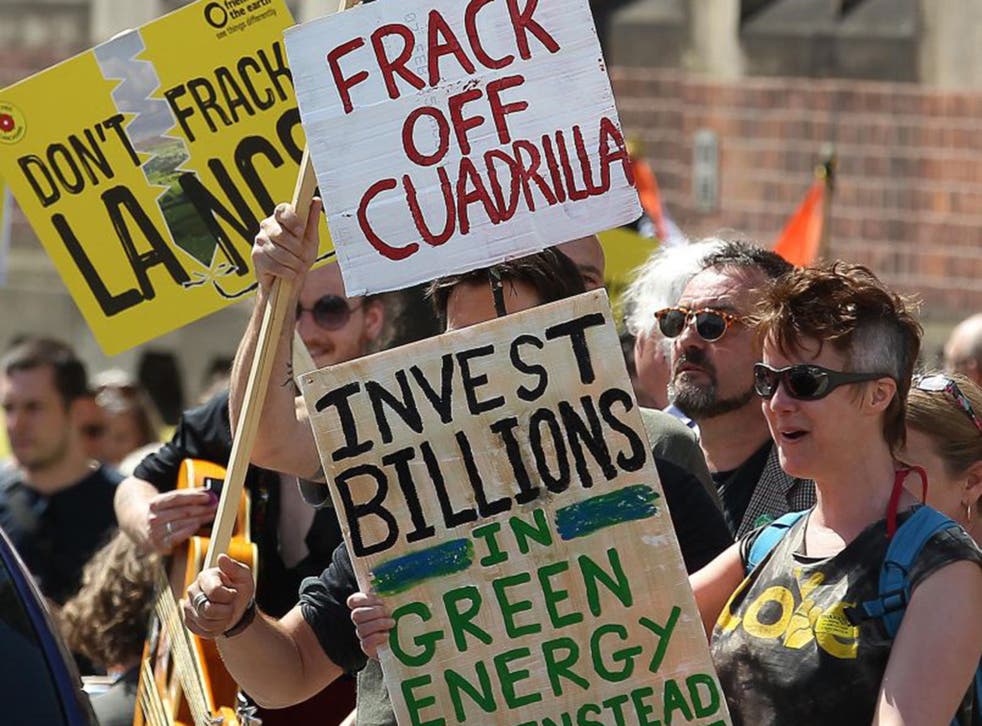 Government plans to roll out fracking across Britain face delays of up to two years following a surprise decision to reject exploration for shale gas in Lancashire.
Ministers are concerned by the implications of the decision by Lancashire County Council last month to reject planning applications from the shale gas company Cuadrilla to drill eight wells at two sites on the Fylde coastal plain.
The Government had been expecting councilors to give their go-ahead to exploratory drilling on sites. But instead they turned down Cuadrilla's application on the grounds that it would have an unacceptable visual impact and create too much noise.
Cuadrilla has now appealed but that process, regardless of the outcome, is likely to take 16 months.
Senior Government sources said they feared other companies were now unlikely to submit further fracking applications – that were not already underway - until they saw the outcome in Lancashire.
A Government source said: "It is incredibly frustrating. These are temporary exploratory wells so how on earth Lancashire County Council can turn them down on the basis of visual impact makes no sense at all.
"Cuadrilla has already spent millions on the process, and will now have to spend millions more on the appeal.
"But the real problem is that until the industry knows what the outcome is in Lancashire, there is going to be a real reluctance to invest in other areas."
The source added that getting fracking underway was one of the key objectives of the Government now the Conservatives were no longer in coalition with the Lib-Dems. "It is now a real priority for the Department for Energy and Climate Change," they said.
No fracking in the UK has taken place since Cuadrilla caused earthquakes attempting the process near Blackpool in 2011.
A second senior Whitehall source said it would take at least 16 months for the Lancashire appeal to go through the planning process and it could ultimately land on the desk of Greg Clark, Secretary of State for Communities and Local Government, if he decides to "call it in".
Francis Egan, Cuadrilla's chief executive, declined to comment on the potential delay or say how much it might cost the firm. But he has said: "We have given careful consideration to appeal the planning decisions taken by Lancashire County Council. This is a natural step in the democratic process for deciding any planning application."
He acknowledged that "some people would prefer that we did not appeal" but said he was "confident that we will demonstrate to Lancashire and the UK that shale gas exploration and fracking is not only safe but represents a very real opportunity to create jobs, fuel businesses, heat UK homes and stimulate significant local economic growth".
Cuadrilla is backed by Centrica, which bought a stake in the company's exploration licences in 2013.
Last month a report from the industry-funded UK shale gas taskforce concluded that it was too early to say whether fracking was good for the UK.
Industry sources indicated that while the Lancashire decision sets an important precedent, there will still be some applications for permission to frack elsewhere.
But environmental campaigners said the delay before a decision is made in Lancashire will be used to galvanise further support against fracking, which they believe is not yet been proven safe.
Tony Bosworth from Friends of the Earth said Cuadrilla should respect the wishes of local people instead of appealing the decision.
"While local people say that they don't relish a lengthy appeal process, they want the Planning Inspectorate to have the time to make the right decision. The delay is worse news for Cuadrilla because the case against fracking is growing all the time."
Register for free to continue reading
Registration is a free and easy way to support our truly independent journalism
By registering, you will also enjoy limited access to Premium articles, exclusive newsletters, commenting, and virtual events with our leading journalists
Already have an account? sign in
Join our new commenting forum
Join thought-provoking conversations, follow other Independent readers and see their replies