'We're going to win this war': Anti-fracking campaigners celebrate victory against Ineos and vow to keep shale gas industry out of England
'We have always said that our right to protest and direct action is fundamental to the history of this country – it's where real change has come from'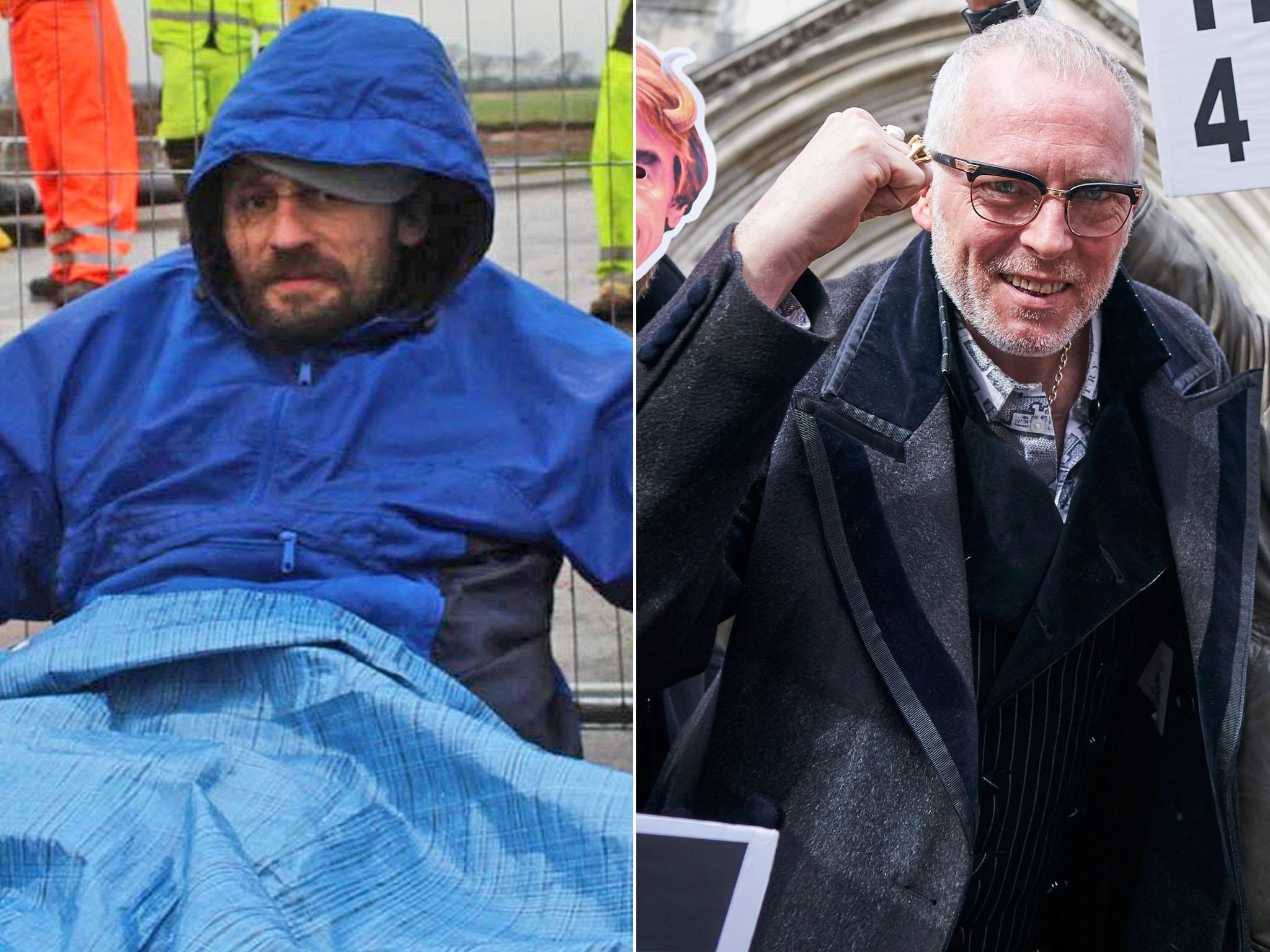 The two men who successfully challenged fracking company Ineos in court this week say "the tide is starting to turn" in the fight to stop the country's fledgling shale gas industry in its tracks.
Joe Corre and Joe Boyd have been engaged in a struggle to overturn an injunction granted to the petrochemicals giant that restricted protesting at their shale gas sites.
The firm, which owns fracking licences across the country and is run by Britain's richest man Sir Jim Ratcliffe has stated it only wanted to protect its staff from "militant activists". But lawyers said they were concerned its broad injunction against "persons unknown" was eroding people's right to protest.
The victory at the Court of Appeal on Wednesday was the latest blow to a sector that, despite government support, has struggled to take off amid pushback from local communities and concerns about earthquakes at drilling sites.
It comes only a month after a High Court judge concluded the climate impact of fracking had been overlooked by the government and described its policy as "flawed in its design and processes".
"I'm pretty confident we're going to win this war, and we are not going to have fracking in this country," says Joe Corre, one of the activists involved.
"Act now or swim later" - Children worldwide protest climate change
Show all 38
"But because they have invested so much time and energy and money into this, they are not going to go quietly, so we're going to have to double down, up our efforts and finish them off."
Mr Corre, a businessman and son of fashion designer Dame Vivienne Westwood, is also the founder of anti-shale gas group Talk Fracking.
He was joined by Joe Boyd, a seasoned anti-fracking activist who has been engaged in direct action to block new drilling sites for several years now.
Both men were roused to take on the shale gas industry after visiting sites that had come under the spotlight after drawing large crowds of protesters at Balcombe in West Sussex and Barton Moss near Manchester.
"I had never protested in my life before fracking," says Mr Boyd, explaining that he had first became aware of the issue while studying environmental science at the Open University.
Concerned about the danger of air and water pollution at sites, he took part in "slow walk" protests to block approaching vehicles and other forms of direct action to disrupt efforts to drill for shale gas.
But the injunction taken out by Ineos in 2017, which has since been replicated by other fossil fuel exploration companies, has put off protesters who fear their activities may land them with large fines or even a prison sentence. That is why Mr Boyd says this case has been so important.
"It's a huge win because we have always said that our right to protest and direct action is fundamental to the history of this country – it's where real change has come from," said Mr Boyd. "It looks like actually now the tide is starting to turn."
If they had failed to overturn the injunction, he says protest against fracking would have been limited to "waving a banner or signing a petition".
"That's not democracy," he says.
There were concerns that if the injunction was upheld in its original form, it would have set a dangerous precedent that affected other forms of protest – against anything from fox hunting to arms sales.
Following the court's decision, which saw key parts of the sweeping injunction discharged, Ineos representative Tom Pickering denounced the activists who he said wanted to shut down UK gas and leave the country reliant on foreign imports from the likes of Russia.
"We stand for jobs and opportunity. They stand for anarchy in the UK," he said.
With public approval for fracking approaching record lows, Mr Corre says he will continue fighting it in the courts and doing whatever need to be done to prevent the industry taking off.
"Little England is now surrounded by countries that have banned it or have moratoriums in place – Scotland, Wales, Northern Ireland, Irish Republic, France, Germany – it's only England that have said we want to carry on with it, and it's the Tories that are isolated as the only party that supports it," says Mr Corre.
Mr Boyd, who says he has little trust in even the large anti-fracking green NGOs to make a real difference, is confident that grassroots action like this is key to their success.
"It's up to the younger generation," he says. "It's for them to organise and take the baton up. We have set the foundation and that should give them the lift to go out and do that stuff without being in fear."
Support free-thinking journalism and attend Independent events
Join our commenting forum
Join thought-provoking conversations, follow other Independent readers and see their replies