UK has five times less shale gas than previously thought, fracking study finds
Scientists say there may be less than 10 years' worth of gas left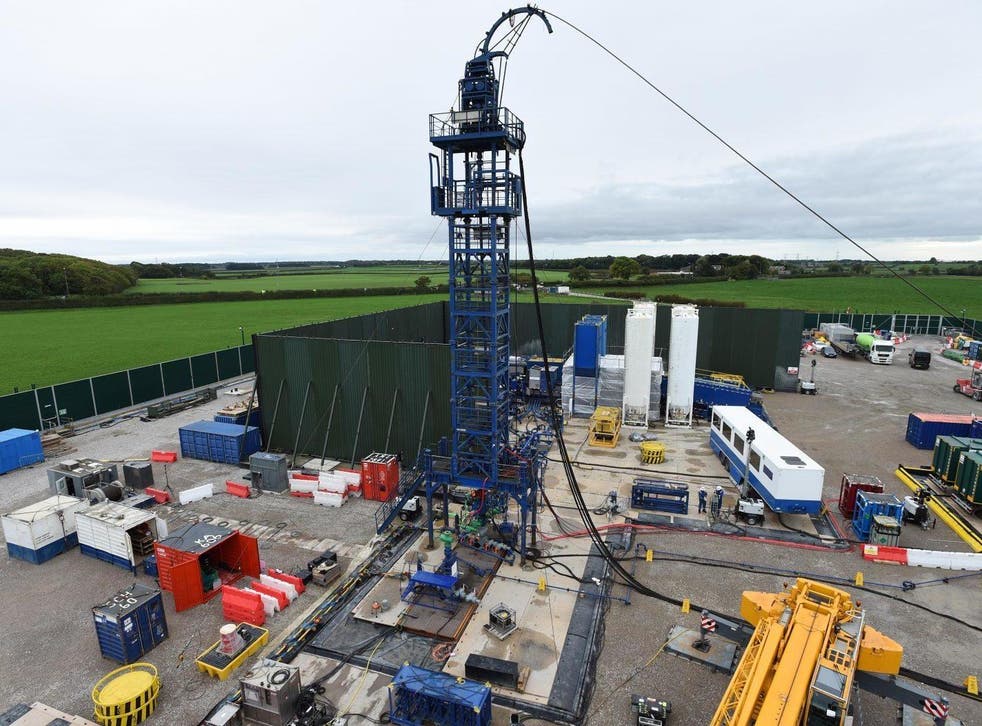 There may be a lot less shale gas in the UK than previously thought – and fracking may only yield 10 years' worth of the fuel, a study has suggested.
This is five times less than 2013 estimates of 50 years' worth, according to analysis of Bowland Shale Formation in north England.
The new estimates are based on lab analysis by the University of Nottingham and British Geological Survey (BGS). Researchers used a high-pressure water technique that simulates oil and gas generation in deep reservoirs and applied it to shale to evaluate in the laboratory how much gas could be extracted.
Fracking, in which liquid is pumped at high pressure deep underground to fracture rock and release gas, has proved controversial in the UK.
Backers, including the government, claim exploiting the fossil fuel could reduce reliance on imports, secure supplies, help cut carbon emissions and create jobs.
Vivienne Westwood joins anti-fracking protest camp

Show all 8
But opponents say fracking can cause earthquakes, damage the countryside and keep the UK hooked on fossil fuels instead of focusing on renewables to help tackle climate change.
Researchers analysed shale rock in two locations, and extrapolated the findings to the whole of the Bowland Shale. They concluded that the maximum gas there equated to "potentially economically recoverable reserves of less than 10 years of current UK gas consumption".
Report author Professor Colin Snape said: "We have made great strides in developing a laboratory test procedure to determine shale gas potential.
"This can only serve to improve people's understanding and government decisions around the future of what role shale gas can make to the UK energy's demand as we move to being carbon neutral by 2050."
Study author Dr Christopher Vane, head of organic geochemistry at the BGS, said the research "transforms our view of UK shale gas reserves".
"This cutting edge science shows that shales within the Bowland Formation could potentially contain less recoverable gas than previously thought," he said.
But Professor Mike Stephenson, chief scientist for decarbonisation and resource management at the BGS, who was not one of the study's authors, cautioned that the data only used a small number of rock samples from two locations.
"BGS has continued to study resource estimation in shales over the past 16 years and further studies are still required to further refine estimates of shale gas resources," he said.
Professor Andrew Aplin from Durham University, who was also not involved in the research, said: "Without a lot more field data from the UK, we just don't know how big the resource might be.
Government's fracking commissioner Natascha Engel resigns
"There are the additional uncertainties of the proportion of the total gas which might be recovered, how many wells will be needed and whether it is feasible to drill them for both societal and economic reasons."
The findings, published in Nature Communications, were dismissed by energy firm Cuadrilla, which last week resumed fracking at the UK's only operation shale exploration site in Preston New Road, Lancashire, following earth tremors.
The company's chief executive Francis Egan said: "Cuadrilla is getting on with determining the capacity of UK shale reserves by the only means possible which is to drill, hydraulically fracture and test the flow rate of gas from real world wells drilled into the shale rock.
"Our early results are very encouraging."
Additional reporting by PA
Register for free to continue reading
Registration is a free and easy way to support our truly independent journalism
By registering, you will also enjoy limited access to Premium articles, exclusive newsletters, commenting, and virtual events with our leading journalists
Already have an account? sign in
Register for free to continue reading
Registration is a free and easy way to support our truly independent journalism
By registering, you will also enjoy limited access to Premium articles, exclusive newsletters, commenting, and virtual events with our leading journalists
Already have an account? sign in
Join our new commenting forum
Join thought-provoking conversations, follow other Independent readers and see their replies