Scientists urge government to relax earthquake rules to allow more fracking
Call comes after government signals it will not change existing regulations, amid growing public opposition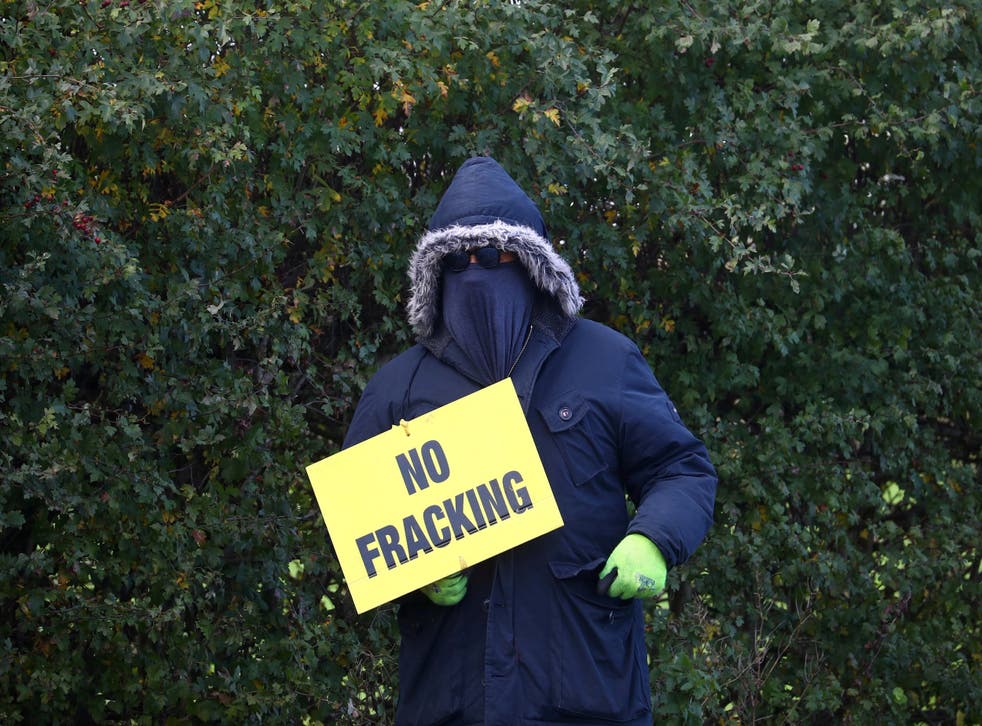 A group of almost 50 scientists have called on the government to review the earthquake limit for fracking sites in order to allow the industry to grow in the UK.
Currently any fracking must be put on hold if it produces earthquakes above the 0.5 magnitude limit, a provision that has repeatedly brought operations in Lancashire to a halt in recent months.
The open letter to The Times has added support to the voices of fracking industry chiefs from Ineos and Cuadrilla who have called for looser earthquake restrictions.
The 49 geoscientists, some of whom have been linked to the oil and gas industry, called the existing "traffic light" system "extremely conservative".
In the letter, they wrote the limit is: "very far below the levels set in other countries, or for other comparable industries in the UK (such as quarrying, mining and deep geothermal energy)."
Environment news in pictures

Show all 8
In the US, which has a far more developed fracking industry, the limits are at between 2.7 and 4.5 depending on the state.
However, the government has refused to budge on its commitment to avoid raising the earthquake limit, which it said was agreed after consultation with industry.
While smaller quakes are not generally felt at the surface, there are concerns repeated events will cause damage to infrastructure, and that they could lead to large tremors that compromise the fracking borehole and cause leaks.
The 0.5 limit was set as a precautionary approach after two sizeable earthquakes struck at a Cuadrilla site near Blackpool in 2011.
But after the latest attempts to frack successfully in Lancashire stalled, seismologists who have advised Britain's industry regulator, the Oil and Gas Authority, said the limit in the UK could safely be raised to 1.5.
The latest government figures show public support for fracking is nearing record lows, with concern about earthquakes one of the biggest concerns reported by members of the public.
Vivienne Westwood joins anti-fracking protest outside Courts of Justice
Environmental groups are also worried about the impact a rapidly expanding fracking industry would have on the countryside, and on the UK's climate change commitments.
While ministers have presented shale gas as a relatively clean fuel compared to coal, green groups say investing in further gas extraction will go against the warnings by climate scientists that fossil fuels must be eliminated as soon as possible.
"The most important risk issue for fracking is that we need to keep fossil fuels in the ground," said James Knapp, from anti-fracking campaigners the Weald Action Group.
"The resulting production would last decades, this is manifestly at odds with what is required to face up to this existential crisis, the rapid phasing out of all fossil fuel use."
Register for free to continue reading
Registration is a free and easy way to support our truly independent journalism
By registering, you will also enjoy limited access to Premium articles, exclusive newsletters, commenting, and virtual events with our leading journalists
Already have an account? sign in
Register for free to continue reading
Registration is a free and easy way to support our truly independent journalism
By registering, you will also enjoy limited access to Premium articles, exclusive newsletters, commenting, and virtual events with our leading journalists
Already have an account? sign in
Join our new commenting forum
Join thought-provoking conversations, follow other Independent readers and see their replies