Government quietly drops fracking question from regular public opinion survey
'For all its rhetoric, you couldn't ever accuse this government of caring about "the will of people"'
Josh Gabbatiss
Science Correspondent
Friday 17 August 2018 19:40 Comments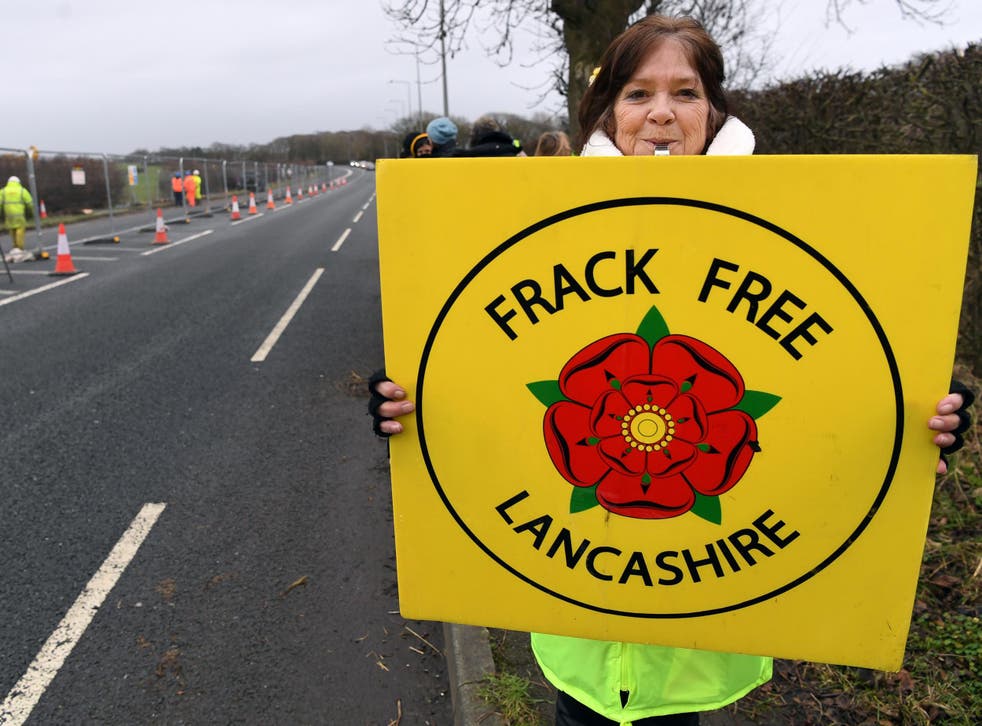 The government has dropped a question from its regular public opinion survey asking the British public what they think about fracking.
Campaigners and politicians said the removal looked like a calculated move in light of consistently low public approval for the controversial fossil fuel extraction technique.
The first fracking operation is due to start soon in Lancashire for the first time in seven years, after exploratory drilling nearby caused two minor earthquakes in 2011 and led to a temporary ban.
Since then, support for fracking has been consistently low, with the latest survey results revealing that nearly a third of people opposed fracking and only 18 per cent actively supported it.
"The government's own survey consistently reflected the public's growing support for renewable energy while support for fracking remained low," said Friends of the Earth campaigner Tony Bosworth.
"Having recently tried to change planning rules so that fracking companies could drill at will, perhaps they are wary of a record bad survey result this time, so aren't even asking now."
However, the Department of Business, Energy and Industrial Strategy (BEIS) said the public will still be asked for their opinions on fracking once a year, but not until spring next year.
UK news in pictures

Show all 50
A BEIS spokesman said the more regular quarterly questioning about fracking was a "relic" from when the department only covered energy and climate change.
"This approach will allow us to ask more topical focused questions on areas such as consumer issues or employment rights to a wider range of respondents," he said.
In the same survey the questions concerning public attitudes to nuclear energy, electric vehicles and smart metres were also removed.
Fracking has faced a series of controversies in the UK, and the Environment Agency recently issued a warning letter to shale gas company Cuadrilla over its handling of waste at one of the new Lancashire sites.
Nevertheless, the government has consistently supported the industry, and another fracking firm Ineos has just been given the go-ahead to find a new site in Derbyshire.
Keith Taylor, Green MEP for the South East, said "despite a huge PR push" the government had failed to drum up support for fracking over the past few years.
"How have the Conservatives responded to such a consistent rejection of the climate-destructive industry?" he asked.
"By stopping asking what we think so often and giving fracking the green light in the meantime. While, at the same time, pushing through plans to cut our local government representatives out of the decision-making process."
"For all its rhetoric, you couldn't ever accuse this government of caring about 'the will of people'."
Register for free to continue reading
Registration is a free and easy way to support our truly independent journalism
By registering, you will also enjoy limited access to Premium articles, exclusive newsletters, commenting, and virtual events with our leading journalists
Already have an account? sign in
Join our new commenting forum
Join thought-provoking conversations, follow other Independent readers and see their replies