Fracking: Ryedale residents mobilise to stop company drilling up to 950 wells in Thirsk and Malton
'This is about nothing less than the industrialisation of our countryside'
Paul Gallagher
Saturday 11 July 2015 23:16 Comments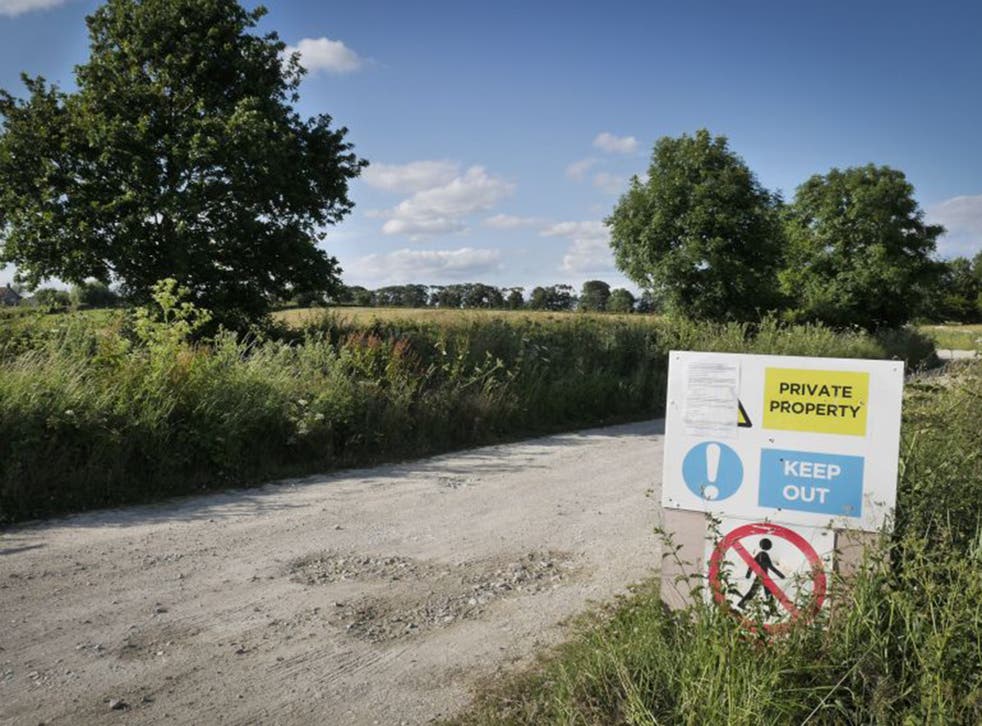 In the heart of the North Yorkshire countryside, the latest battle in the fracking war is well and truly under way. The gas company Third Energy wants to test the viability of using hydraulic fracturing, or fracking, to extract gas from its existing well in the village of Kirby Misperton. Residents are mobilising, protests have been held, politicians lobbied and debates held in Westminster.
"This is about nothing less than the industrialisation of our countryside," said Karen Garrett, who lives with her family just over a mile from the village. Mrs Garrett's biggest concerns are "the environmental impact, the legacy once the company has gone, and the effects on tourism and agriculture".
"I was born six miles from here," she added, "so this area is very close to my heart."
After Lancashire County Council rejected applications from Cuadrilla late last month, the focus of the fracking contest shifted quickly to the picturesque countryside on the east of the Pennines.
Third Energy, one of Cuadrilla's rivals, submitted revised plans last week to carry out a fracking test at Kirby Misperton in the Ryedale district of North Yorkshire. Its original application failed to pass North Yorkshire County Council's validation process and the Environment Agency has extended its consultation on the plans until August.
Mrs Garrett, 45, who runs a farmhouse B&B, is a prominent member of Frack Free Ryedale, a group with around 2,000 members.
Jill Hopkins, 67, one of her fellow campaigners, is a retired journalist who also lives close to the site. "We're not just thinking about Ryedale here." she said. "It's the whole country. The UK is not big enough for this kind of process. There will be nowhere in the country where [fracking] will be more than a quarter of a mile from a residence. Then there are the health aspects, physical and mental, which are leg-ion. The noise will be horrendous."
Sarah Houlston, a 48-year-old mother of two who owns a nearby farm, says she has been told that her insurance does not cover the water or land contamination that might result in the poisoning of animals or in crop failure.
A spokesman for Third Energy told The Independent on Sunday: "There is simply no danger of this happening, and even if, in the most extreme set of circumstances, there was any issue, then the law and our insurance provisions will cover it.
Pictures that show we are killing our planet

Show all 21
"The company has full insurance and indemnity cover, including third party liability, to meet all of its current and planned operations."
Third Energy has estimated that it will use a maximum of 4,000 cubic metres of water for the operation, which will be pumped to the site via an underground pipe from the nearby Knapton generating station. It said a traffic management plan has been lodged with the council and that "safety is one of the cornerstones of the company".
The company added that the project, hydraulically to stimulate and test geological formations in five separate zones between 2,000m and 3,000m below ground level, would last six weeks. The actual pumping would take five hours a day and happen during daylight hours.
But Rydale residents remain concerned. They believe the initial fracking project, if successful, will lead to further applications and more fracking in the area.
The IoS struggled to navigate through the busy narrow roads around Ryedale, coming across tractors pulling vehicles, caravans, and coachloads of tourists. Locals worry that tankers, carrying the huge amounts of water needed for the fracking process, among equipment and materials, will hugely disrupt village life – and even force children to stop walking to school or even to bus stops.
"Can you imagine meeting all those tankers on these roads?" asked Mrs Hopkins. "It's the infrastructure that is very worrying, coupled with the fact that once the water arrives it gets chemicals added. Third Energy say they will recycle the water, but I'm not sure how."
Kevin Hollinrake, Thirsk and Malton's new Conservative MP, has urged the Government to separate fracking sites from each other with six-mile "buffer zones" to stop rural areas becoming too industrialised. He told a Parliamentary debate last week that Third Energy plans to drill up to 950 wells in an area comprising less than a third of his constituency and was concerned that the countryside could be ruined.
Mr Hollinrake warned that unless local planning authorities were forced to set minimum distances between fracking sites – Third Energy told a select committee last year that it had plans for 19 in the area – North Yorkshire could look like certain regions of the US that have been despoiled by oil wells.
The fracking battle has well and truly been joined.
Rasik Valand, Third Energy's chief executive, said: "Plans to expand our operations at Ebberston Moor, Pickering, Kirby Misperton and at our other sites are all moving ahead.
"Future applications for planning permission and permits will follow the same high standards and regulatory rigour applied to all our existing and past operations."
Mrs Garrett said: "If this goes ahead, a precedent will be set, and if all the things we've learned about over the past 12 months are proved to be correct, what legacy does this leave our children? That's our main motivation. What's left for them?"
Register for free to continue reading
Registration is a free and easy way to support our truly independent journalism
By registering, you will also enjoy limited access to Premium articles, exclusive newsletters, commenting, and virtual events with our leading journalists
Already have an account? sign in
Join our new commenting forum
Join thought-provoking conversations, follow other Independent readers and see their replies