Anti-fracking activists jailed for 'causing a public nuisance' during four-day protest
'It's a strange society that massively rewards those responsible for causing more climate change while putting those trying to stop it in jail'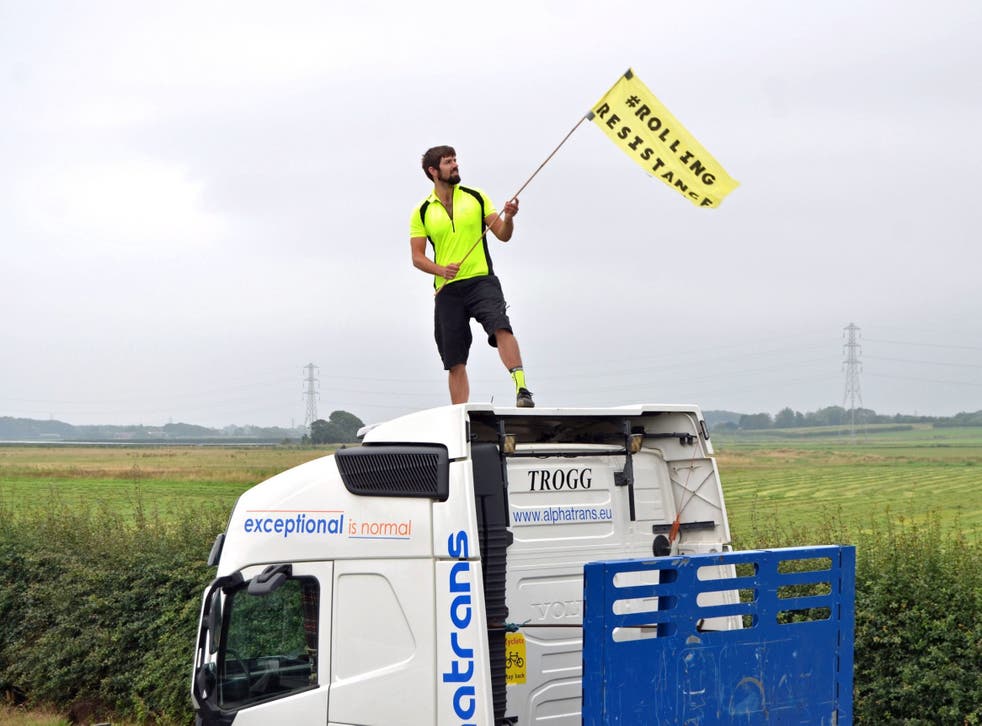 Three anti-fracking activists have been jailed for halting a convoy of lorries in a four-day protest outside a shale drilling site.
Simon Roscoe Blevins, 26, Richard Roberts, 36, and Rich Loizou, 31, are thought to be the first environmental demonstrators to receive custodial sentences in the UK since 1932.
Blevins and Roberts were each imprisoned for 16 months and Loizou was jailed for 15 months at Preston Crown Court on Wednesday.
They were convicted of causing a public nuisance after clambering onto lorries carrying drilling equipment to energy firm Cuadrilla's base in Little Plumpton, Lancashire, last year.
The site in New Preston Road, near Blackpool, has been at the centre of continued protests and objections from locals after the government gave the company permission for the UK's first commercial fracking well.
Roberts, a piano restorer from London, got through a police cordon and climbed onto the first of seven lorries arriving at Cuadrilla in a convoy on the morning of 25 July. Loizou, a teacher from Devon, clambered on the vehicle at the rear.
Later that day Blevins, a soil scientist at the University of Sheffield, also scaled one of the lorries, followed early the next morning by a fourth protester, Julian Brock, 47, from Torquay.
They each refused to come down and spent between 45 and 84 hours on top of the vehicles, while police attempted to negotiate an end to the protest.
All had a "grandstand view" of the chaos that unfolded, said Judge Robert Altham.
The judge said that local residents and businesses had suffered because of the disruption to the busy main road.
He told the court: "In this case the defendants caused costs and disruption to Cuadrilla but their other victims were the many members of public who were nothing to do with Cuadrilla ... and were viewed by these defendants as necessary and justified collateral damage."
He said he expressed no view on fracking which was "not the business of the court", although he stressed it was "not a frivolous topic" and the men would have received "considerably longer" jail terms for the offence if they had not been protesting.
However, the judge added: "Given the disruption caused in this case, only immediate custody can achieve sufficient punishment."
Mr Altham said the protesters were also likely to re-offend because "each of them remains motivated by unswerving confidence that they are right".
"Even at their trial they felt justified by their actions," he added.
World news in pictures

Show all 50
Brock, who who pleaded guilty to causing a public nuisance, was sentenced to 12 months in prison, suspended for 18 months.
The jailed defendants hugged each other and blew kisses to the public gallery before they were led from the dock.
"This won't break us, we will come out stronger," said Blevins in a statement issued following the sentencing hearing. "Some may view us as victims, but we refuse to be victimised by this. The real victims will be future generations suffering preventable disasters caused by climate change.
"Our friends and fellow campaigners outside will continue to fight for a ban on fracking and for a just transition to a renewable and democratically owned energy system."
Blevins spent 73 hours atop a lorry during the protest.
While under investigation over the demonstration, he climbed on top of another lorry at a similar protest in Yorkshire and later pleaded guilty to vehicle tampering, the court heard.
Mr Altham said traffic the Cuadrilla demonstration caused significant traffic as police set up a contraflow system which had a knock-on effect on surrounding routes.
Local businesses and residents were affected, said the judge, who referred to an elderly and disabled woman at a nearby housing estate who was forced to walk 90 minutes on crutches to get home because she could not get the bus.
The four-day protest itself is said to have cost Cuadrilla an estimated £50,000.
Police drag 85-year-old Green activist across road during anti-fracking protest
Human rights law Kirsty Brimelow, who represented Roberts, stressed that the protest had been non-violent and political.
Greenpeace UK's executive director John Sauven said the demonstrators "deserve our gratitude, not a prison term".
He added: "Peaceful protest is the safety-valve of a healthy democracy. It allows ordinary people to protect their health, families and homes from harm when all other safeguards have failed.
"It's a strange society that massively rewards those responsible for causing more climate change while putting those trying to stop it in jail.
"Ministers have changed laws, taken away homeowners' rights and distorted the planning process to make way for the shale industry, yet it's four peaceful protesters that get punished for climbing on a lorry."
Cuadrilla, which has received government permits to extract shale gas at two wells at Preston New Road, has said fracking is likely to start in the next few weeks.
Register for free to continue reading
Registration is a free and easy way to support our truly independent journalism
By registering, you will also enjoy limited access to Premium articles, exclusive newsletters, commenting, and virtual events with our leading journalists
Already have an account? sign in
Register for free to continue reading
Registration is a free and easy way to support our truly independent journalism
By registering, you will also enjoy limited access to Premium articles, exclusive newsletters, commenting, and virtual events with our leading journalists
Already have an account? sign in