Scientists warn fracking could cause water shortages after usage shoots up by 800% in parts of US
'Water could very soon become a limiting factor for the industry'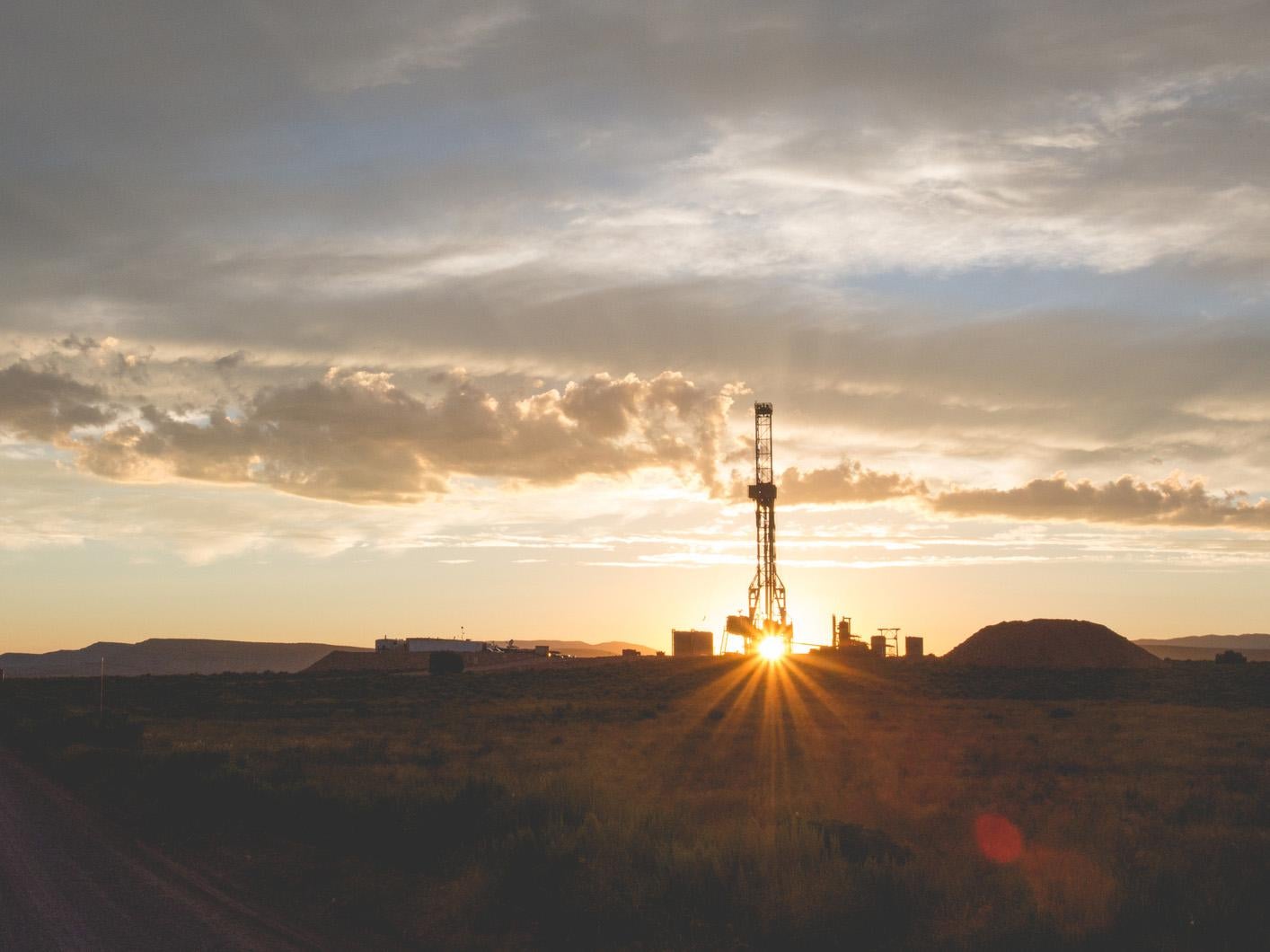 The amount of water used at fracking wells in parts of the US has increased by up to 770 per cent, sparking fears the industry could cause water shortages in arid regions.
There was also a massive increase of up to 1440 per cent in the amount of toxic wastewater generated in the first year of operation at fracked oil and gas wells over the same period.
A study charting the intensification of the controversial fossil fuel extraction technique looked at changes in its "water footprint" between 2011 and 2016.
Previous work had suggested that fracking does not use more water than other energy sources, but this more comprehensive investigation found that future operations may not be sustainable due to the volume of water required.
The authors of the study warned that if rapid intensification continues, the industry's water use in some regions could be 50-times greater by the year 2030, which would lead to water shortages.
"I think this is really important in places like the western US where water availability is limited," study co-author Professor Avner Vengosh from Duke University told The Independent.
"There the water could very soon become a limiting factor for the industry to extract those hydrocarbons."
10 photographs to show to anyone who doesn't believe in climate change
Show all 10
More water is required at fracking sites as wells are dug ever further into the ground, which explains why water use has increased even as unconventional oil and gas production has more broadly declined in the US.
These findings were published in the journal Science Advances.
Though the UK fracking industry is only in its preliminary stages, concerns have been raised over the industry's water footprint on this side of the Atlantic.
The government was recently given the go-ahead to allow fracking at a site in Lancashire for the first time since exploratory drilling caused two minor earthquakes at a site nearby in 2011.
Friends of the Earth campaigner Connor Schwartz said that during a summer of drought and hosepipe bans, there was a need to consider how "dwindling resources" are used.
"The overall findings of this report is that water usage in the US has risen dramatically per well. We have a meaningful moment here in the UK to ask if that industry is one we want to mimic," he said.
"Climate change is going to restrict resources like water if we don't get to grips with it, in which case, why waste precious water on fracking?"
However Ken Cronin, chief executive of UK Onshore Oil and Gas (UKOOG), said they were working with the water industry "to help minimise the impact of onshore oil and gas development in the UK on the country's water resources".
He noted that water use in fracking is "negligible compared to other industrial water use".
"A broad estimate for the UK shows the amount of water required to run a shale well for a decade is the equivalent the amount needed to run a 1,000 MW coal-fired power plant for 12 hours," he said.
Professor Richard Davies, a fracking expert at Newcastle University who was not involved in the new study, said that while parts of the US may be in danger of drying up the UK's main fracking concern is not drought but the disposal of wastewater.
"Flowback water is the challenge in the UK – it's a matter of how do you clean or dispose of volumes of water," he told The Independent.
"If you're fracking one well in Lancashire it can probably be handled, but if you were to scale up and start fracking tens of wells you need to find an efficient way to dispose of wastewater."
The waste from fracking consists chiefly of salty water that can contain toxic and naturally occurring radioactive elements. It is therefore difficult to dispose of safely.
In the US wastewater tends to be injected back underground, but this practice is mostly banned in the UK as it has been linked to earthquakes in some locations.
Join our commenting forum
Join thought-provoking conversations, follow other Independent readers and see their replies