France investigates whether Champagne workers died due to heatstroke
France has already recorded nearly 400 excess deaths during the August heatwave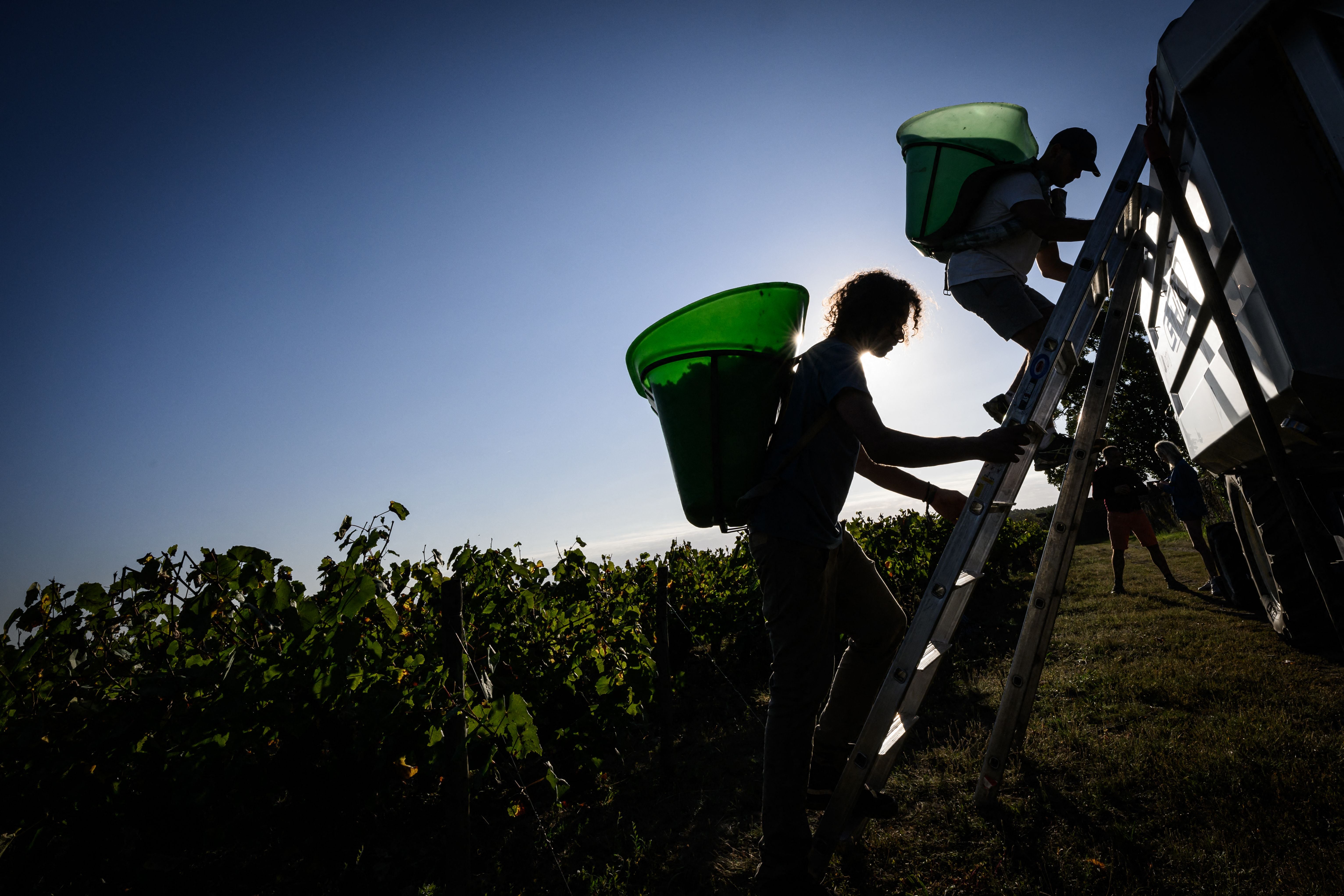 The deaths of four grape harvesters in France's Champagne region are being investigated by authorities on concerns they may have suffered heatstroke during this year's blistering summer.
The four deaths were reported from Rheims and Châlons-en-Champagne, two cities in northeastern France, in recent days as temperatures soared to 34C (93F) in the region at the end of last week.
Authorities said two men died while picking grapes, a woman died at home a few days after feeling faint during her vineyard work, while a fourth person died in hospital after falling from a straddle tractor without showing any physical injuries from the fall, according to the AFP news agency.
The deaths were not being considered suspicious and no autopsies were ordered, prosecutors said, declining to comment about links to high temperatures, according to AFP.
However, some local harvesters have raised concerns over workers' health amid blistering heat, leading to an investigation being ordered.
"Maybe it will turn out that the sun had something to do with this," Maxime Toubart, head of the Champagne growers' association, told the news agency.
"I am very sad. People don't join the harvest to lose their lives."
France already recorded nearly 400 excess deaths during the August heatwave, the country's public health agency said on Wednesday.
People aged 75 and over were the most affected, the agency said in a statement, adding that no fatal workplace accidents were notified in the said period.
France suffered through several phases of unusually high temperatures amid record-shattering heat worldwide.
A heatwave between 11-26 August in France affected 52 of the country's 96 mainland departments, where 46.3 per cent of the population lives.
France faced all-time high temperatures for late summer during this period as nationwide average temperature over 24 hours hit 27.1C, announced Météo France, the French national meteorological service.
Such continuously high temperatures have never been recorded so late into the summer in records that go back to 1947, the weather authority said.
The summer of 2023 was confirmed to be the hottest so far on record.
Other bouts of locally high temperatures have already worried agricultural workers.
Every year, "one or two people" died from heart failure or aneurysms, Mr Toubart told AFP.
Several countries in Europe and around the world imposed a ban on outdoor work during the months of June, July and August.
Join our commenting forum
Join thought-provoking conversations, follow other Independent readers and see their replies