Gamekeeper's conviction for poisoning birds of prey 'a wake-up call', warns judge
"Those who employ gamekeepers have a duty to know what is being done in their name and on their property"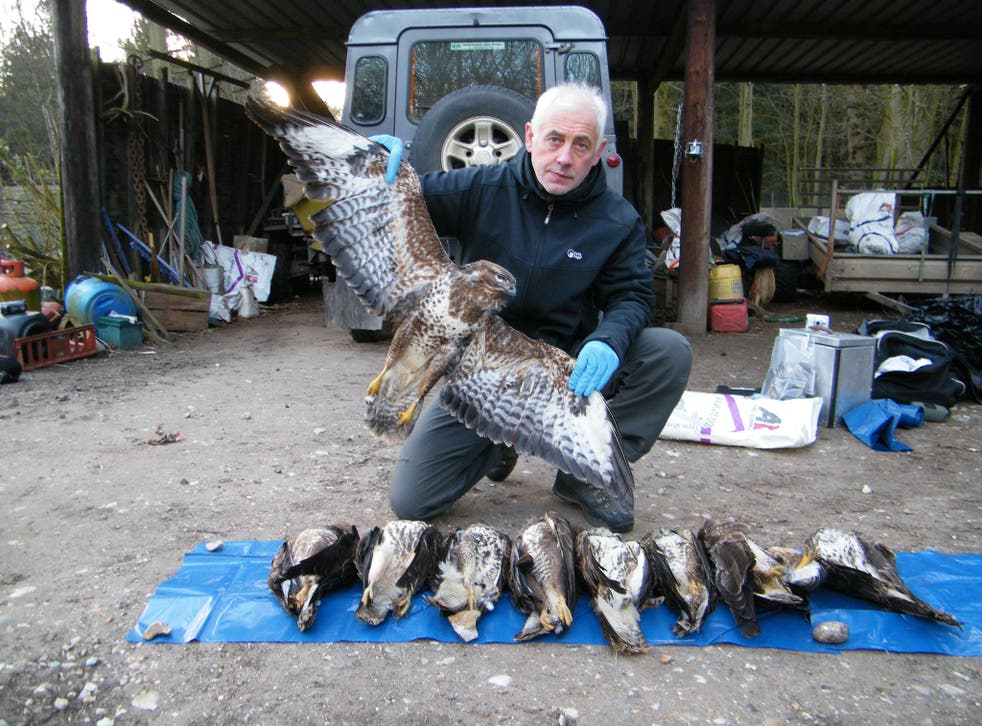 Britain's rural aristocracy and the owners of the country's great sporting estates have been warned they have a duty to ensure that their employees obey the wildlife laws after a former gamekeeper was found guilty of poisoning 11 birds of prey on a Norfolk estate.
The conviction of Allen Lambert for deliberately killing 10 buzzards and a sparrowhawk should act as a "wake up call" to landowners, district judge Peter Veits said.
The RSPB described the incident, which took place at the 4,200-acre Stody Estate near Holt, as "the worst case of bird poisoning" ever detected in England and called for tougher laws to safeguard raptors from persecution.
The court heard that the "only motivation" for the poisonings was likely to have been to protect the birds the estate breeds for its shooting.
The remains of dead birds were found in woodland and in a feedbag at Lambert's house on the estate. Police also recovered containers of illegal pesticide in the 65-year-old's car and storeroom, as well as a syringe and needles.
Passing sentence at Norwich Magistrates' Court, Mr Veits said that Lambert, like other gamekeepers, had been left to work unsupervised.
But he said: "Those who employ gamekeepers have a strict duty to know what is being done in their name and on their property. They also have duty to ensure their gamekeepers are properly trained and capable of keeping abreast of complex laws relating to the use of poisons.
"In other industries, employers as well as the employee could be facing prosecution in such cases and I hope… this case can serve as a wake-up call to all who run estates as to their duties."
The Stody Estate was owned by Ian MacNicol, the former president of the Country Land and Business Association, who died in 2006.
The farm and its grounds include 10 acres of azalea and rhododendron gardens, which are considered among the finest in East Anglia and are opened to the public.
The estate is now being investigated by the Rural Payments Agency which could withdraw tens of thousands of pounds of subsidy if it is found to have been negligent in relation to the killings which took place in April 2013.
The house and grounds are now managed by Mr MacNicol's widow Adel Richmond-Watson. In a statement the estate said it had considered Lambert a "valued and trusted member of staff". But it added: "Mr Lambert was not authorised, trained or asked to kill wildlife and we had no knowledge he possessed such items."
The court heard that Lambert, who denied killing the birds but admitted five charges including the illegal use of pesticides and possession of an illegal firearm, had lost his job as well as the home he had expected to live in after his retirement.
Norfolk has a thriving buzzard population. But the birds are considered a nuisance by some shooters and persecution of species continues to be a major problem, according to conservationists.
In 2013 there were 164 reports of shooting or poisoning of birds in the UK including red kites, hen harriers, a golden eagle and a white-tailed eagle, figures from the RSPB have revealed.
Lambert was given a 10-week jail term suspended for one year, and was ordered to pay costs of £930.
The National Gamekeepers' Organisation (NGO) said: "The selfish, stupid actions of one man – who was not and never has been a member of the NGO – must not be used to tarnish the good name of game keeping…"
Guy Shorrock, the RSPB officer that investigated the case said: "How bad do things have to get before the government will start standing up for nature? When will it start to create a climate, using suitable legislative and financial pressure, to make errant sporting estates get into line and really start making raptor persecution a thing of the past."
Register for free to continue reading
Registration is a free and easy way to support our truly independent journalism
By registering, you will also enjoy limited access to Premium articles, exclusive newsletters, commenting, and virtual events with our leading journalists
Already have an account? sign in