Germany's far-right AfD takes aim at Greta Thunberg as it denies climate emergency
Nationalist party has mentioned Swedish schoolgirl hundreds of times on social media this year
Chris Baynes
Wednesday 15 May 2019 16:27 Comments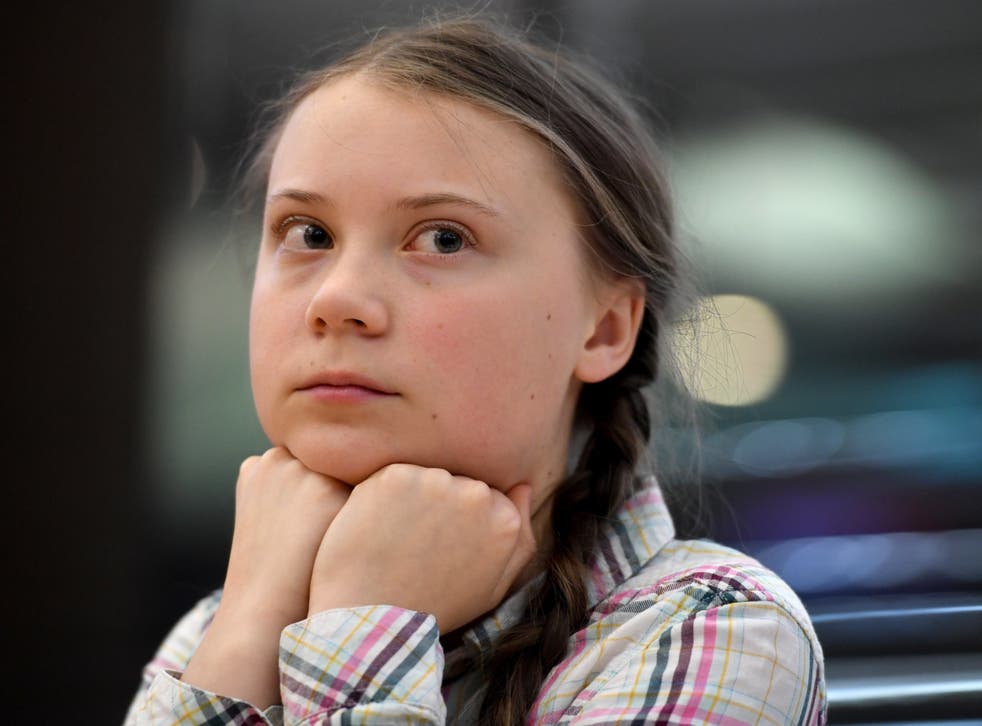 Germany's leading far-right party is looking to make electoral gains by embracing climate change denial, and is increasingly targeting teenage activist Greta Thunberg as it seeks to paint global warming as a lie.
Alternative fur Deutschland (AfD) this week teamed up with climate change sceptics who claim "hysteria" is driving environmentalism to hold a conference in parliament attacking climate science.
The event on Tuesday followed a surge in social media posts on the subject, including hundreds this year alone that mention Ms Thunberg, a 16-year-old Swedish schoolgirl.
The AfD has been vocal about its rejection of global warming since entering the German Bundestag in 2017, claiming that "increasingly religious climate-related hysteria" threatens German prosperity.
But an investigation by Greenpeace's Unearthed project and counter-extremism think tank the Institute for Strategic Dialogue (ISD) found there had been a surge in digital communication focusing on the issue over the past year.
AfD Facebook posts have mentioned climate change 930 times in the last 12 months, compared to 75 times in the year from April 2016 and 222 in the following year.
"Act now or swim later" - Children worldwide protest climate change

Show all 38
Ms Thunberg, who has become one of the most recognisable faces of climate activism since initiating the school strike movement last year, has been cited in nearly two-thirds of those.
She was mentioned in 384 posts by AfD accounts in March and 243 last month, according to ISD data.
Other far-right organisations have also taken aim at Ms Thunberg, depicting her as a fraud and mocking her for having Asperger's syndrome, which is on the autism spectrum. Tatjana Festerling, a former leader of the anti-Islam group Pegida, called the teenager "mentally retarded" in a social media post in February.
AfD candidates in this month's European parliament elections, in which the party is expected to make significant gains, have suggested Ms Thunberg should seek treatment for "psychosis" and compared her to Nazi youth.
Jakob Guhl, extremism researcher at ISD, said: "While the AFD has not shifted its position, the party has decided to communicate it more frequently.
"The emergence of Greta Thunberg as a public figure provided them with a welcome target to communicate their position in a way more appropriate to the dynamics of social media.
"The fact that many mainstream politicians, in particular from the AfD's key political opponent, the Greens, but also CSU [Christian Social Union] candidates such as Manfred Weber, supported a 16-year-old female activist who was virtually unknown until a few months ago, allowed the party to present belief in climate change as irrational, hysteria, panic, cult-like or even as a replacement religion. Attacking Greta, at times in fairly vicious ways, including mocking her for her autism, became a way to portray the AfD's political opponents as irrational."
Teenage climate activist Greta Thunberg tells Extinction Rebellion supporters 'humanity is at a crossroads'
Researchers said there was evidence to suggest AfD's increased focus on climate change was being fuelled by groups with links to US conservatives.
Tuesday's event in Berlin was supported by the European Institute for Climate and Energy (Eike), which describes evidence of manmade global warming as "fraud" and rejects the need for action.
Speakers included Gernot Patzelt, an Austrian glaciologist who describes climate science as "scaremongering", and Christopher Monckton, a British Lord and former Ukip candidate who denies global warming.
German magazine Der Spiegel has reported on Eike working "closely" with AfD. Eike's deputy president, Michael Limburg, once ran for election for AfD and wrote a paper for the party's federal committee on energy policy.
Der Spiegel also noted connections between Eike and the Heartland Institute, a US think thank which has worked to undermine climate science and has previously received funding from American oil company ExxonMobil.
Support free-thinking journalism and attend Independent events
Register for free to continue reading
Registration is a free and easy way to support our truly independent journalism
By registering, you will also enjoy limited access to Premium articles, exclusive newsletters, commenting, and virtual events with our leading journalists
Already have an account? sign in
Join our new commenting forum
Join thought-provoking conversations, follow other Independent readers and see their replies