Giant bats to be evicted from their Sydney roost
Flying foxes are damaging rare trees at Botanic Gardens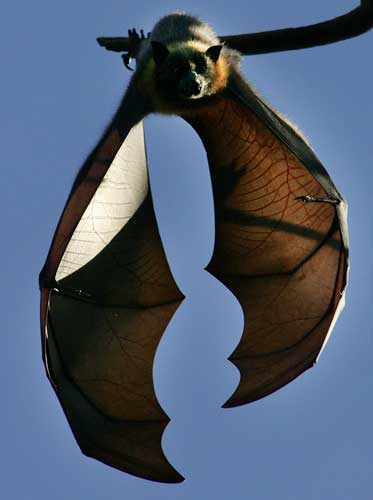 Sydney's Royal Botanic Gardens, set in a picturesque spot overlooking the harbour, are home to some of Australia's oldest and rarest trees – and also to a large colony of screeching, squabbling giant bats.
The grey-headed flying foxes weigh up to 9lb and have a 3ft wingspan. Locals and tourists adore them. But their numbers have swollen to 22,000, and they are destroying some of the gardens' most valuable trees. Park authorities say they have to go. The question is: how to evict them?
Culling is not an option because, apart from the likely public outcry, the flying foxes are a vulnerable species. Numerous tactics have been used to persuade them to leave, including shining strobe lights in their faces, discharging bad odours in their vicinity, blasting them with water sprinklers and smearing their favourite trees with python dung.
However, the only effective deterrent appears to be noise, so a major aural assault is being planned. In the coming weeks, pending government approval, the bats will be bombarded with unpleasant sounds – chainsaws whirring, starter guns being fired, dustbin lids banged together – from loudspeakers that will travel through Palm Grove, their main roosting area, on golf buggies.
It may seem unkind, but staff say they have no choice. Thirteen of their oldest trees, including some rare kauri pines from the 1850s, have died in the past decade, and another 60 are on the critical list. Tim Entwhistle, executive director of the Botanic Gardens Trust, said: "When you've got many thousands of flying foxes shuffling around, the trees get stripped of all their shoots and leaves. They also like to be high up, so they choose the tallest trees, which are also the oldest."
The hope is that the flying foxes, one of the world's largest bat species, will join another colony in northern Sydney. But conservationists are alarmed by the eviction plan, pointing out that, overall, the species' numbers have dropped dramatically thanks to the abolition of their coastal habitats through large-scale land clearing. According to Kerryn Parry-Jones, a bat expert at the University of Sydney, the population is halving every seven years, and the species could be wiped out within a century.
At the gardens, they plan to carry out the noise offensive when the bats are neither breeding nor caring for young. Initially, the loudspeakers will play taped sounds for 10 minutes on the hour. "It will be like being in a bad hotel, and if the bats can't get a decent sleep, they'll move on," Mr Entwhistle said.
The bats hang upside-down during the day, and cruise around at night, eating fruit and flowers. They have been roosting in the Botanic Gardens for years, and their population is now at record heights. It is not uncommon to find 500 of the highly sociable creatures in one tree.
But the bats may not go quietly. After all, they occupy some of the best real estate in Sydney. And like most Sydneysiders, they love their water views.
Join our commenting forum
Join thought-provoking conversations, follow other Independent readers and see their replies