World's first known nursery for giant manta rays discovered in Gulf of Mexico
Where juveniles grow up has long baffled scientists as they are rarely spotted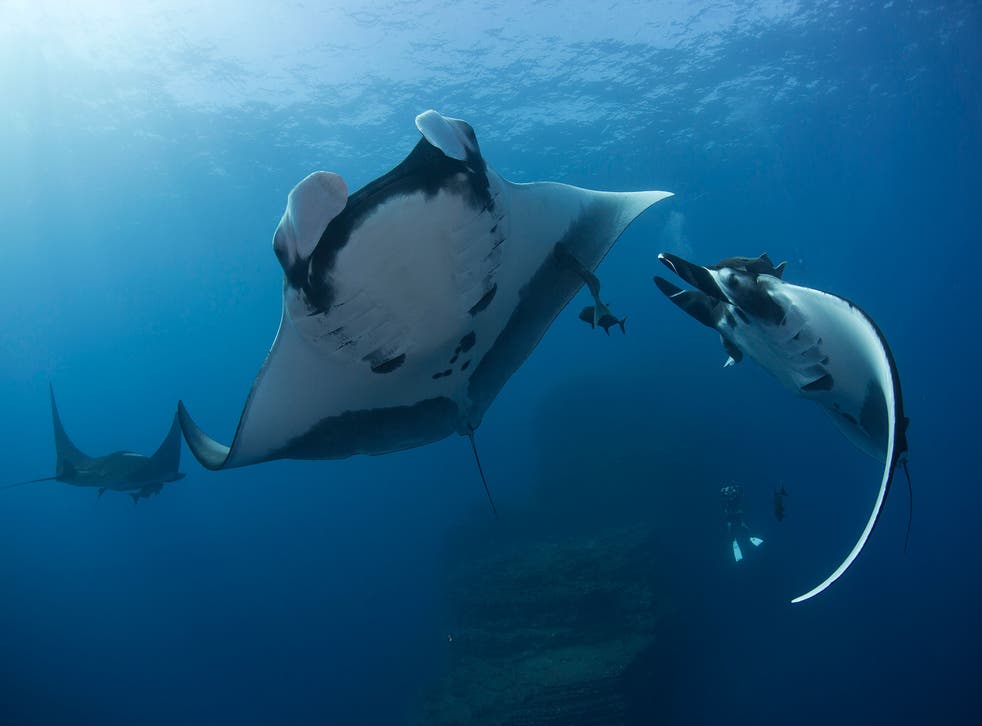 The world's first-known nursery for juvenile giant manta rays has been discovered hidden away in the Gulf of Mexico.
Scientists from the University of California uncovered the region, 70 miles off the coast of Texas, after studying decades of giant manta ray data from the area.
Where juveniles grow up has long baffled scientists, as they are rarely spotted in the four to five years it takes them to become adults, when they can often grow to more than 20ft wide.
Josh Stewart, a marine biologist at the university's Scripps Institution of Oceanography, who led the research team, said he had been trying to solve the riddle of their whereabouts for years.
Having only previously seen one or two junior manta rays in his entire career, he was stunned to see one floating past as he was diving in the Flower Garden Banks National Marine Sanctuary.
After speaking with other scientists who regularly dove in the area, who told him they saw juveniles all the time, he dug through 25 years of data and confirmed his hunch – this was a haven for baby manta rays.
World facing first mass extinction since the dinosaurs
In the study, published in Marine Biology, Mr Stewart and colleagues describe a reef – filled with mantas of all ages - where the sea floor slopes steadily into deeper water.
"We think they may be feeding on specific types of zooplankton there, then migrating up toward the surface, where we saw them," Mr Stewart told the San Diego Union-Tribune.
"They might be hanging around the banks because it could be a little safer than open water.
"We've seen them so rarely that we know very little about these juveniles. We don't know how far they move, or exactly what they feed on, or all of the habitats these access."
Wet summers drive five British butterflies close to extinction

Show all 5
Giant manta rays are listed as vulnerable to extinction by conservationists, although actual population numbers of the mysterious "gentle giant" are hard to calculate.
Sightings of the closely-related reef manta, however, have dropped by 90 per cent in regions of southeast Asia in the past decade, according to a study.
Fishing is considered the biggest threat to giant manta numbers, both intentional and accidental. Their gill plates – the sieves through which they filter their food from seawater – are sold in China for medicinal purposes, while they often end up as bycatch due to their huge wingspan.
Join our new commenting forum
Join thought-provoking conversations, follow other Independent readers and see their replies