Giant pandas are no longer 'endangered', global experts declare
Conservationists hail 'hugely encouraging news' as 'a cause for celebration'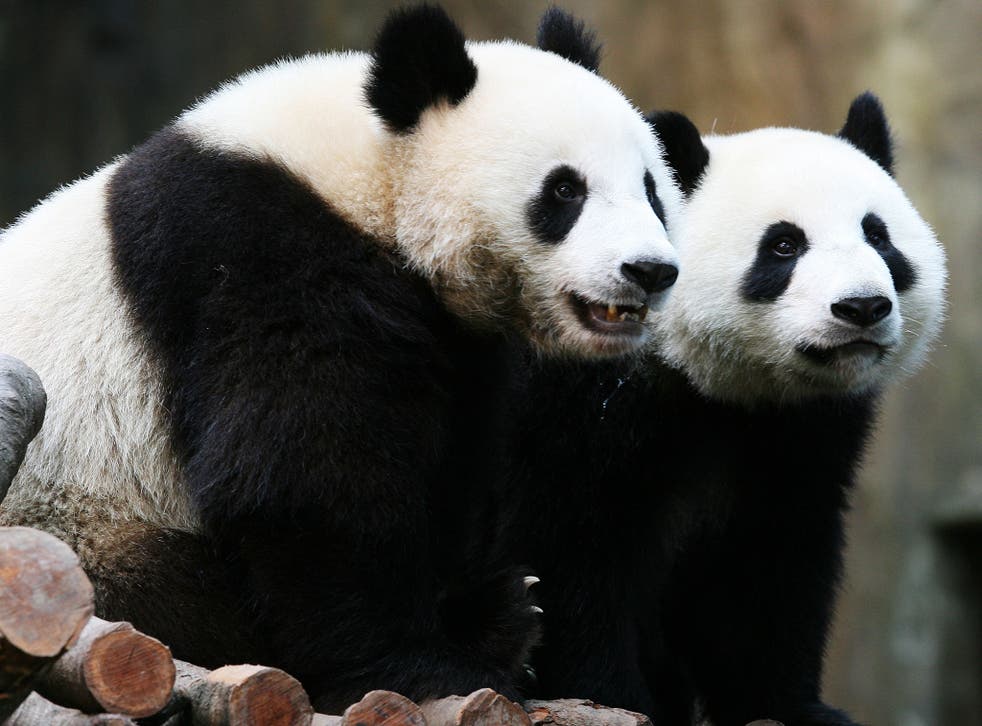 The giant panda, an animal that has become an icon of the conservation movement, is no longer an endangered species, it has been declared.
After its population was estimated to have grown by more than 16 per cent in just over a decade, the International Union for Conservation of Nature (IUCN) upgraded its status to "vulnerable".
The reasons for the animal's comeback is simple — a conservation programme by the Chinese government that focused on restoring its habitat of forests with an ample supply of bamboo.
For, contrary to a "myth" based on early problems in zoos, giant pandas have no problems reproducing.
Conservation group WWF, which uses the panda as its symbol, described the reclassification as "hugely encouraging news", but added that it should be seen in the context of a 52 per cent average decline in the populations of mammals, birds, reptiles, amphibians and fish between 1970 and 2010.
In a statement, the IUCN warned climate change was predicted to eliminate more than 35 per cent of the panda's bamboo habitat in the next 80 years.
This means that the population gains made over the last 20 years will be reversed unless more is done to protect the forests.
According to Chinese officials, a survey carried out between 1998 and 2002 found there were 1,596 giant pandas living in the wild. The latest survey, conducted between 2011 to 2014 found evidence of 1,864.
Dr Ronald Swaisgood, chair of the IUCN's Giant Panda expert team, told The Independent in an email: "The current situation is that all the trends are positive. Panda numbers are increasing, occupied range is expanding, and available habitat is recovering.
"However, the population is very badly subdivided by habitat fragmentation, into about 33 smaller populations that are at least partially isolated.
"The genetic diversity is still good, but looking forward all are concerned that the smaller populations will not be genetically viable."
Efforts are being made to connect forest areas with wildlife corridors or relocate the pandas if this is not possible.
Animals in decline

Show all 8
Dr Swaisgood, who works for San Diego Zoo Global, said if pandas had access to the right habitat, they could thrive.
"Bamboo is omnipresent in these mountain forests of China so allowing the forest to regrow, or in some cases restoring forests, is responsible for the recent range expansion and population increase. Give the pandas some good bamboo forests and they will be fine," he said
"If there is one myth I can dispel about pandas it is that they are poor breeders. True, it was difficult to figure out how to get them to 'do what comes naturally' in the early days of the breeding program, but with new research and scientific knowledge, we have discovered that they breed quite well.
"We were deficient, not the pandas. The panda population in breeding centres is now increasing exponentially and much of this is through natural mating success.
"We've seen plenty of pandas mating in the wild and no one has ever observed any mating problems with wild pandas. They breed just fine."
Glyn Davies, executive director of global programmes at WWF UK, welcomed the IUCN's decision.
"The announcement regarding pandas is hugely encouraging news," he said.
"It is a significant conservation success following years of enormous efforts on the part of the Chinese Government, communities and non-governmental organisations.
"This is a cause for celebration and proves that a united approach can bring a substantial difference to threatened species, even at a time of great economic growth in China."
However he pointed to WWF's 2014 Living Planet report, which described dramatic falls in the populations of most forms of animal life.
"This reminds us that our planet's wildlife still faces enormous threats," he said.
"We need to create a world where people and nature thrive. We ignore the decline of species at our peril — as they are the barometer that reveals the impact we are having on the planet that sustains us.
"We need urgent action to ensure that global temperature rises caused by human activity are limited to well below two degrees Celsius, that natural habitats are protected and that we consume only as many resources as the Earth can replenish."
Register for free to continue reading
Registration is a free and easy way to support our truly independent journalism
By registering, you will also enjoy limited access to Premium articles, exclusive newsletters, commenting, and virtual events with our leading journalists
Already have an account? sign in
Register for free to continue reading
Registration is a free and easy way to support our truly independent journalism
By registering, you will also enjoy limited access to Premium articles, exclusive newsletters, commenting, and virtual events with our leading journalists
Already have an account? sign in
Join our new commenting forum
Join thought-provoking conversations, follow other Independent readers and see their replies