Global warming prompts farmers to plant fewer crops, study says
Change in farming practice could be more important in lowering crop yields than the weather's direct influence
Steve Connor
Science Editor
Monday 07 March 2016 17:35 Comments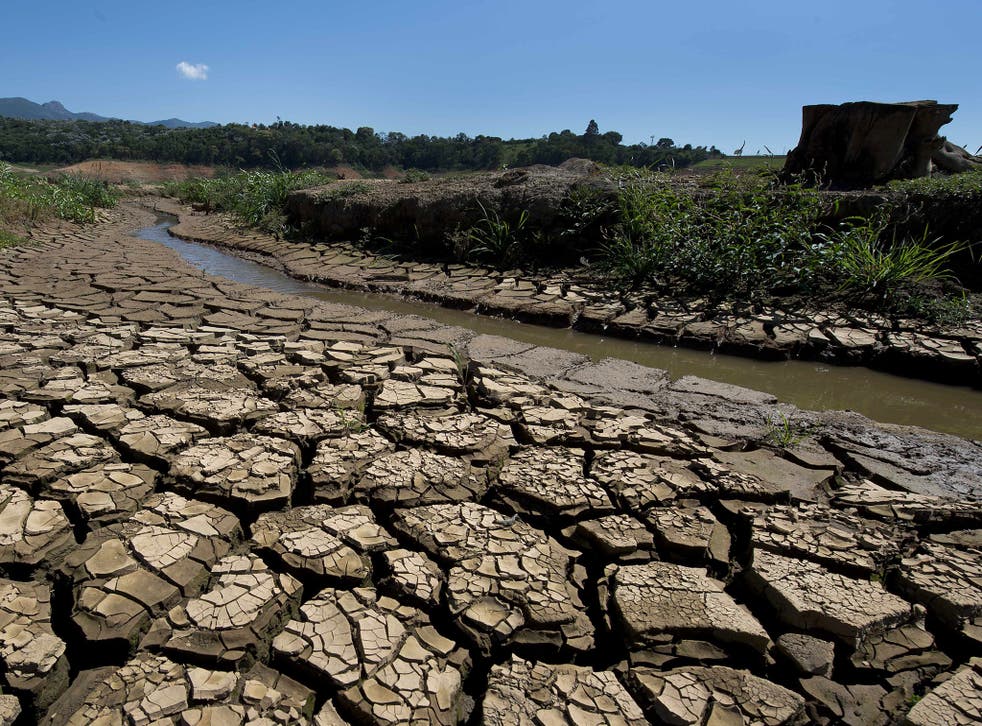 Rising global temperatures may have a far bigger impact on food production than previously thought according to a study of how farmers in Brazil have actually reacted to a warmer climate over the past decade.
In addition to the direct effects on harvests, scientists have discovered that warmer temperatures change the behaviour of farmers so they end up planting fewer crops than they otherwise would under normal growing conditions.
This change in farming practice triggered by warmer temperatures can actually be significantly more important in lowering overall crop yields than the more direct influence of hotter or drier weather on growing conditions, the researchers found.
Satellite images of how soybean and maize crops were planted and harvested in the Mato Grosso state of Brazil between 2002 and 2008, for instance, found that a temperature rise of just 1°C will lead to an overall reduction in soy and corn production of between 9 and 13 per cent.
Climate change wreaks havoc on India's tea industry
"This is worrisome given that the temperature in the study region is predicted to rise by as much as 2°C by mid-century under the range of plausible greenhouse-gas emissions scenarios," said Avery Cohn, professor of environment and resource policy at Tufts University in Massachusetts, a senior author of the study.
Brazil's Mato Grosso is considered to be an important emerging "bread basket" for the world and was chosen because it represents the kind of humid, tropical agricultural region that could be particularly vulnerable to climate change. It already supplies some 10 per cent of global soybean production.
The satellite study, funded by US National Aeronautics and Space Administration (Nasa) and published in Nature Climate Change, investigated how much land Brazilian farmers chose to sow and how many crops they planted in each growing season to see how this behaviour was influenced by ambient growing temperatures over the eight-year period.
"If you look at yields alone, you're not looking at all of the information because there are economic and social changes going on as well. You're not taking into account farmers' reactions to climate shocks," said Leah VanWey, professor of sociology at Brown University in Providence, Rhode Island.
"Had we looked at yield alone, as most studies do, we would have missed the production losses associated with these other variables," Professor VanWey said.
Pictures that show we are killing our planet

Show all 21
For instance, farmers may choose not to put as much land into production after a particularly bad season. Or they may choose to avoid "double cropping", a practice common in the tropics were two crops are sown during each growing season to maximise annual production.
Using Nasa's MODIS satellite, which monitors the type of land cover from space, the scientists were able for example to see whether one crop or two were grown in any given season by counting the areas that turned green and then brown, then green and brown again – indicating a double harvest.
"The changes in cropping that we quantified with remotely sensed data were stunning. We can use those satellite data to better understand what's happening from a climate, economic, and sociological standpoint," said Jack Mustard, professor of earth and planetary sciences at Brown University.
The scientists estimated that in this particular region of the world a 1°C increase in temperature would result in changes to farming practice, such as less land used in production and fewer double crops, that would account for about 70 per cent of the overall drop in food production – with only the remaining 30 per cent due to a decline in crop yield.
The researchers said this is why previous studies into the effect of climate change on crop yield may have underestimated the actual impact on food production, especially in emerging countries such as Brazil that do not have an established system of agricultural subsidies to take farmers though the bad times.
"This is an agricultural frontier in the tropics in a middle-income country. This is where the vast majority of agricultural development is going to happen in the next 30 to 50 years. So understanding how people respond in this kind of environment is going to be really important," Professor VanWey said.
"We may need to figure out a way to create incentives – credit products or insurance – that can reduce farmers' responses to climate shocks," she said.
Register for free to continue reading
Registration is a free and easy way to support our truly independent journalism
By registering, you will also enjoy limited access to Premium articles, exclusive newsletters, commenting, and virtual events with our leading journalists
Already have an account? sign in
Join our new commenting forum
Join thought-provoking conversations, follow other Independent readers and see their replies