Europe's favourite weedkiller faces being banned within weeks over cancer fears
Campaigners say the public do 'not want this toxic poison to be used to grow our food, contaminate our parks and playgrounds or be sprayed in our home gardens'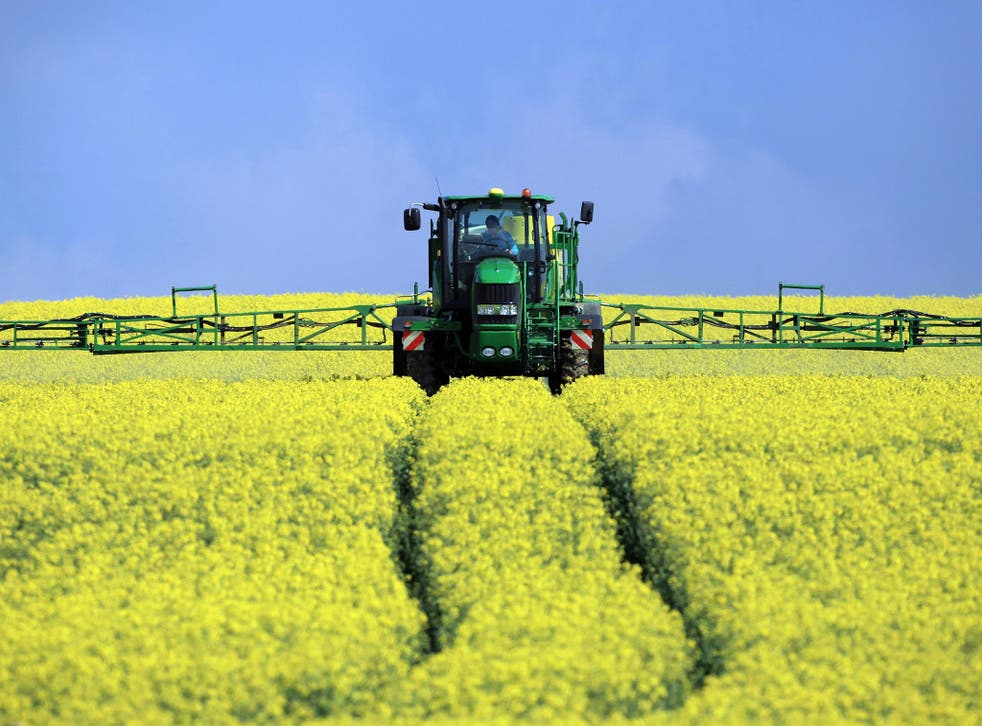 The most commonly used type of weedkiller, which includes Roundup, could be banned from use in the European Union within weeks amid concerns it might cause cancer.
It had been expected that the license to use glyphosate-based herbicides in the EU, which runs until 30 June, would be extended for up to 15 years.
But, amid disagreement between EU member states, a vote on relicensing has now been postponed for a second time with officials deciding it would not be possible to get a large enough majority for a binding decision.
While the UK and 18 other countries support the use of glyphosate, France and Italy threatened to vote against while Germany, whose own government is split on the issue, and six other countries planned to abstain.
"Since it was obvious that no qualified majority would have been reached, a vote was not held," a Commission spokeswoman told Reuters.
Greenpeace's EU food policy director Franziska Achterberg accused the European Commission of favouring attempts to relicense the weedkiller.
"The Commission has continued to ignore the concerns of independent scientists, MEPs and European citizens," she said. "It's time for the Commission to change course."
Glyphosate had been viewed as one of the safest herbicides until the World Health Organisation's International Agency for Research on Cancer announced that it "probably" caused cancer last year.
However, since then the WHO itself has said glyphosate, which has been found in human urine and breast milk, is unlikely to pose a risk to anyone who eats food contaminated with it.
Campaign group Pesticide Action Network UK said in a statement: "It is clear that there is serious disagreement among Member States about how, or if, this probable carcinogen should be approved for use across the EU.
"Whilst no new deadline for a decision has yet been set, if there is no decision by 30 June it is possible that the use of glyphosate in all areas – including agriculture – will be banned as this is when its current approval period comes to an end."
It added that the public did "not want this toxic poison to be used to grow our food, contaminate our parks and playgrounds or be sprayed in our home gardens".
UK news in pictures

Show all 50
And Heidi Chow, a food and agribusiness campaigner at Global Justice Now, said the stalemate was a clash between the "enormously influential agribusiness lobby" and "over a million citizens across the EU who have signed a petition saying they don't want toxic chemicals like glyphosate to be so widely used when there are such enormous risks over being carcinogenic".
"The EU keeps delaying the glyphosate decision, but it will need to soon decide whether its interests are aligned with public health or corporate profits," she added.
Guy Smith, vice-president of the National Farmers Union, accused some European politicians of "playing politics" with the issue.
"Like most farmers who use glyphosate regularly on my farm I am nothing short of exasperated as to why this key herbicide cannot simply and quickly be given the reauthorisation that has been recommended by European Food Safety Authority – the appropriate EU scientific body," he said.
"Some member states in the committee are prevaricating and wasting time when they could be taking decisions based on scientific evidence.
"Glyphosate is a pesticide which allows farmers to combat weeds while supporting cultivation methods that can preserve good soil structure. There is no sense behind this delay and we look to Member States to support an evidence-based, full re-approval at the earliest possible opportunity."
He said glyphosate was used just before harvesting crops like oilseed rape to kill the plant so it would dry out. Preventing its use would mean farmers would have to use crop-drying machines, which would increase greenhouse gas emissions.
"I've been using it for 40 years and like most farmers I use it judiciously and carefully," Mr Smith said. "I've seen hundreds of studies showing glyphosate has very low toxicity to mammals."
The Glyphosate Task Force (GTF), which represents the manufacturers, said the failure to vote on re-licensing represented "an unprecedented delay".
"The GTF consider this situation to be discriminatory, disproportionate and wholly unjustified," the group's chairman Richard Garnett said.
"Ultimately, failure to follow the process appropriately and within a reasonable timeframe will only serve to seriously undermine the credibility of the EU legislative framework and put European agriculture at a competitive disadvantage."
Dr Christopher Connolly, a Dundee University neurobiologist, said the failure to reach a decision sent a "strong message that more scientific knowledge is required on the hazard/risk of glyphosate to both human health and the environment".
"Until this evidence is convincing, one way or the other, glyphosate may no longer be authorised for use in the EU. Clearly, the authorisation process requires a more robust framework, on which sound decisions can be made," he said.
"The research should be performed much earlier in the process of authorisation, with the evidence being produced by independent laboratories, the data made available to the scientific community, and the cost met by the producer."
Join our new commenting forum
Join thought-provoking conversations, follow other Independent readers and see their replies