GM crops are neither 'a panacea' nor 'monsters' but are 'pretty much just crops', expert says
Major review by three US national academies finds genetically modified crops are probably safe to eat but don't seem to increase yields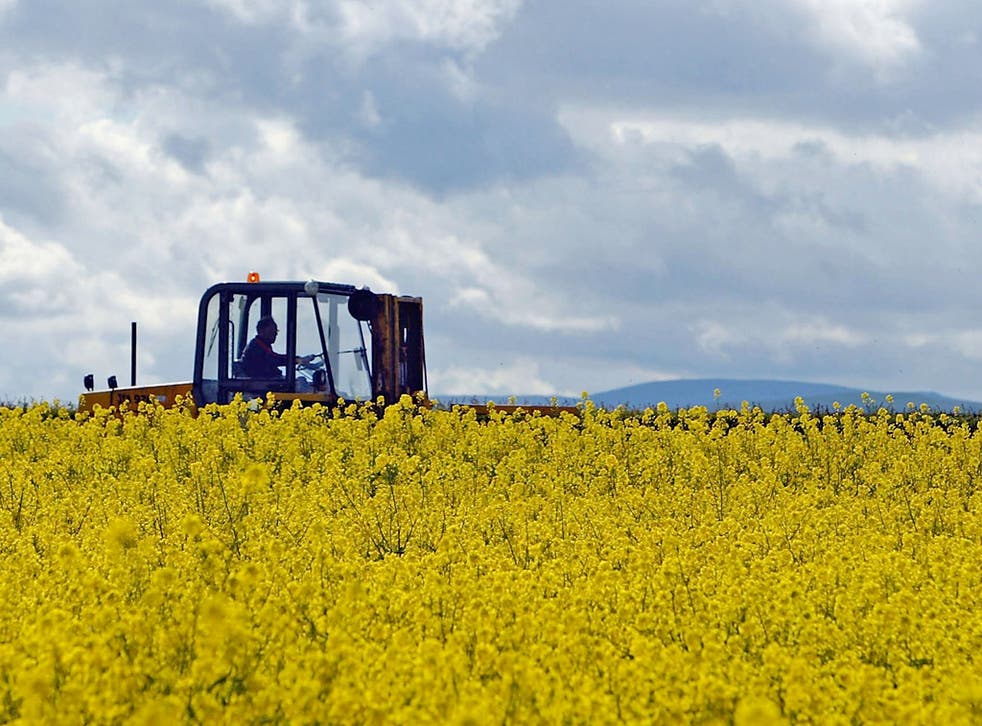 A major review of genetically modified crops by scientists in the United States has tentatively concluded that they pose no risk to human health.
However, in their 388-page report, three US National Academies – of the Sciences, Engineering and Medicine – cautioned that any new kind of food "may have some subtle favourable or adverse health effects that are not detected even with careful scrutiny".
And it said there was an "urgent need" for a publicly funded method of testing future GM products as they are developed to ensure they are safe.
But, in a blow to supporters of GM crops, the report by the academies' Committee on Genetically Engineered Crops also found there was no evidence that they had "substantially increased the rate at which US agriculture is increasing yields" despite experiments suggesting that they would do so.
The Soil Association, which supports organic farming, said that this finding "strongly rebuts the argument that GM crops are needed to feed the world".
And one expert, commenting on the findings, said the "inescapable conclusion" was that GM crops were not a "panacea" or the "dreaded monsters" that those on both sides of the debate claim. They were just, he said, "pretty much just crops".
GM crops, known as GE in the US, have controversially been linked to cancer and a number of other diseases. But a study suggesting GM maize might cause cancer in rats was later discredited by the European Food Safety Authority.
In its summary, the report said: "The committee concluded that no differences have been found that implicate a higher risk to human health safety from these GE foods than from their non-GE counterparts.
"The committee states this finding very carefully, acknowledging that any new food – GE or non-GE – may have some subtle favourable or adverse health effects that are not detected even with careful scrutiny and that health effects can develop over time."
And it said there was a pressing need to test all new GM products before they were consumed by people.
"There is an urgent need for publicly funded research on novel molecular approaches for testing future products of genetic engineering so that accurate testing methods will be available when the new products are ready for commercialization," the report added.
Cancer rates had changed over time in the US and Canada, but they were "generally similar" to those in the UK and western Europe "where diets contain much lower amounts" of GM food.
The committee also said there was no suggestion eating GM produce increased the risk of diabetes, kidney disease, obesity, autism or food allergies.
The experts looked at the effects of using GM maize, soybean and cotton instead of convention crops.
"No significant change in the rate at which crop yields increase could be discerned from the data," they concluded.
"Although the sum of experimental evidence indicates that GE traits are contributing to actual yield increases, there is no evidence from US Department of Agriculture data that they have substantially increased the rate at which US agriculture is increasing yields."
On the effects on the environment, the report found the use of GM crops designed to resist insects or herbicides did not result on a reduction in biodiversity of insect or plant life. In some cases, growing insect-resistant crops led to an increase in insect diversity.
Genes from GM crops had spread into wild relatives of the plants, but the report found no examples where this had harmed the environment.
Professor Wayne Parrott, of Georgia University's crop and soil sciences department, said the report was a "sober assessment" of the current knowledge about GM crops.
"The inescapable conclusion, after reading the report, is the GE crops are pretty much just crops," he said.
"They are not the panacea that some proponents claim, nor the dreaded monsters that others claim."
Science news in pictures

Show all 20
Dr Joe Perry, former Chair of the European Food Safety Authority GMO Panel, said the report showed that crops genetically modified to contain bacteria that are toxic to insects were "both environmentally friendly and good for growers, resulting in yield increases and pesticide reduction".
But he added: "The picture is not nearly so rosy for herbicide-tolerant crops, which, because of the profligate and lightly regulated way they are used in the USA, don't increase yields and can lead to problems with weed resistance."
Dr Perry called for the European Union to approve several GM crops with a number of conditions.
"There is no longer any scientific reason to delay approval for these crops – the only reason for delay is purely political," he added.
However Emma Hockridge, head of policy at the Soil Association, said the "detailed report highlights that GM is an old and failing technology".
"Despite huge promises of all kinds of benefits, and many years of huge investment, the only genetically engineered characteristics that have been put into widespread use are those that allow a crop to withstand the application of a herbicide or be toxic to insect pests. The only commercial GM crops are still just maize, soybean and cotton," she said.
"Golden rice is mentioned as an example of a potentially beneficial GM crop, yet despite 15 years of hype, golden rice is still nowhere near ready and cheaper, more effective dietary interventions are already being deployed with success.
"The report highlights that there have been no long epidemiological studies which have directly addressed the human health impact of GM food consumption.
"The report strongly rebuts the argument that GM crops are needed to feed the world by concluding that there is no evidence that GM crops have changed the rate of increase in yields. The Soil Association agrees with the recommendation for pre-market human and environmental safety assessments for a wider range of breeding techniques."
Register for free to continue reading
Registration is a free and easy way to support our truly independent journalism
By registering, you will also enjoy limited access to Premium articles, exclusive newsletters, commenting, and virtual events with our leading journalists
Already have an account? sign in
Register for free to continue reading
Registration is a free and easy way to support our truly independent journalism
By registering, you will also enjoy limited access to Premium articles, exclusive newsletters, commenting, and virtual events with our leading journalists
Already have an account? sign in
Join our new commenting forum
Join thought-provoking conversations, follow other Independent readers and see their replies