Golf courses cover 10 times more land than allotments – and get £550,000 in farming subsidies
Campaigner questions whether it is 'really right that we devote so much space on our small island to golf courses, and so little to people trying to grow their own food'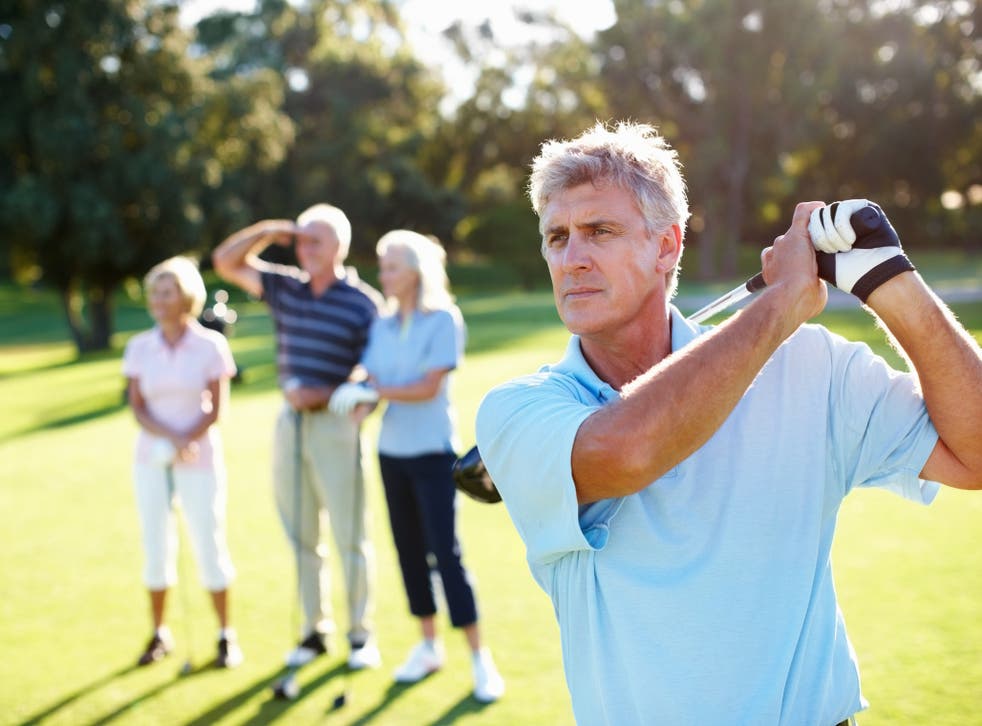 Golf courses take up 10 times the amount of land used for allotments, according to a new analysis by Friends of the Earth (FoE).
The campaign group also found that golf courses receive at least £550,000 in agricultural subsidies, while allotments, many of which are used to grow food, receive nothing.
It called for the Government – currently considering a new farm subsidy system to replace the EU's Common Agricultural Policy (CAP) after Brexit – to use public money to promote "sustainable food production" instead of "private leisure activities".
Asked to comment on the figures, the Department for Environment, Food and Rural Affairs (Defra) pointed to a speech by the Secretary of State, Michael Gove, in which he strongly criticised the CAP system, saying it "all too often puts resources in the hands of the already wealthy" and "encourages patterns of land use which are wasteful of natural resources".
Guy Shrubsole, a campaigner at FoE, questioned whether golf clubs were "earning" their current CAP subsidies and also the amount of land given over to the sport.
Using the Ordnance Survey's new 'Greenspace' map, he found that about 310,000 acres of land in the UK was occupied by golf courses, compared to about 33,300 acres for allotments.
"Is it really right that we devote so much space on our small island to golf courses, and so little to people trying to grow their own food?" Mr Shrubsole said.
"Golf courses take up a vast amount of land and use huge amounts of water, yet continue to get public farm subsidies – while smallholders and allotment-owners aren't eligible for support under the current rules."
He urged the Government to use Brexit to change the system's priorities. "The Government must urgently fix our broken farm subsidy system and sort out how we manage our scarce land, and the forthcoming Agriculture Bill is the chance to do that," Mr Shrubsole said.
"Public money should be spent on public goods, like protecting nature while enabling sustainable food production, rather than on private leisure activities."
In pictures: European parliament Brexit discussions

Show all 12
According to an FoE analysis of official figures, most of the CAP money given to golf courses – some £440,00 – was paid under the "agri-environment" scheme, which would help fund tree planting and other schemes to improve the environmental quality of the land. Nearly £110,000 was paid under the "single farm payment" scheme.
Under EU regulations, a golf course can qualify for basic payments under the CAP if they meet the 'active farmer' requirement for the land they farm. Allotments fall below the minimum requirement for CAP basic payments of five hectares.
The National Allotment Society said in an email that if the FoE figures were correct, there are "many more allotments than we thought". "So this is really good news for us," they added.
A spokeswoman said they had believed there were about 330,000 plots but said 33,300 acres suggested there were more than 533,000.
"So even if you take out the community garden land that has been included it's a very good result," she said. "I think the issue is the spread of the sites and the waiting lists in built-up areas like London."
She did not appear to be keen on the idea that allotments should get financial support from the post-Brexit replacement for the CAP.
"The reason allotments do not get money from the CAP is because they are not businesses – not because they are too small," the spokeswoman said.
"Many allotment sites are subsidised already by local taxpayers and devolved managed sites have access to grants and lottery funding. The Society would not want to see allotments classed as businesses."
When contacted, Defra referred to this comment in Mr Gove's "Green Brexit" speech on Friday: "The Common Agricultural Policy rewards size of land-holding ahead of good environmental practice, and all too often puts resources in the hands of the already wealthy rather than into the common good of our shared natural environment.
"It also encourages patterns of land use which are wasteful of natural resources and often intrinsically poor value rather than encouraging imaginative and environmentally enriching alternatives.
"This Government has pledged that when we leave the EU we will match the £3bn that farmers currently receive in support from the CAP until 2022.
"And I want to ensure that we go on generously supporting farmers for many more years to come. But that support can only be argued for against other competing public goods if the environmental benefits of that spending are clear."
The Golf Club Managers' Association, UK Golf Course Owners Association, and Royal and Ancient Golf Club could not be reached for comment on Friday afternoon.
Register for free to continue reading
Registration is a free and easy way to support our truly independent journalism
By registering, you will also enjoy limited access to Premium articles, exclusive newsletters, commenting, and virtual events with our leading journalists
Already have an account? sign in
Register for free to continue reading
Registration is a free and easy way to support our truly independent journalism
By registering, you will also enjoy limited access to Premium articles, exclusive newsletters, commenting, and virtual events with our leading journalists
Already have an account? sign in
Join our new commenting forum
Join thought-provoking conversations, follow other Independent readers and see their replies