Good news day for Sainsbury's is buried by packaging row
Store reveals it is to cut its cereal wrapping – and is charged for overpackaging its meat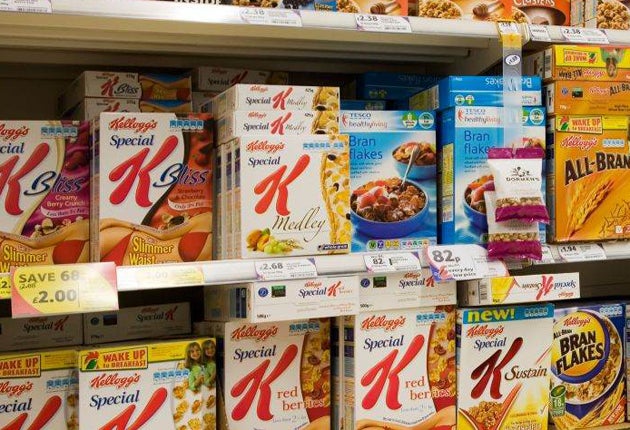 For Sainsbury's, the timing was unfortunate to say the least. Hours after the supermarket trumpeted its plans to cut packaging by moving breakfast cereals from boxes into bags, a council announced it was launching a landmark prosecution against the company for its use of excessive meat wrapping.
Trading standards officers claim Britain's third biggest grocery giant broke an obscure seven-year-old law in its protection of a Taste the Difference beef roasting joint, which was swaddled in three layers of plastic.
It is the first time a supermarket has been prosecuted under the Packaging (Essential Requirements) Regulations, which demands that wrapping is "limited to the minimum adequate amount to maintain the necessary level of safety, hygiene and acceptance."
Sainsbury's says it has a good record in reducing packaging and was "very surprised" by Lincolnshire County Council's decision to launch legal action.
The £21bn-a-year business has so far moved tomatoes from tins into cartons and milk from plastic bottles into thin bags. Yesterday it proudly announced its latest innovation – bagged breakfast cereals. After selling value muesli and oat cereal in plastic bags for months, it has moved its "Basics" range of cornflakes and rice pops into bags and will now do the same with fruit and fibre by December. Only its Basics wholewheat biscuits will remain in a box, to prevent them breaking.
In a press release issued yesterday, Sainsbury's said it would save 165 tons of packaging a year. Stuart Lendrum, its head of packaging, said: "Cereal boxes are an iconic item on breakfast tables, but by ending our use of boxes for Basics, we can save a huge amount of cardboard and thereby reduce the carbon footprint of the weekly shop. Not using the boxes takes us some way towards meeting our target to cut packaging by a third by 2015."
But within hours, Lincolnshire County Council announced it was prosecuting the supermarket for selling a Slow Matured Ultimate Beef Roasting Joint at its branch in Tritton Road, Lincoln, on or before 17 February this year.
Only five cases have been brought under the Packaging (Essential Requirements) Regulations to date, but the council said it was compelled to act after investigating a complaint from a shopper. A court hearing has been set for 13 October.
Peter Heafield, the council's head of trading standards, said excessive packaging caused unnecessary environmental damage and increased costs for recycling and landfill. "Lincolnshire County Council has a duty to enforce the regulations, which require businesses to review and reduce their packaging," he said.
"Following a consumer complaint about a product available in Sainsbury's, Trading Standards carried out an investigation which has resulted in the matter being brought before the court."
Sainsbury's said it was "dumbfounded" by the move. A spokesman said the council's comments did "not reflect the very positive outcome of our meeting with its packaging team".
"In fact, we have been informed that the council, in light of that meeting, is currently looking again at whether it will proceed. We were particularly surprised, as the packaging of the product in question has been reduced by 53 per cent since February and is set to be reduced by at least another 10 per cent within the next few months," the spokesman added.
Cereal facts...
* Cereal is the top breakfast food in the UK. More than 97 per cent of households buy cereal at least once a year, and it features in 62 per cent of breakfasts.
* Britons spent £1.2bn on cereals last year, with the biggest category being kids' brands such as Coco Pops and Sugar Puffs, with 43 per cent of sales.
* The top 10 best-selling cereals in the UK are: Weetabix, Special K, Corn Flakes, Crunchy Nut Corn Flakes, Frosties, Rice Krispies, Coco Pops, Shredded Wheat, Shreddies and Alpen.
* 67 million packs of Kellogg's Corn Flakes are produced every year for the UK market: 2.8 million bowls a day.
Join our commenting forum
Join thought-provoking conversations, follow other Independent readers and see their replies