Government taken back to court for third time over air pollution plan
'The health of all UK citizens is at stake'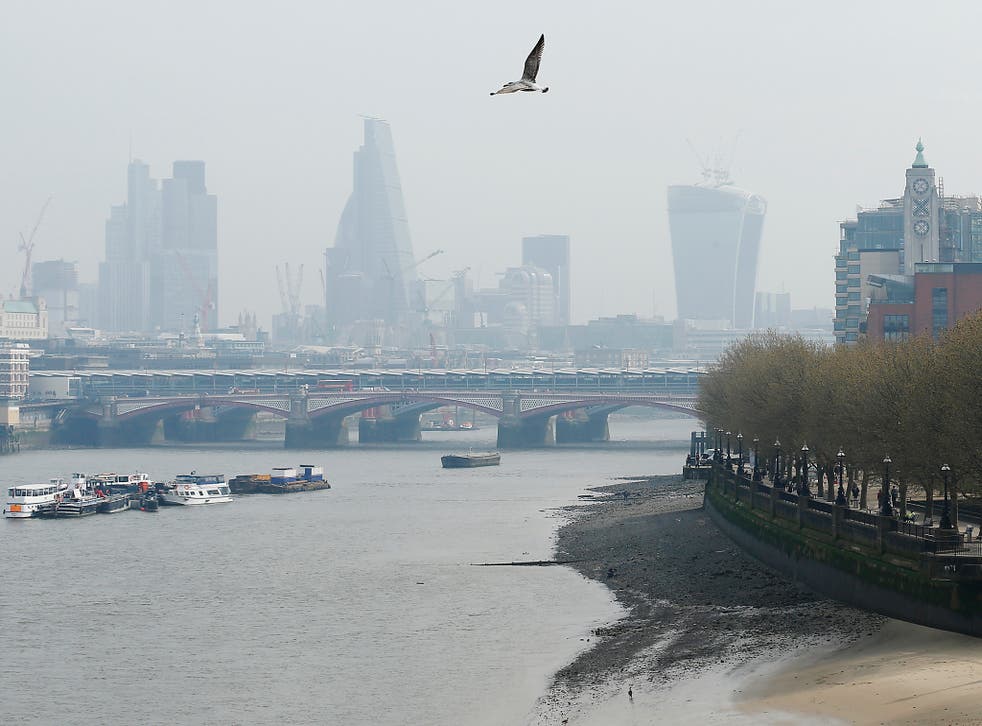 The UK Government is being taken to court for a third time over its latest attempt to produce an effective plan to reduce air pollution to within safe limits.
ClientEarth, a group of campaigning environmental lawyers, has twice successfully won court orders requiring Ministers to come up with a strategy that complies with European Union law.
A draft third attempt was published for public consultation shortly before the general election, but only after a judge ordered the Department of Environment, Food and Rural Affairs to do so. Defra lawyers had unsuccessfully argued that it should be delayed until after the vote because it would drop a "controversial bomb" on the campaign.
ClientEarth is due to argue that this latest version is still not good enough.
It said proposals for England were flawed because local authorities were told to use the most effective proposal – establishing clean air zones in the most polluted parts of the country that some vehicles must pay to enter – only after considering other options.
The group also criticised proposals for Scotland, Wales and Northern Ireland, saying they lacked any actual concrete action.
James Thornton, ClientEarth's chief executive, said: "The draft plans for Scotland, Wales and Northern Ireland are simply plans for more plans.
"The court ordered a plan for the UK Government to obey the law on pollution limits across the UK as soon as possible. The health of all UK citizens is at stake, not just some."
While air quality is devolved to these three parts of the UK, the British Government has overall responsibility, according to a Supreme Court ruling in 2015.
Public Health England and the National Institute for Health and Care Excellence have issued a report calling for clean air zones that include "restrictions or charges on certain classes of vehicles" to be considered.
It said the establishment of such zones should include "targets to progressively reduce pollutant levels below EU limits and aim to meet World Health Organization air quality guidelines".
Mr Thornton said this expert advice should have been made available to the public during the consultation on the air quality plan.
The worst countries in the world for air pollution deaths

Show all 10
"The UK Government did not make this clear to people when it consulted on its air quality plans for the UK, forcing us to go back to the High Court next Wednesday to try to get them to do this," he said.
"If this is going to happen, then people need to have their say on it."
A Defra spokesperson said: "Improving the UK's air quality and cutting harmful emissions is a priority for this Government.
"We have invested more than £2bn since 2011 to increase the uptake of ultra-low emissions vehicles and support greener transport schemes, and set out how we will improve air quality through a new programme of Clean Air Zones."
The Government plans to publish its final air quality plan by 31 July.
Register for free to continue reading
Registration is a free and easy way to support our truly independent journalism
By registering, you will also enjoy limited access to Premium articles, exclusive newsletters, commenting, and virtual events with our leading journalists
Already have an account? sign in
Register for free to continue reading
Registration is a free and easy way to support our truly independent journalism
By registering, you will also enjoy limited access to Premium articles, exclusive newsletters, commenting, and virtual events with our leading journalists
Already have an account? sign in
Join our new commenting forum
Join thought-provoking conversations, follow other Independent readers and see their replies