Great Barrier Reef: Australian PM Tony Abbott makes saving the World Heritage site his top priority
The 35-year plan envisages spending more than £1bn over the next decade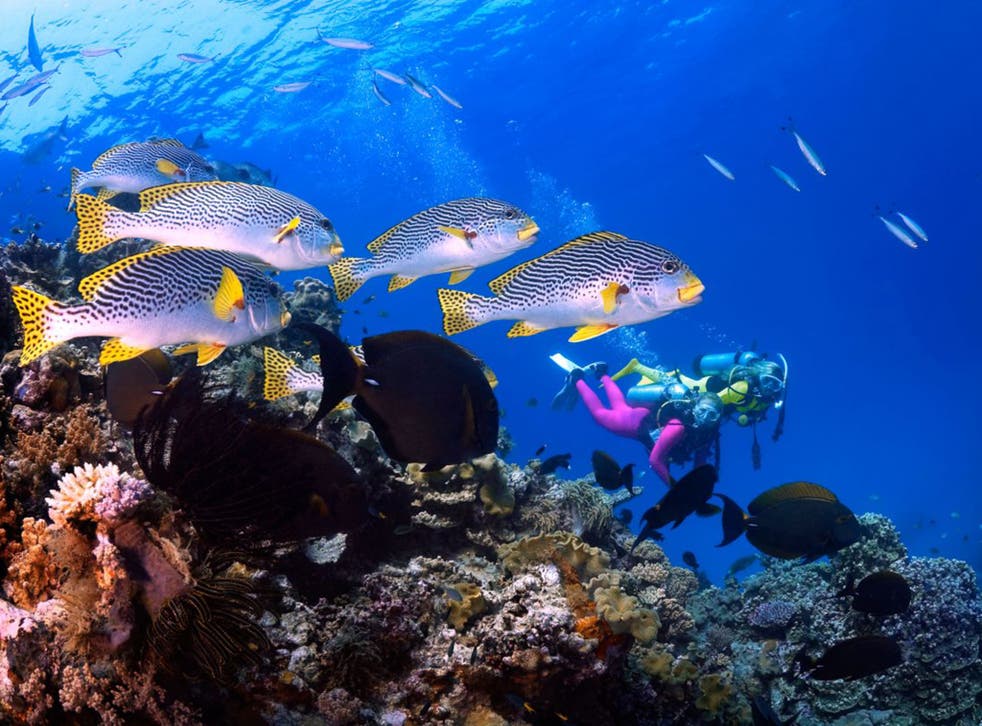 A plan to save Australia's Great Barrier Reef from destruction was announced yesterday as Prime Minister Tony Abbott sought to persuade the United Nations that the World Heritage site was not "in danger".
The reef has lost about 50 per cent of its coral in the past 30 years, due partly to ocean acidification caused by greenhouse gas emissions; the dumping of spoil from the dredging of sea channels; and pollution from agricultural chemicals. Plagues of venomous crown-of-thorns starfish, which eat coral, have also caused widespread damage.
Mr Abbott once dismissed climate change as "absolute crap" and, despite later admitting it was a "real" issue, has continued to be criticised for his government's stance.
Australia's stunning Great Barrier Reef

Show all 8
A draft of its 2050 Long-Term Sustainability Plan for the Great Barrier Reef was condemned for failing to mention climate change, but the final version released yesterday admitted this was "the most significant threat".
Speaking to reporters yesterday, Mr Abbott said global warming was "relevant for all reefs including this, the world's greatest reef".
"If there was only one thing in the world that was heritage listed, this would be it," he said. "We're making our position clear right around the world – this is a number one priority of the Australian government: to protect the Great Barrier Reef."
The Abbott government has been lobbying the 21 member states of Unesco's World Heritage Committee in an attempt to stop it from recategorising the reef as being "in danger" at a meeting later this year.
Australia's 35-year plan envisages spending more than £1bn over the next decade to protect the reef. An initial sum of £52m will be used to cut the run-off of sediment, fertilisers and pesticides into the sea, which Steven Miles, the state of Queensland's environment minister, said was the biggest medium-term threat.
One of the most controversial issues is the dumping of spoil waste from dredging operations designed to keep sea channels clear for shipping. The reef plan bans the dumping of spoil from new channels in the Great Barrier Reef Marine Park, but not the World Heritage Site, which has a slightly different boundary. It also allows the dumping of spoil from maintenance dredging.
WWF Australia said the plan contained "a number of good initiatives" but not enough firm commitments of cash. Dermot O'Gorman, the conservation group's chief executive, said "billions not millions are needed to save the reef", adding that this was not unreasonable given that the reef contributed about £3bn a year to the economy.
Register for free to continue reading
Registration is a free and easy way to support our truly independent journalism
By registering, you will also enjoy limited access to Premium articles, exclusive newsletters, commenting, and virtual events with our leading journalists
Already have an account? sign in
Register for free to continue reading
Registration is a free and easy way to support our truly independent journalism
By registering, you will also enjoy limited access to Premium articles, exclusive newsletters, commenting, and virtual events with our leading journalists
Already have an account? sign in
Join our new commenting forum
Join thought-provoking conversations, follow other Independent readers and see their replies