'Great white shark' photobombs two boys surfing in California as mother looks on
Neither the boys nor the photographer noticed the ominous dark shape until they went through the pictures on the way home
Adam Withnall
Monday 30 December 2013 16:31 Comments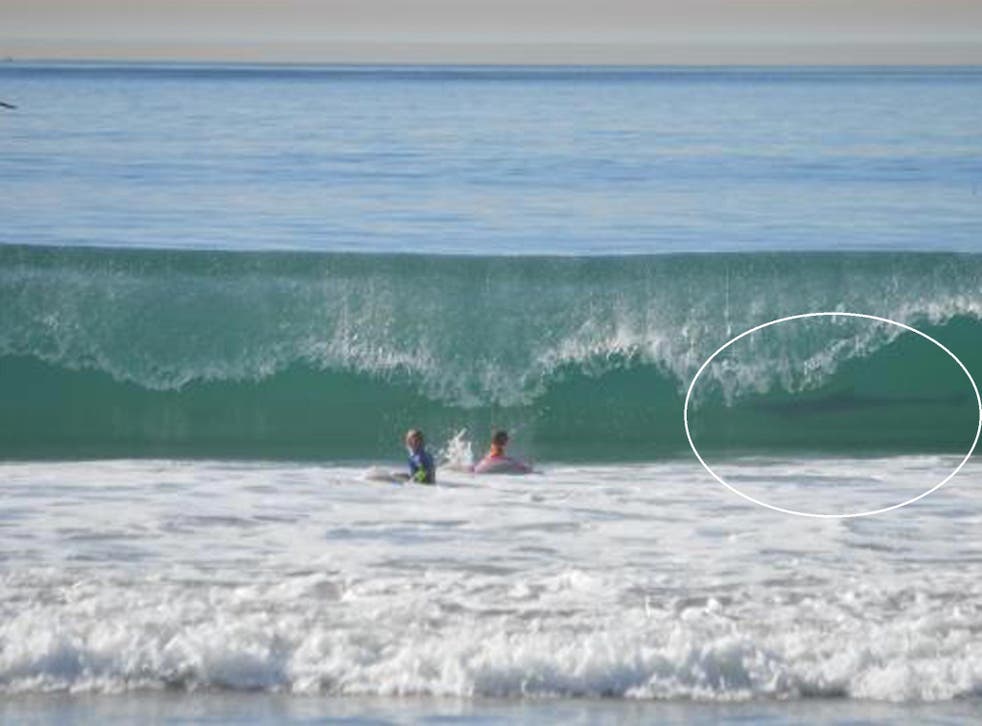 Two young boys who were surfing in California remained blissfully unaware as they were photobombed by what locals say was a great white shark.
June Emerson was taking pictures of her 12-year-old son Quinn and a friend as they played in the waves at Manhattan Beach, and did not notice anything amiss at the time.
Yet when going through her photographs from the day on the way home, she spotted the dark shape lurking behind the two children.
"I'm not sure what it was," she told CBS Los Angeles, "but it definitely scared me when I thought it might be a shark."
At the time, Ms Emerson said she didn't want the boys to be put off by what happened so she told them it was a dolphin.
Yet local lifeguards and surfers later told her it was more likely to have been a juvenile great white shark, which have been sighted in increasing numbers along the western US coast in recent years.
Ms Emerson said it was "quite a shock" to stumble across the image showing the animal so close to the boys.
She nonetheless posted the image to Facebook, writing: "Another beautiful day at the beach. Big waves and apparently Big Fish! (Look into wave to right of Quinn Emerson, who's out catching a few!) – Manhattan Beach, California."
The picture soon went viral, and appeared in news bulletins across the US.
Thrill-seekers have begun taking advantage of the increased sightings of great whites by actively seeking them out and posting videos of their close encounters on YouTube. Researchers have nonetheless warned that the sharks will attack if they feel threatened.
Register for free to continue reading
Registration is a free and easy way to support our truly independent journalism
By registering, you will also enjoy limited access to Premium articles, exclusive newsletters, commenting, and virtual events with our leading journalists
Already have an account? sign in
Join our new commenting forum
Join thought-provoking conversations, follow other Independent readers and see their replies