Global warming 'a death sentence' for Greenland ice
'The spell has already been cast. There seems to be no stopping it,' top scientist tells The Independent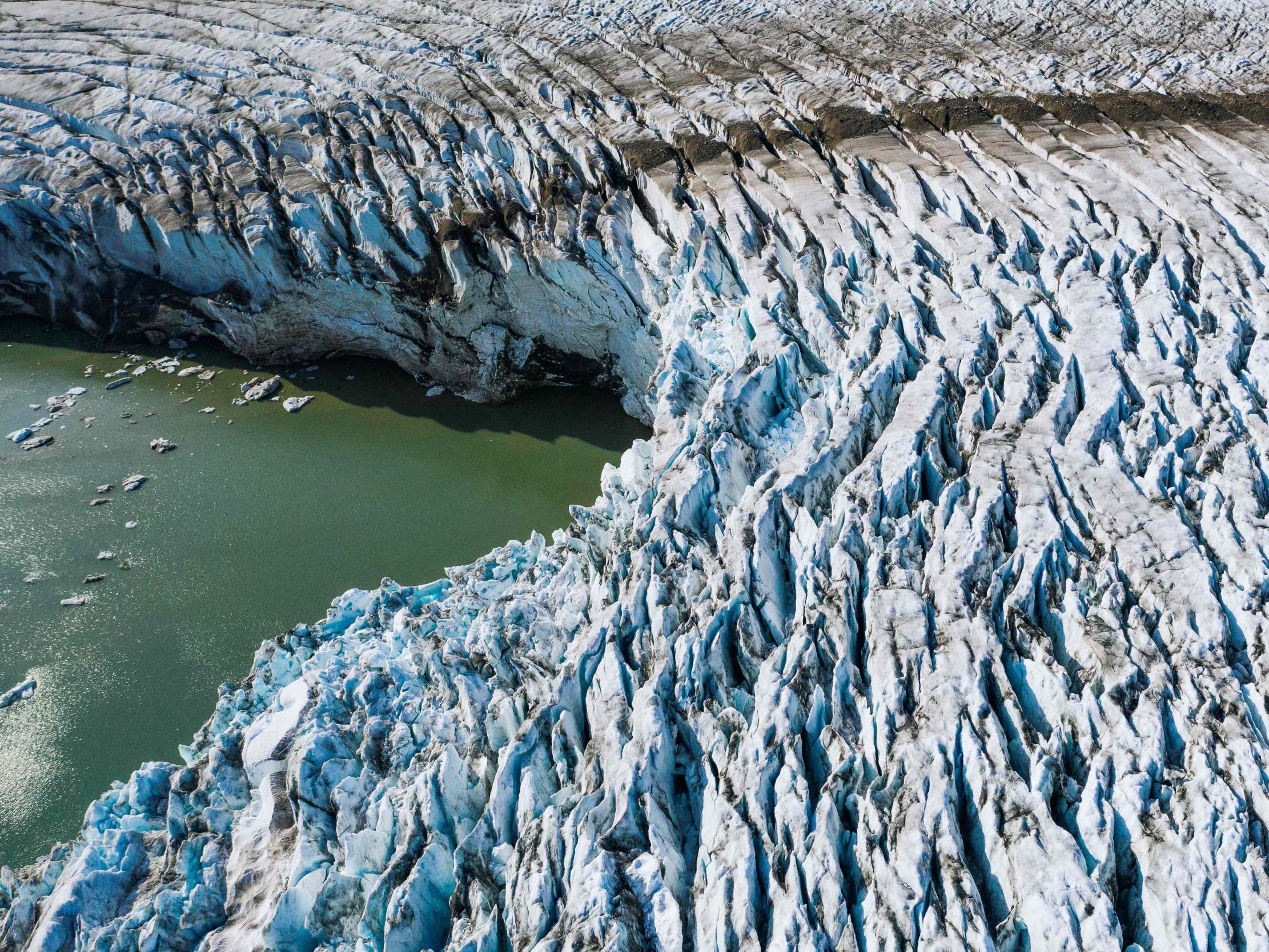 Rising global temperatures constitute a "death sentence" for Greenland as we know it, according to a scientist from the Geological Survey of Denmark.
"We're losing Greenland, it's really a question of how fast," said Dr Jason Box, who is studying the island's ice sheet. One glacier he measured had shrunk 9m in depth over the summer, he said.
Global warming is "a death sentence for the Greenland ice sheet because also, going forward in time, we're expecting temperatures only to climb", Dr Box told the BBC.
The Arctic island saw record-breaking temperatures this summer following the European heatwave, and what is likely to have been the second-largest melt event since 1950, scientists have previously told The Independent.
Another top scientist told The Independent on Wednesday that the "the death spell for Greenland's ice has already been cast".
Climate change: Greenland ice cap accelerated retreating
Show all 22
Dr Jeffrey Kargel, of the Planetary Science Institute in Arizona, said that ice melt on the island, particularly at higher altitudes, has for some years "exceeded what is common, judged by the 20th century".
He said: "We know that human industrial activity and our exponentially growing reliance on fossil fuels is the cause of this epoch of warming and melting.
"Whereas we should not make too much of a single year's anomalous warmth and melting, when it happens year after year it is alarming because global and especially Arctic warming is continuing.
"It does appear, based on models, that the death spell for Greenland's ice has already been cast. Nearly complete melting and disappearance of the ice will likely take a couple millennia to go to completion, but it should be a scene of continuous, increasing melting for decades and centuries to come.
"There seems to be no stopping it at this point."
Dr Roger Braithwaite of the University of Manchester, a glaciologist at the Geological Survey of Greenland from 1979 to 1994, said of Dr Box's "death sentence" statement: "It's dramatic, and I've heard the words, 'Glaciers are doomed', but if a temperature increases such that a glacier doesn't have a balanced mass budget, then it will lose mass.
"I think it's true enough – death sentences over thousands of years are still death sentences."
Dr Box's warning came less than a month after a Cambridge researcher said the "Niagara Falls"-style melting of Greenland's ice risked pushing up the sea level, threatening coastal settlements around the planet.
The ice sheet, which holds enough water to raise the sea level by 7m, is "decaying quite rapidly", warned Professor Peter Wadhams. He added: "Greenland is now the driver for global sea level rise and will be until the ice has gone from Greenland."
But in comments shared with The Independent, two further scientists were more circumspect.
Julienne Stroeve, professor of Polar Observation and Modelling at University College London, said data from thousands of years ago suggested more caution was warranted.
She said: "While rising temperatures are contributing to Greenland losing mass and rising sea levels, calling it a death sentence is somewhat premature as ice cores retrieved in northwest Greenland reveal that during the Eemian period the ice sheet [there] was only a few hundred meters lower than today, despite the Eemian being warmer and sea levels higher than today."
And Dr Twila Moon, from the University of Colorado's national snow and ice data centre, said: "It is certain that we are going to continue to lose ice from Greenland over the coming decades, and centuries. However, the amount of ice that will be lost, and the speed of loss, is still heavily dependent on human actions."
Join our commenting forum
Join thought-provoking conversations, follow other Independent readers and see their replies