Greenpeace activists board oil rig in Norwegian Arctic to protest new drilling
State-owned firm due to begin work on country's most northern oil well in May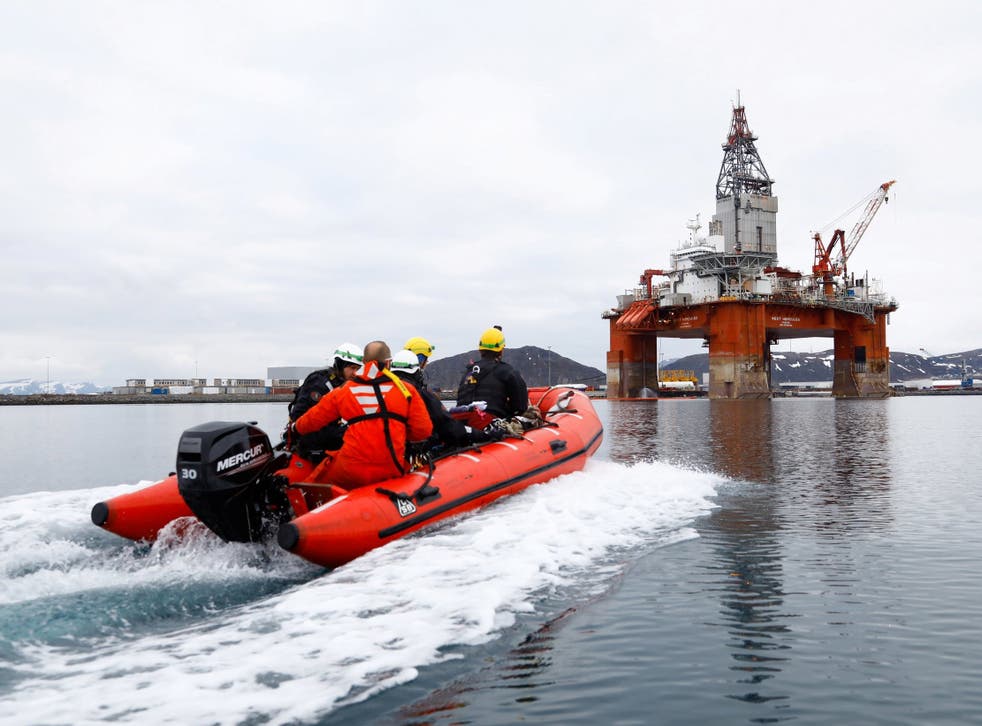 Greenpeace activists have climbed aboard an oil rig in the Norwegian Arctic in protest against new oil and gas drilling.
Four members of the group climbed onto the West Hercules rig, owned by deepwater drilling company Seadrill.
More protesters surrounded the rig in kayaks and others on shore unfurled banners reading "people versus oil" and "ban new oil".
The rig is anchored off Hammerfest, continental Europe's northernmost town and the site of an Equinor liquefied natural gas plant, Snoehvit.
"We clearly are in the middle of a climate crisis that cannot take any new oil, so we must show our resistance in any way we can," said Frode Pleym, the head of Greenpeace Norway.
Penguin habitats threatened by climate change

Show all 9
The activists are from Norway, Sweden and Denmark, the group said, and the four members who scaled the rig carried a banner that read: "Stop Drilling in the Arctic" in Norwegian.
Activist Karianne Andersen said the action is "to tell Norway's government that if we are to keep our planet liveable for the next few years, then we must stop looking for new oil," the Associated Press reports.
The rig is due to drill a well in the Equinor-operated production license 859 in the eastern part of the Barents Sea, some 435 kilometres (270 miles) northeast of the coast of continental Norway. It will be the most northern licence for drilling to ever be granted in Norway.
'Stop Drilling in the Arctic', reads a banner held by Greenpeace activists on the Equinor oil rig (REUTERS)
Drilling operations were scheduled to start in early May, but the company has not given a precise start date or said how it could be affected by the protest.
"The rig owners are following this up," a spokesman for Seadrill said, referring to the Greenpeace protest.
Seadrill said it has contacted the police.
"Our primary concern is the health and safety of all personnel on-board the rig. We will continue to monitor the situation and have notified the local authorities, including the police," the state-owned company said in an email to Reuters.
Norway is western Europe's largest oil producer and Europe's second-largest gas supplier after Russia.
Register for free to continue reading
Registration is a free and easy way to support our truly independent journalism
By registering, you will also enjoy limited access to Premium articles, exclusive newsletters, commenting, and virtual events with our leading journalists
Already have an account? sign in
Register for free to continue reading
Registration is a free and easy way to support our truly independent journalism
By registering, you will also enjoy limited access to Premium articles, exclusive newsletters, commenting, and virtual events with our leading journalists
Already have an account? sign in
Join our new commenting forum
Join thought-provoking conversations, follow other Independent readers and see their replies