Greta Thunberg begins transatlantic voyage to reach UN climate conference in Madrid
Crossing expected to take between two and four weeks depending on weather conditions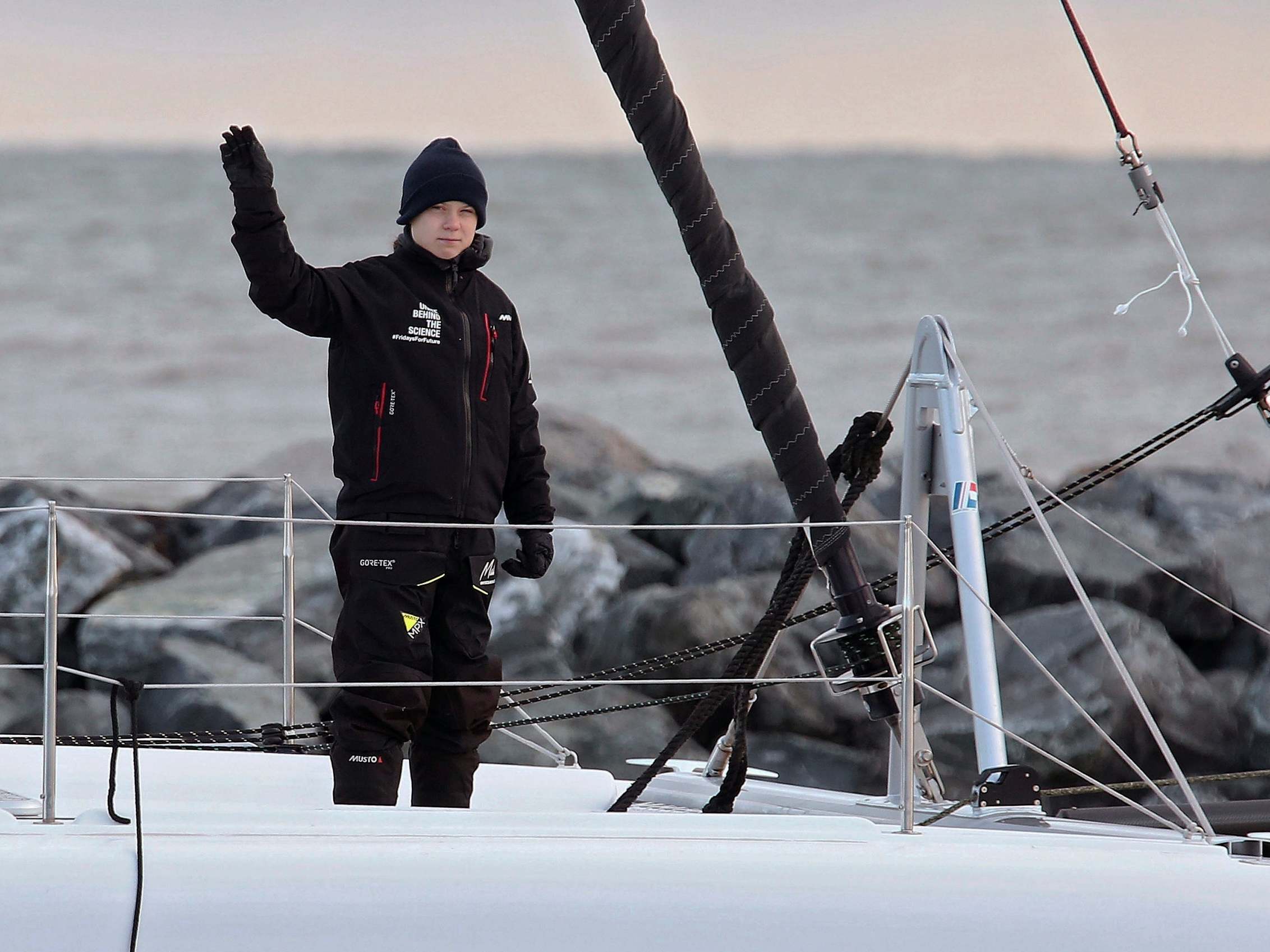 Greta Thunberg has begun her return journey to Europe to reach the 25th United Nations Climate Change Convention.
Setting sail from Chesapeake Bay in southern Virginia, she will cross the Atlantic Ocean to Spain, which will host the event after unrest in Chile forced a change of location.
The 16-year-old is sailing from the US with an Australian family aboard their 48-foot (15-metre) catamaran and left just before 8am on Wednesday morning.
The journey could take between two and four weeks depending on weather conditions, although the climate summit begins on 2 December in Madrid.
Riley Whitelum and Elayna Carausu, an Australian couple who are voyaging around the world with their 11-month-old baby, Lenny, offered to take the teenager after she appealed on social media for a low-carbon ride across the ocean.
Greta Thunberg inspires climate activists everywhere: In pictures
Show all 12
Their vessel, La Vagabonde, has practically no carbon footprint because it uses solar panels and hydro-generators for power.
They are being joined for the journey by British sailor Nikki Henderson, who last year became the youngest ever skipper to complete the Clipper Round the World Yacht Race when she was 25 years old.
Though outside the hurricane season, sailing across the Atlantic from west to east is typically attempted in May and June.
Light snow was falling just hours before Ms Thunberg's departure.
Despite the weather and the weeks ahead, Ms Thunberg said she was "looking forward to it, just to be able to get away and recap everything and to just be disconnected".
Ms Thunberg's three-month trip through Canada and the US included her address to the United Nations in New York, when she told world leaders they had stolen her "dreams and ... childhood with your empty words".
She also joined numerous climate change events, rallies and demonstrations, and met figures including Leonardo DiCaprio, Ellen DeGeneres and Arnold Schwarzenegger.
The latter lent her an electric car to help her move around the US.
Her rise in prominence in recent months has also seen figures including Donald Trump and Vladimir Putin deride her politics, while a Fox News pundit described her as "mentally ill".
Louis Vuitton and Christian Dior​ owner Bernard Arnault said she was "demoralising".
Asked if she thought she was too young to be shouldering so much responsibility, Ms Thunberg said: "It should be the adults who take that responsibility. But it feels like the adults and the people in power today are not."
The highlights of her trip to North America included a visit to a glacier in Canada's Jasper National Park, which is destined to disappear "no matter what we do", and a visit to the Standing Rock Indian Reservation, where there have been protests over an oil pipeline, she said.
"I was actually quite surprised to see how bad the indigenous people have been treated," she added. "They are the ones who are being impacted often the most and first by the climate and ecological crisis. And they are also the ones who are at the front line trying to fight it."
She said she has also been surprised at how frequently she has been recognised.
"There are always people who come up to me and ask for selfies and so on," she added. "So that really gives you an idea of how big the climate movement has reached."
Join our commenting forum
Join thought-provoking conversations, follow other Independent readers and see their replies