Cop26: Greta Thunberg won't attend Glasgow summit and says event 'should be postponed'
Crucial conference 'needs to happen in the right way', says activist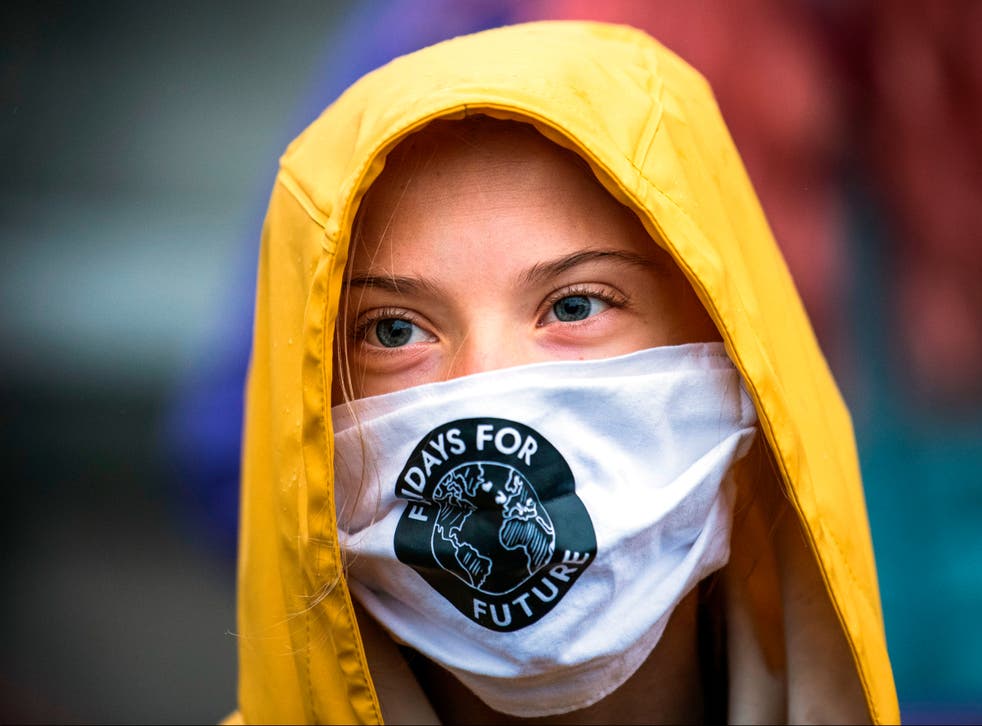 Greta Thunberg has revealed that she won't be attending this year's UN Cop26 climate summit in Glasgow – calling for the autumn event to be postponed.
The crucial global conference on the climate crisis was set to happen in Scotland last year, but had to be pushed back to November 2021 because of the coronavirus pandemic.
The 18-year-old Swedish activist told the BBC the event should be delayed until global Covid vaccination rates have risen.
Ms Thunberg said that she does not plan to attend the summit, suggesting that holding the event before the vaccine was shared more widely around the world would not allow enough people to take part.
"This [conference] needs to happen in the right way," she said. "Of course, the best thing to do would be to get everyone vaccinated as soon as possible so that everyone could take part on the same terms."
Any further delay to COP26 would have to be agree between the United Nations, the UK and Scottish governments.
Downing Street has insisted it is still planning for the conference to go ahead, in person, this November. "We are not looking to postpone the summit," a No 10 spokesperson said last week.
Activists united over the urgent need to address the climate crisis have been divided over whether the summit should go ahead, if it means an online-only event.
Jonathan Bartley, the UK Green Party's co-leader, said: "We have already left it 30 years too late to take urgent global action and we cannot allow the vital UN Cop26 to be delayed again."
He urged ministers to ensure the talks can go ahead, "even if that means a limited number of personal meetings, with good ventilation and social distancing, combined with online meetings".
But others are worried that a digital divide between developed and underdeveloped countries may hinder the outcomes of talks if held virtually.
Rachel Kennerley, climate campaigner at Friends of the Earth, says: "The UN climate talks need to be fully inclusive, with equal access for all nations and civil society."
"Online participation has already proved difficult for participants from the poorest countries in the world, who have been marginalised, and digital negotiations would lack transparency."
If the event does go ahead in November, it would be the first UN summit not attended by Ms Thunberg since she kickstarted the global School Strike for Climate protest movement almost three years ago.
Speaking ahead of the airing of BBC series Greta Thunberg: A Year To Change The World, the teenager said the only way forward on the climate is to "treat the crisis like a crisis".
She also accused Donald Trump and other global leaders of engaging in personal attacks against her in an attempt to shift the focus away from the reality of the climate crisis.
Ms Thunberg said she had found it "hilarious" when the former US president and other politicians had criticised her activism.
"It is very hilarious when they write and say these kinds of things," she told ITV's Good Morning Britain. "It's a very clear sign that they are seeing the climate movement as threats, and rather than speaking about the climate crisis itself, they try to shift the subject to someone like me."
Register for free to continue reading
Registration is a free and easy way to support our truly independent journalism
By registering, you will also enjoy limited access to Premium articles, exclusive newsletters, commenting, and virtual events with our leading journalists
Already have an account? sign in
Register for free to continue reading
Registration is a free and easy way to support our truly independent journalism
By registering, you will also enjoy limited access to Premium articles, exclusive newsletters, commenting, and virtual events with our leading journalists
Already have an account? sign in
Join our new commenting forum
Join thought-provoking conversations, follow other Independent readers and see their replies