Half of Britain now officially in drought
Water shortages set to continue until next year following a predicted third dry winter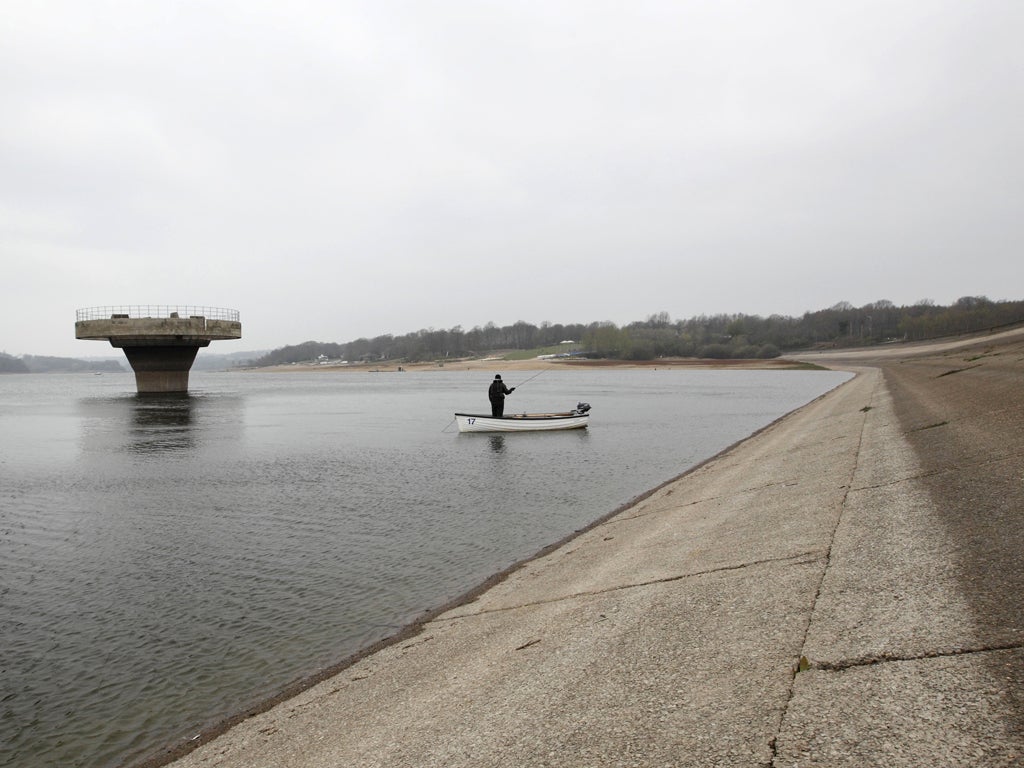 Half of Britain is now officially in drought, in the worst national water shortage since 1976 – a situation that may last until Christmas or beyond.
Seventeen more counties have been given drought status, meaning the Midlands and South-west have been added to the already-drought-stricken South-east and East Anglia. England is water-stressed south-east of a line from Yorkshire to Herefordshire.
The map of Britain is now divided sharply in two by water problems, with Wales and the North-west remaining drought-free, but the rest of the country facing increasing difficulty with river flows and very low levels of groundwater. Seven water companies, led by Thames Water with 8.8 million customers in London and the Thames Valley, have had hosepipe bans in place since the Easter weekend.
The Environment Agency said public water supplies in the newly affected areas are unlikely to be restricted this summer, but the lack of rain is beginning to take its toll on the environment and farmers – causing problems for wildlife, wetlands and crop production.
In the Midlands, agency staff have been rescuing fish from the river Lathkill in the Derbyshire Peak District after it partly ran dry and the rivers Tern, Sow, Soar and Leadon reached their lowest recorded levels in history in March.
In the South-west, rivers are also suffering. About 20 million litres a day are being pumped into local river catchments to top up the low flows by Wessex Water.
The Environment Agency says it has no plans to impose restrictions on use, such as hosepipe bans, but it is urging its customers to save water as much as possible. The Wessex region has had below-average rainfall during the winter, but reservoir storage is "satisfactory" and on average reservoirs are about 85 per cent full. But groundwater levels in the aquifers from which Wessex abstracts water are below average for the time of year.
The Agency is warning that the drought could last beyond Christmas. While rain over the spring and summer will help to water crops and gardens, it is unlikely to improve the underlying situation. "A longer-term drought, lasting until Christmas and perhaps beyond, now looks more likely, and we are working with businesses, farmers and water companies to plan ahead to meet the challenges of a continued drought," Trevor Bishop, the Environment Agency's head of water resources, said.
It was hoped that a prolonged period of rainfall between last October and March would prevent widespread drought, but parts of England received less than 60 per cent of the average winter rainfall.
There are hopes that a steady rainy winter in 2012-13 will restore rivers and groundwaters, but the Agency is taking no chances and is working with the water industry to put plans in place to deal with the prospect of a third dry winter.
Water companies are looking at options including sharing water across company boundaries.
Fish rescued as celebrated trout river runs dry
Fisheries staff from the Environment Agency have been rescuing trout from one of England's most celebrated trout streams after its levels fell dangerously low. They have been saving the fish in the river Lathkill in the Peak District, a river which is small and less than seven miles long (it flows into the Derbyshire Wye) but celebrated because of its water quality. As it flows through a limestone landscape, the Lathkill's waters are so unusually clear that its trout can be seen from one bank to the other, but the drought has exposed sections of the river bed.
Join our commenting forum
Join thought-provoking conversations, follow other Independent readers and see their replies