Hare coursing gangs terrorising farmers with illicit underground competitions
Practice in which dogs are set to chase and kill hares has enjoyed resurgence since being made illegal in 2004
Tom Bawden
Environment Editor
Tuesday 22 December 2015 19:17 Comments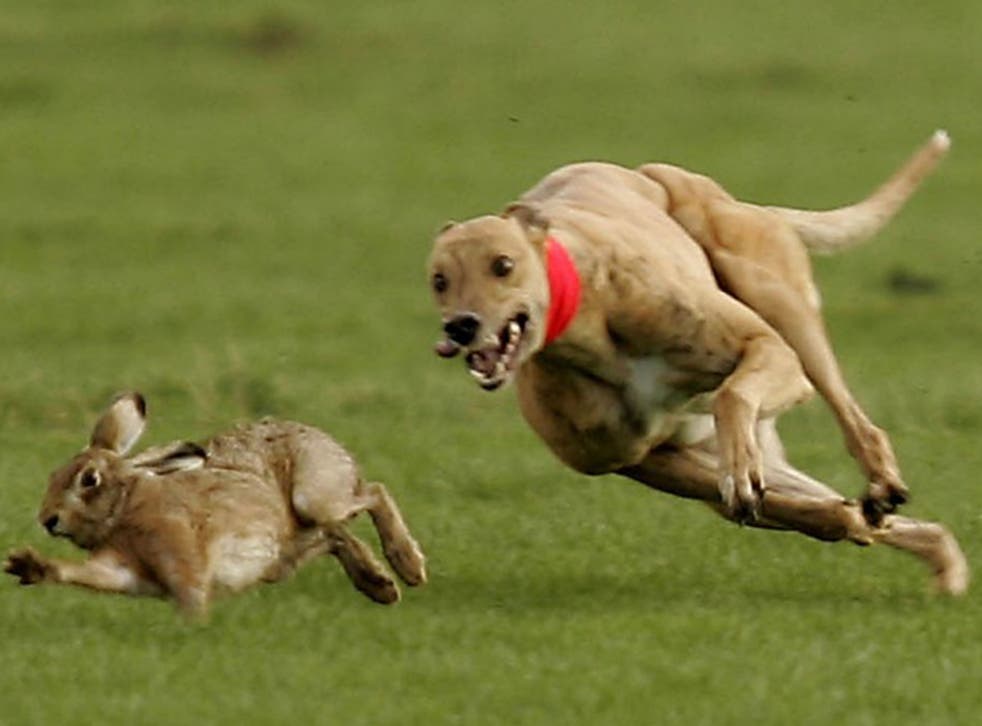 Gangs of young men are terrorising farmers by holding dozens of illegal hare coursing competitions each week – after the closure of a dedicated police unit.
Farmers say they feel intimidated on their own land by the gangs, who tear around the countryside on four-wheel drives to stage the illicit events.
Many of those involved in hare coursing are thought to have criminal records for other offences including theft and violence, leaving farmers reluctant to confront them.
Hare coursing – in which dogs are set to chase and kill hares - used to be a legitimate sport until it was banned as part of the Hunting Act 2004, Since then it has been driven underground.
But it has enjoyed a resurgence in recent years as organised gangs see an opportunity to make large amounts of money from filming the events - and taking bets on the outcome at private screenings afterwards.
Reports of hare coursing have soared in Lincolnshire since the Autumn after the local force announced it was scrapping the dedicated five-person unit it established in 2012 to crack down on the illegal sport.
Farmers say the scrapping on the unit - which many blame on police budget cuts - is at least partly responsible for the rise in hare coursing. Lincolnshire Police insist the move was designed to strengthen the policing response, with the work assigned to other officers.
But all parties agree that hare coursing is a big problem that is ruining the quality of life for many farmers in the county – as well as in Cambridgeshire and Norfolk, which also have the large areas of flat farmland and high hare populations that favoured the activity.
"It's a bit like Dodge City in places - particularly in the past couple of weeks, when there have been dozens and dozens of cars around and they're driving their four by fours through farmyards," Ian Stancer, a wheat farmer in the district of South Holland in south east Lincolnshire, told The Independent.
"It's the intimidation factor. These people tend not to be the most pleasant people. A lot of it is just devilment – it's big boys playing little boys games. Cops and robbers, cowboys and Indians. The hare coursing itself seems secondary to just driving round the countryside, causing mayhem and evading the police," added Mr Stancer, a local representative of the National Farmers Union.
Mr Stancer said he would be happier if the hare coursing police unit was re-established. "They'd get to know who was coming in on a regular basis, there would be number plate recognition and they could find out where they were coming from and when they were coming in the county," he said.
Chief Inspector Jim Tyner of Lincolnshire Police acknowledges that scrapping the dedicated unit may have played a role in the increase in hare coursing because the announcement gave criminals the impression that the activity was no longer a priority for the force.
But he insists that the crime was already on the increase and says the move was made so that it could be policed more effectively.
"It isn't about saving money," he said. "Asking one small team of a sergeant and four or five cops to cover 2,600 square miles of Lincolnshire is an almost impossible task – so this year we've equipped the local neighbourhood officers across the country with the skills and knowledge to deal with hare coursing.
He added: "At this time of year, hare coursing is one of the major issues facing the county. It happens almost every day in fair weather."
He pointed out that the number of arrests and court summons so far this hare coursing season – which runs from September to March – is higher than this time last year, although detractors say this is because more crimes are being committed.
Register for free to continue reading
Registration is a free and easy way to support our truly independent journalism
By registering, you will also enjoy limited access to Premium articles, exclusive newsletters, commenting, and virtual events with our leading journalists
Already have an account? sign in
Register for free to continue reading
Registration is a free and easy way to support our truly independent journalism
By registering, you will also enjoy limited access to Premium articles, exclusive newsletters, commenting, and virtual events with our leading journalists
Already have an account? sign in
Join our new commenting forum
Join thought-provoking conversations, follow other Independent readers and see their replies