Hurricane Harvey was a natural disaster, but a man-made catastrophe that will hurt the poor the most
Marginalised communities are hit hardest - and climate change will make things worse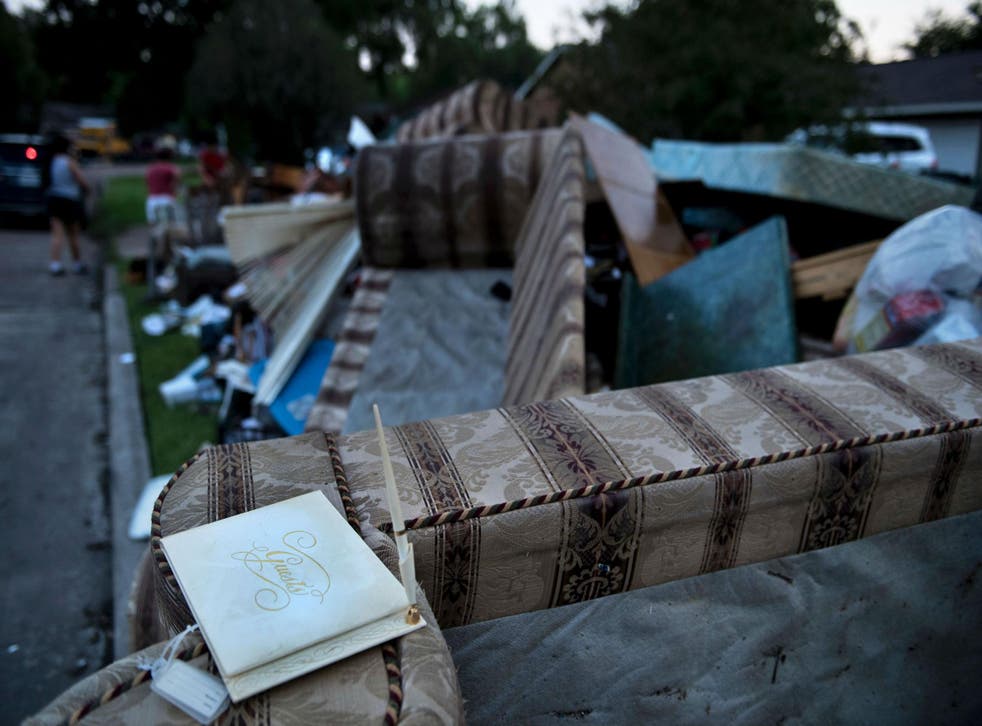 Kimberley Sowell and her family had been rescued just a couple of hours earlier and she seemed anxious, sad and exhausted.
For two days they had been squeezed inside a neighbour's apartment as rising waters destroyed their home in the east of the city. The floodwater had reached to the roof. Everything had been ruined.
The only positive thing was that she, her son, Frederick Clark, and her partner, Joseph Solomon, were rescued unharmed. "Thank God for that," she said, sitting in an emergency shelter in Houston.
The truth is, it will likely take people such as Ms Sowell many months, if not years, to get back their lives, if indeed they ever do. It is often said a hurricane does not differentiate when it sweeps ashore at a speed of 130mph, and can as easily kill a wealthy person as it can a poor individual.
But that is not really true, or at least it is just part of the truth. History has shown natural disasters have a far more devastating and life-changing impact on people from marginalised communities than they do on the rich or the established. Harvey will be no different.
And as climate change continues and extreme weather events become more frequent - most experts believe Harvey's power and destructive force was intensified by the effects of climate change - the most vulnerable will suffer even more.
The reasons for this are plentiful, and were already fixed long before Harvey, or Katrina, wound themselves up into Category Four storms and made landfall. Many experts believe the issues are systemic.
"I would point to systemic racism," Bryan Parrras, treasurer of the Texas Environmental Justice Advocacy Services, a campaign group, told The Independent. "Society dictates where a person lives and what they live next to."
In the aftermath of Harvey, Mr Parras has been highlighting how low-income communities and communities of colour have been so agonisingly affected. He wrote a passionate dispatch about the toxic fumes that poured from the Arkema chemical plant at Crosby, 30 miles from Houston, after a series of chemical explosions triggered by the breakdown of the unit's refrigeration system.
"Living just two miles from one of the largest collections of chemical plants and refineries, I've seen the black smoke burning off these deadly and dangerous plants, I've smelled the oil and chemicals and I know the fear that strikes so many of our communities on a daily basis," he said.
"The environmental crimes against my community and thousands like it have been happening for decades and superstorms like Harvey only heighten the threat…As we begin to think about rebuilding, we must ensure the recovery is a just and equitable one that ensures communities are not displaced or threatened by these toxic sites ever again."
Extreme weather events impact the most vulnerable in a multiplicity of ways. In the days before, poorer people have less opportunities to evacuate as they may not have anywhere to go, cannot afford a motel out of town, or do not have a car to drive there.
It is little surprise that in places such as the Superdome in New Orleans in 2005, and now in the emergency shelters established in Houston, low-income people and people of colour make up the majority of those in need of emergency help.
Charles Daniel, a 76-year-old African American man who was sitting in the George R Brown Convention Centre, close to Ms Sowell and her family, said he had been rescued by boat by members of the fire department. "My place had five feet of water in there," he said.
People form a human chain to save an elderly man whose car is trapped in flood waters caused by Storm Harvey
The homes of the poor are more likely to be located in areas prone to flooding or storms, or close to power plants and refineries that become perilous once storms strike. It is probable their homes are less strongly constructed and less able to withstand a hurricane's ferocity Only 15 per cent of people affected by Harvey had flood insurance.
In the aftermath, such communities face more problems. Studies have shown that following Katrina and Hurricane Ike, which struck in 2008 and caused havoc in Cuba and parts of Texas, the cost of housing went up and the availability of affordable accommodation decreased.
"Renters are renting from people who could decide to give the house to someone else," said Danielle Baussan, an expert on environmental policy at the Centre for American Progress in Washington.
She said people who lived in in public housing were dependent for repairs on a bureaucracy that was frequently slow moving. Such concerns and worries, take a mental and physical toll, she said - to the extent that people's health measurably suffers.
"After Katrina, both physical and mental health outcomes were worse among communities of colour and low-income groups."
Harvey could be the costliest natural disaster in US history with a price tag of $190 billion, according to an estimate from weather firm AccuWeather. This would equal Katrina and superstorm Sandy combined.
When he visited the Texas, President Donald Trump said "all of America is grieving with you". He vowed to ensure billions of dollars of aid made its way to those who needed it.
"We are going to get you back and operating immediately," he said in Corpus Christi.
But studies show this is often not the case. Aid frequently ends up in the hands of large contractors rather than individuals who suffered. After Haiti was struck by an earthquake in 2010, of around 1,500 contracts awarded as part of the relief project, only 23 went to Haitian companies. They received 2.5 per cent of the $195m that was raised, with much of the rest going to US contractors.
After Katrina, Halliburton, of which then Vice President Dick Cheney was once the CEO, earned millions of dollars in clean-up contracts.
Meanwhile, those in most desperate need of the money - the people forced from their homes - can wait years to get a settlement. When Sandy struck New York and New Jersey in 2012, thousands of people who were promised help had to wait years.
The aftermath of Hurricane Harvey

Show all 19
Mr Parrras said the system was set up in a way that made it very difficult for people recovering from a storm to even apply for such money. Some did not have access to a phone or computer, many did not have all the receipts required. Some - especially those paid hourly wages - were simply too busy trying to get by. "These are structural impediments," he said. "People say 'F**k it' and give up."
Kristina Peterson of the Lowland Centre, based in rural Louisiana, said there were numerous things working against the most vulnerable, not by chance but as a result of social construction.
She said in the aftermath of natural disasters, there was frequently talk of recovery and "bouncing back", yet 12 years after Katrina people were still trying to rebuild their lives. "Bouncing back is an illusion that politicians talk about."
When he visited Texas, Mr Trump also said: "We are here with you today, we are here with you tomorrow, and we will be with you every single day after to restore, recover and rebuild."
Yet at the same time, he has been undermining the nation's ability to predict and respond to extreme weather. His proposed budget to congress includes a $967m cut to Army Corps of Engineers, a $767m cut to the Federal Emergency Management Agency (FEMA), a $190m cut to the National Flood Insurance Programme, and a $986m cut to the National Oceanic and Atmospheric Administration, the agency that monitors climate and weather patterns.
He also called for the scrapping of the National Domestic Preparedness Consortium, which has trained two million people to be emergency responders, and the Emergency Food and Shelter Programme.
Dr Robert Bullard, Distinguished Professor of Urban Planning and Environmental Policy at Texas Southern University in Houston, is sometimes called the "father of environmental justice". The author of books such as The Wrong Complexion for Protection: How the government response to disaster endangers African American communities, he has long campaigned against so-called environmental racism.
In recent days, he has watched as not only the low-income and communities of colour, many in the east of Houston, have had to be rescued, but how reservoirs and drains established in the wealthier west of the city, were overcome by the catastrophic rain.
He hopes what happened may be a wake-up call, and that when the authorities rebuild, they do so in a way that includes the interests of everyone. It is essential, he said, officials did not simply try and recreate the city.
"Houston should not be remade how it was. Houston was a very unequal city," he said. "We have to have a big rethink. We have to bring all the stakeholders into the mix, including people who have not previously been in the room."
Register for free to continue reading
Registration is a free and easy way to support our truly independent journalism
By registering, you will also enjoy limited access to Premium articles, exclusive newsletters, commenting, and virtual events with our leading journalists
Already have an account? sign in
Register for free to continue reading
Registration is a free and easy way to support our truly independent journalism
By registering, you will also enjoy limited access to Premium articles, exclusive newsletters, commenting, and virtual events with our leading journalists
Already have an account? sign in
Join our new commenting forum
Join thought-provoking conversations, follow other Independent readers and see their replies