Head of WWF UK: We didn't send Cameron to the Arctic to see green ideas freeze
David Nussbaum remains sanguine despite the Government's failure to live up to its pledges on the environment
James Ashton
Sunday 01 March 2015 18:05 Comments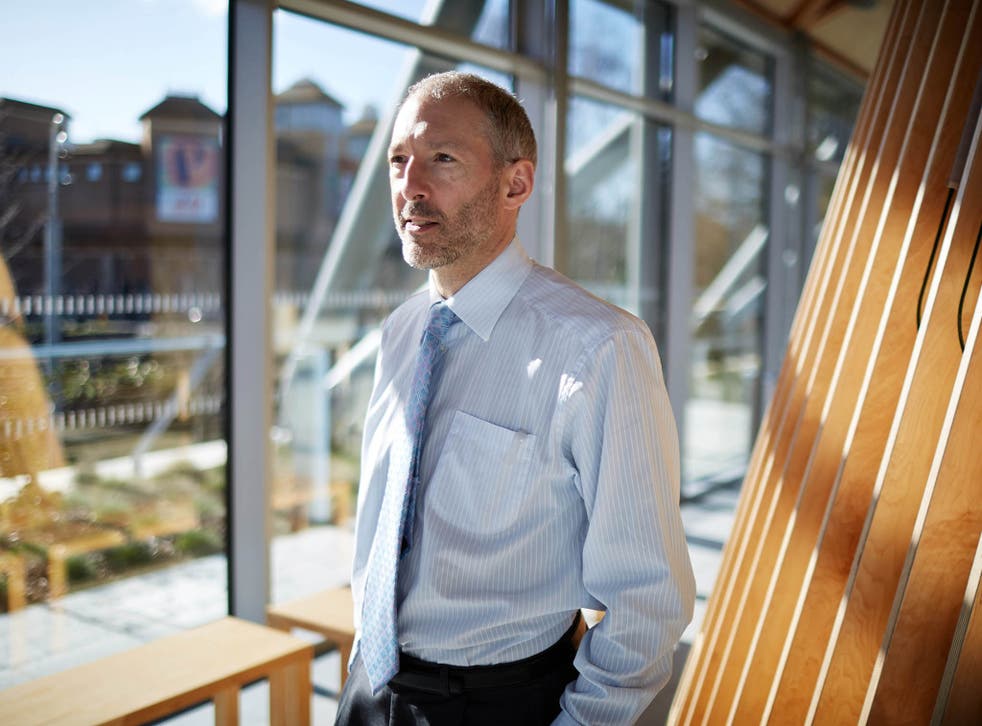 Do you remember when a youthful David Cameron was pictured frolicking with huskies on a trip to the Arctic Circle? David Nussbaum does, because it was his charity, WWF-UK, that took the then Leader of the Opposition there in 2006 so he could see the effects of global warming.
When Cameron took office in 2010, who can forget how he pledged to make the new Coalition administration "the greenest government ever"? And then, in 2013, there was the change of tack when he was reported to have told aides to "get rid of all the green crap" from energy bills to bring down costs for householders. So with an election just nine weeks away, what does the Prime Minister's environmental report card look like now?
"He has delivered on a number of things and there are quite a number of other things where we would like to see an awful lot more," says Nussbaum.
The hits were setting up the Green Investment Bank to bankroll new environmental start-ups and the "position on some aspects of Europe has been really strong", such as the agreement to cut greenhouse gases by at least 40 per cent in 2030 compared to 1990.
The misses were the "prolonged uncertainty" about setting the carbon emissions budget for 2023-27 and the Government's reluctance "to pin down how we are going to deliver carbon reductions".
The green deal to make Britain's housing stock more energy efficient "has been disappointing as we all know" and the failure to stick with incentive schemes for cleaner technologies such as solar has been hugely disruptive. Cheap coal and dreams of fracking riches got in the way. Then there have been problems with the broad message coming out of Westminster.
"I think sometimes the rhetoric from senior leaders in the Government and in the Conservative Party has not been helpful," says Nussbaum, 56. Particularly "when some people in the party are saying critical things about environmental concerns, what we haven't had is other people including the Prime Minister saying, 'They are entitled to their view, but I think this…'"
Of course, long after the Tories' "Vote blue, go green" mantra was conceived, the electorate's willingness simply to vote Green has grown. Nussbaum is "delighted if people are becoming more conscious of environmental issues" as indicated by the Green Party's record membership. It isn't the only organisation to have enjoyed a boom. Since Nussbaum began running WWF-UK in 2007, the 275,000 people who donate money every month has swollen to 420,000. Last year, £36m of the charity's £63m income came from membership and donations.
We are sitting in WWF-UK's new home, the Living Planet Centre, which is reminiscent of a 21st-century tram shed on the river at Woking in Surrey. Nussbaum is keen to show off the green heating system, which warms air in underground pipes before it passes through the open-plan building with trees inside.
Almost 30 years ago, the World Wildlife Fund rebranded itself as World Wide Fund for Nature – before shortening to WWF-UK in this country – to go beyond the animal conservation that some still think is its sole purpose. Nussbaum says the broader mission was obvious.
"If you want species to survive – pandas, tigers and elephants – they need a habitat. What is the threat to that habitat? Often it is what we are doing to it and that takes us into economics, politics, investment, finance, governance. For many, the way into these issues is through animals. An animal is often the pinnacle of the ecosystem and once you start studying a tiger you discover the links."
Nussbaum is currently pushing WWF-UK's Greener Budget report, designed to incorporate the value of clean air and water into spending decisions and highlighting the economic and other benefits of looking after Britain's "natural capital" better. He wants more to be done to encourage investment in renewable energy and for companies more clearly to report their progress in sustainability.
The report sits alongside the WWF-UK's manifesto wishes. These include pledging long-term funding to the National Wildlife Crime Unit which tracks illegal trade in endangered species, insisting on greater use of water meters so that homes and businesses use water more efficiently and keeping climate change promises. The latter could be helped by setting up an Office of Environmental Responsibility to hold the Government to account on green issues.
Nussbaum initially studied theology, "not to become a minister but to explore my faith intellectually". That came after a "character-forming" gap year cleaning floors and toilets at the psychiatric hospital in Leek in Staffordshire. Later, he trained as an accountant but knew he didn't want to work in business forever. "I didn't want simply to be a plc finance director until I retired at 65 with an enormous pension," he says. His chance to move into the charity world came at the age of 39 when an old college friend who worked for Oxfam urged him to apply to become finance director.
He has run WWF-UK for eight years. Part of the role is advising companies including Sky and the brewer SABMiller to "inspire and inform them and sometimes challenge them to accelerate their journey toward sustainability". Some think the charity has become too cosy with business. Nussbaum's stance seems to be to stay friendly with everyone, even if they aren't always delivering.
"I think the Government hasn't been doing it [offering incentives] consistently enough," he says, returning to his renewable energy theme. "There have been quite a number of very good policies but if you want to have long-term industries and particularly if you want investment in supply chains, companies need to know they will be able to make a reasonable return for many years." Consequently, he thinks "it is pretty unlikely" that we will hit another target, to derive 15 per cent of Britain's energy consumption from renewable sources by 2020, but "we started from a very low base compared to other European countries".
The political will is there, however. Two weeks ago Cameron, Nick Clegg and Ed Miliband signed a joint pledge to tackle climate change across party lines in the lead-up to the United Nations summit in Paris in December. Nussbaum thinks consumers understand much more too.
"Someone will say they are just back from the Maldives and it didn't do much for their carbon footprint. That consciousness of carbon footprint is pervasive. WWF-UK is not saying we all need to go back to subsistence agriculture; we are saying if we are going to solve the environmental problems of the world we have to have something that appeals to people."
The CV: David Nussbaum
Education: Newcastle-under-Lyme Grammar School then a sixth-form college in Stoke. Read theology at Cambridge in 1977, before a Master's degree at Edinburgh. Post-graduate diploma in accountancy from Heriot-Watt University and a Master's degree in finance from London Business School.
Career: Trained in accountancy at Price Waterhouse. Investment controller at private-equity group 3i from 1987. Finance director of packaging firm Field Group. Joined Oxfam in 1997 as finance director, becoming managing director of anti-corruption charity Transparency International in 2002 and chief executive a year later. Chief executive of WWF-UK from 2007.
Personal: Met his wife while studying in Edinburgh. They have four grown-up children.
Register for free to continue reading
Registration is a free and easy way to support our truly independent journalism
By registering, you will also enjoy limited access to Premium articles, exclusive newsletters, commenting, and virtual events with our leading journalists
Already have an account? sign in
Join our new commenting forum
Join thought-provoking conversations, follow other Independent readers and see their replies