Healthiest diets are also best for the environment, finds global study
'Win-win' findings suggest following government recommendations for food leads to better outcomes for the planet
Josh Gabbatiss
Science Correspondent
Tuesday 05 December 2017 17:54 Comments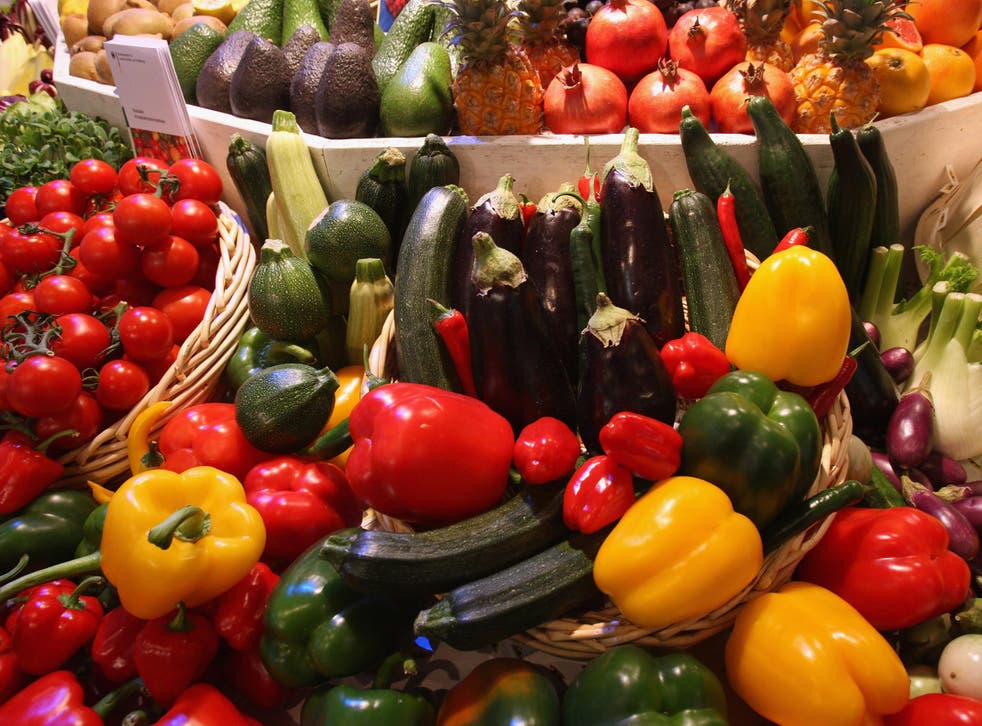 Scientists have found that eating a healthier diet is the best option for the environment.
Food production has a massive impact on the planet, with up to a third of greenhouse gas emissions coming from agriculture.
The dietary recommendations made by governments tend to be based on nutritional information and not decreasing environmental impact, but a new study suggests that the two go hand in hand.
It includes data from 37 countries – representing nearly two thirds of the global population.
The positive results were found in the majority of the countries in the study, but they were particularly pronounced in high income nations such as the US and Japan.
In countries like these, following a nationally recommended diet results in a reduction in greenhouse gas emissions of up to quarter when compared to the average diets eaten in these nations, according to the findings which were published in the journal Proceedings of the National Academy of Sciences,
Significant reductions were also seen for land use and water pollution.
"In the higher income nations it turns out that what's good for our health it also good for the environment," said lead author Dr Paul Behrens, an environmental scientist at Leiden University. "It's win-win."
Conversely, if poorer countries were to incorporate more animal products into their diets – as recommended by their dietary guidelines – this would actually result in increased environmental impact.
Nevertheless, if recommended diets were uniformly applied in every country, there would be an overall reduction in environmental harm.
10 photographs to show to anyone who doesn't believe in climate change

Show all 10
Nationally recommended diets vary depending on setting, so while the recommended Indian diet focuses on increased calorie consumption, the US diet recommends the opposite.
For wealthier countries, recommendations tend to include a reduction in sugars, oils, meat and dairy.
Such reductions in animal product consumption are key in decreasing the environmental impact of diets in high income countries, the study found. The other major factor is simply consuming fewer calories.
To undertake their analysis, Dr Behrens and his colleagues gathered information on the average diets of people living across the countries under investigation. They then compared these against the specific dietary recommendations issued by those countries.
Using Exiobase, a database that represents the entire world economy, the scientists could trace the environmental impact of foods in different parts of the world.
This tool allowed them to get region-specific information such as transport and methods of farming into consideration, on the entire journey from farm to fork.
A handful of nations have already alluded to the potential link between healthier eating and environmental benefits in their nationally recommended diets, including the UK and China. However, any mention tends to be fleeting at best.
"It's one of those things where the public facing documents are a little bit behind where the policy thinkers are going," said Dr Behrens, explaining that policymakers are starting to consider the environmental impact of food when making recommendations.
He added that more attention needs to be focused on the environmental impact of food.
"For a recommended diet, nutrition comes first, but you could be making these other arguments as well, which would help people consider their choices," he said.
Register for free to continue reading
Registration is a free and easy way to support our truly independent journalism
By registering, you will also enjoy limited access to Premium articles, exclusive newsletters, commenting, and virtual events with our leading journalists
Already have an account? sign in
Join our new commenting forum
Join thought-provoking conversations, follow other Independent readers and see their replies