Heathrow emerges as favourite over Gatwick for expansion but Cabinet split over new runway
Pressing ahead with the Heathrow proposals would enrage green campaigners
Jane Merrick
,
Tom Bawden
Sunday 28 June 2015 10:41 Comments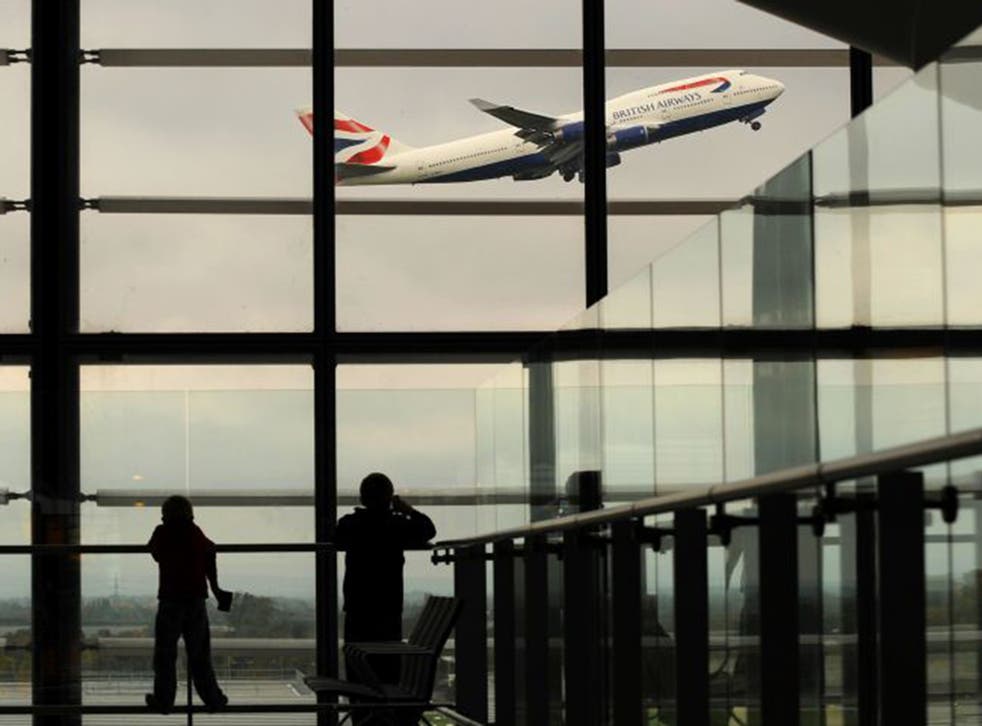 David Cameron and George Osborne are considering backing the controversial Heathrow airport expansion, with heavy environmental conditions, in a move that will enrage green campaigners and put the loyalty of several Cabinet ministers to the test.
Sir Howard Davies is to publish the long-awaited findings of his commission's report into airport expansion this week, recommending one of three options: pressing ahead with a third Heathrow runway, extending an existing one or building a second runway at Gatwick. The Government is to decide by the end of this year whether to accept his recommendation or to opt for an alternative, but Whitehall sources suggested the decision could also be put back further still until after the 2016 London mayoral election, which will be dominated by the airport-runway debate if Sir Howard recommends one of the Heathrow schemes.
There was growing speculation in Whitehall last night that Sir Howard is leaning towards expansion at Heathrow, providing the west-London airport meets stringent conditions on air quality, noise pollution and carbon emissions. However, Gatwick remained confident that it had a cheaper, more environmentally viable and less politically toxic proposal.
Whatever Sir Howard recommends, there are signs that the Government – particularly the Chancellor, who placed Heathrow expansion back on the table in 2012 – is minded to press ahead with Heathrow despite the huge political fallout it would trigger. In his speech to the CBI last month, Mr Osborne said the Government, with its strengthened electoral mandate, would not duck the "difficult decisions" on infrastructure, adding: "When we get Howard Davies's report on a new runway in the South East, we're going to take the decision and get it built."
Pressing ahead with Heathrow would cause dismay inside and outside the Cabinet. Several ministers, including Theresa May, Philip Hammond, Justine Greening, Theresa Villiers and Greg Hands, have constituencies that would be affected by Heathrow expansion. Boris Johnson, who attends Cabinet in a political capacity, has long opposed the Heathrow option. However, Mr Osborne is understood to be keen on expanding Heathrow to boost its capacity as a worldwide hub, competing with other European airports that provide direct flights to China.
The Prime Minister and Chancellor are also being lobbied by a group of Conservative MPs with constituencies around Gatwick who are concerned at the environmental impact of expansion there. Led by senior Tory MPs Crispin Blunt and Nicholas Soames, the group has written to Sir Jeremy Heywood, the Cabinet Secretary, asking that ministers with seats affected by Heathrow not take part in discussions about Sir Howard's recommendations because of their interests in the outcome.
Officials working on the Heathrow campaign claimed that a plane flying from Gatwick to a major Chinese city would have to stop in Dubai, thereby adding to overall global carbon emissions – because of the extra fuel used for landing and take-off during the stopover – while flights could go directly from Heathrow.
In pictures: The best and worst UK airports in 2014

Show all 9
Yet campaigners warned that Britain would almost certainly breach targets for aircraft emissions irrespective of whether Heathrow or Gatwick was given the go-ahead. All three options would put Britain on course to miss its 2050 aviation emissions target which requires carbon-dioxide production to be limited to 2005 levels, when the industry emitted 37.5 million tonnes.
Opponents of airport expansion concede that future improvements in the energy efficiency of commercial aircraft will help airlines reduce emissions, but they remain convinced the 2050 target is unattainable. "It's either got to be a new runway or the Climate Change Act," said Leo Murray, a director of the 10:10 global-warming campaign group. "The choice is very stark."
The Government's official emissions adviser, the Committee on Climate Change (CCC), has studied the interim reports Sir Howard has published ahead of his final recommendation. It estimates that the UK can meet its aviation emissions target by limiting any increase in passenger numbers to 60 per cent between 2005 and 2050. The reports suggest this level of passenger growth – widely seen as ambitious, since the Department for Transport forecasts a 127 per cent rise over the same period – could be achieved with a high charge on carbon emissions, which would raise the cost of airline tickets and thus reduce demand.
The CCC agrees that significant action needs to be taken to curb demand if the UK is to hit its aviation target. But critics say Sir Howard's "carbon-price approach" will fail because the price would have to be set so high that the cost of flying would rise to unsustainable levels.
John Stewart, chairman of the HACAN campaign against a third runway at Heathrow, also believes the government is unlikely to meet its 2050 aviation-emissions targets.
"Adding a runway at Gatwick or Heathrow would not in itself lead to a breach," he said, but he believed the expansion of regional-airport traffic would cause the aviation industry to overshoot the 2050 target.
For and against
Heathrow
Supporters: George Osborne; 65,000 registered supporters of the Back Heathrow group; British International Freight Association; Freight Transport Association
Opponents: Boris Johnson; Zac Goldsmith; Theresa May; Philip Hammond; Justine Greening; Theresa Villiers; Greg Hands
Gatwick
Supporters: Chief executives of Birmingham and Edinburgh airports; Norwegian Air chief executive; Croydon North MP Steve Reed; Croydon Council leader Tony Newman; Southwark Council leader Peter John
Opponents: Gatwick-area MPs including Crispin Blunt, Nicholas Soames and Education minister Sam Gyimah
Register for free to continue reading
Registration is a free and easy way to support our truly independent journalism
By registering, you will also enjoy limited access to Premium articles, exclusive newsletters, commenting, and virtual events with our leading journalists
Already have an account? sign in
Join our new commenting forum
Join thought-provoking conversations, follow other Independent readers and see their replies