Hedgehog hibernation habits studied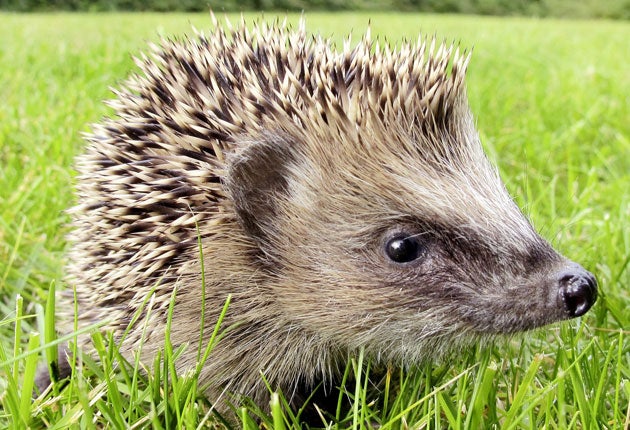 The public is being urged to take part in a survey of hedgehogs to see if climate change is having an impact on their hibernation and survival.
Recent research has show that populations of hedgehogs have dropped by at least a quarter in the past decade, with numbers declining over the long term from an estimated 30 million in the 1950s to 1.5 million in 1995.
Conservationists say the species has been hit by the loss of habitat in the countryside, such as hedgerows and grassland, more intensive agriculture, use of pesticides which reduce their food sources and more badgers.
In urban areas, tidier and more sterile gardens divided up with impassible fences and walls also pose a problem for the mammal.
But the People's Trust for Endangered Species (PTES) and the British Hedgehog Preservation Society (BHPS) are now urging people to help them with a survey to see if changes to the climate are also having an impact on hedgehogs.
The charities said research in the 1970s revealed a direct link between hibernation and climate, showing hedgehogs emerged up to three weeks earlier in the south west of England than Scotland, with inactivity relating to coldness and length of winter.
Typically the species hibernates between November and the end of March when food is scarce, in order to conserve energy.
Dr Pat Morris, who conducted the original research, said: "Age, sex and weather all appear to influence the timing of hedgehog hibernation.
"For example, young animals may remain fully active into December, no doubt seeking to develop sufficient fat reserves to ensure survival during subsequent hibernation.
"Also, adult females that have had late litters or may still be lactating will need to feed intensively before hibernating, causing them to be active for longer than adult males.
"However, mild weather can also delay hedgehogs entering into hibernation or elicit premature awakening, impacting on the creature's fat reserves and breeding times and consequently affecting the long-term survival of the species."
The conservation groups said that while organisations are monitoring native British wildlife or studying the timing of natural events such as plants coming into flower, no study was focusing on changes to the behaviour of a single mammal species.
So now the PTES and BHPS are hoping to harness the power of "citizen science" by getting members of the public to record sightings of hedgehogs as they start to emerge in spring after hibernation.
The survey starts on February 1 and can be competed online.
It is hoped that the information gathered by the public can help scientists understand hedgehogs, including their hibernation, better.
The survey is part of the two organisations' joint campaign to protect hedgehogs.
Last summer, the charities launched "hedgehog street" to encourage communities to get involved in conservation efforts to help the species, while research projects over the next three years will also aim to understand hedgehogs better and what can be done to reverse the threats they face.
PA
Join our commenting forum
Join thought-provoking conversations, follow other Independent readers and see their replies