'Massive wildlife crime scene': Endangered hen harriers being wiped out by illegal killing, says study
'This goes a long way to explaining why hen harriers are barely hanging on as a breeding bird in England', says academic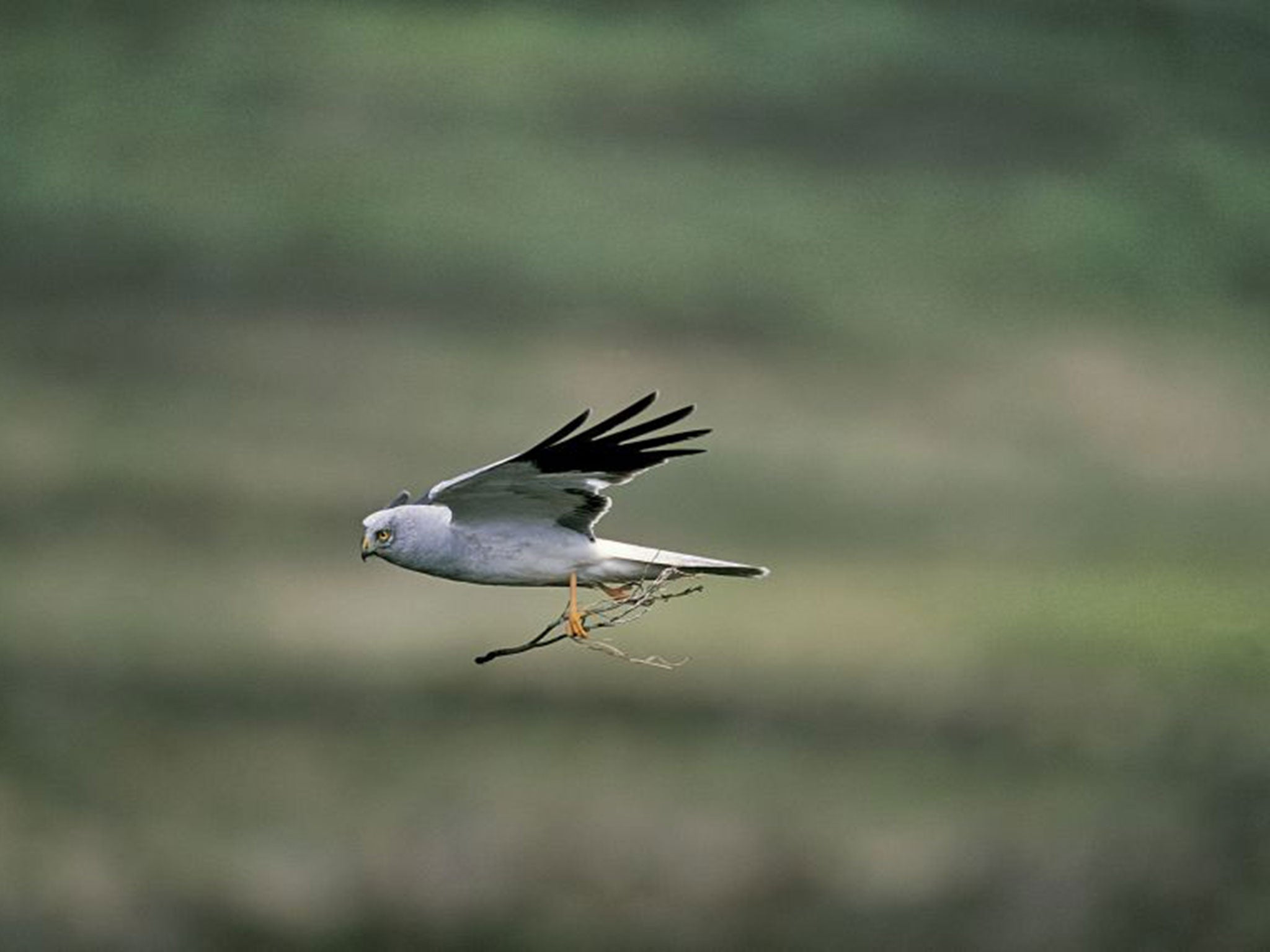 Compelling evidence of the widespread illegal killing of one of England's rarest birds of prey has been uncovered by a major study.
Hen harriers are 10 times more likely to die or disappear in areas mainly covered by grouse moors, researchers found.
After analysing a decade of satellite tagging data from 58 birds, Aberdeen and Cape Town University scientists found that 42 (72 per cent) had been killed illegally or had vanished – with nothing to suggest their tracking device had malfunctioned.
The first year survival rate of the hen harriers, tagged in England as fledglings, was only 17 per cent. First year survival rates on the Orkney Islands, where there are no managed grouse moors, are 37 per cent for male hen harriers and 54 per cent for females.
After comparing land use data supplied by the Royal Society for the Protection of Birds with the satellite data provided by Natural England, the scientists concluded: "The probability of a bird dying or disappearing increased with the proportion of [location] fixes on grouse moors … indicating that harriers were 10 times more likely to die or disappear in areas dominated by grouse moors."
Steve Redpath, professor of conservation science at Aberdeen University, and one of the report's lead authors, concluded: "Our analysis points the finger at continued illegal killing on grouse moors across the north of England."
Wildlife photographer of the year
Show all 26
He was backed in this conclusion by the RSPB and Natural England, the government's advisory body for the natural environment.
The study in the journal Nature Communications adds to a growing body of research suggesting that despite suitable habitat in upland England, hen harrier numbers are low because of wildlife crime committed to stop the raptors eating grouse destined for shoots.
The research will also increase the pressure for grouse moors to be licensed. Some have also called for the introduction of Scottish-style "vicarious liability" laws that would call English moor owners to account for the actions of gamekeepers or other employees.
Moor owners suggested the situation has changed since the satellite tagging data was collected. But opponents of driven grouse shooting argue that the pastime is turning some upland areas of England into "a massive wildlife crime scene".
The study authors said the areas most affected by suspiciously high hen harrier mortality were the North York Moors and the Peak District, followed by the North Pennines, Nidderdale, the Yorkshire Dales and the Forest of Bowland.
Of the 58 harriers fitted with satellite tags between 2007 and 2017, only seven were still alive at the end of the study period. Five birds were found to have died a natural death.
There were four cases of confirmed satellite tag malfunction.
Support free-thinking journalism and attend Independent events
That left 42 hen harriers. Of these, four were confirmed to have been illegally killed, and in a further 38 cases, the tag suddenly stopped transmitting with no malfunction detected.
The researchers concluded that the only reasonable explanation for the 38 disappearances was that the birds had been killed by a wildlife criminal who had taken away the tag and the dead hen harrier.
In their article, Patterns of satellite tagged hen harrier disappearances, they wrote: "We can think of no alternative, plausible explanation as to why mortality and unexpected tag failure was occurring at a higher rate on grouse moors.
"There are no other obvious potential sources that would be expected to yield such high mortality on managed grouse moors. Predators such as golden eagles and red foxes are scarce and we would expect to recover tags from naturally predated harriers.
"Furthermore our recorded tag failure rate (7 per cent) is very similar to that found in a study on Montagu's harriers (6 per cent) using the same type of Doppler tags manufactured by the same company."
Discussing the findings, Dr Megan Murgatroyd, from the University of Cape Town, the other lead author of the study, said: "Whilst dead harriers can be disposed of, the pattern of hen harrier disappearances revealed by this data could not be hidden.
"The multiple levels of analyses of the data have all led to the same robust conclusion: that hen harriers in Britain suffer elevated levels of mortality on grouse moors, and this is most likely the result of illegal killing."
Dr David Douglas, RSPB principal conservation scientist and study co-author, added: "The high rate of illegal persecution on grouse moors revealed by this study goes a long way to explaining why hen harriers are barely hanging on as a breeding bird in England."
He was backed by Stephen Murphy, an ornithologist from Natural England, who led the collection of the satellite tagging data.
Mr Murphy said: "These analyses confirm what has long been suspected: that illegal persecution is having a major impact on the conservation status of the hen harrier."
Amanda Anderson, director of the Moorland Association, which represents grouse moor owners and managers in England and Wales, said the study data, gathered between 2006 and 2017, was before a management scheme put in place as part of Defra's hen harrier recovery plan.
She said keepers had engaged with tactics such as reporting and monitoring nests and roost sites, as well as reducing conflicts between the birds via feeding strategies.
Ms Anderson said that 2018, the first year of the brood management scheme, was "the most successful hen harrier breeding season in England for over a decade", continuing: "We know from evidence gathered on the ground there are many areas on grouse moors where hen harriers – with or without satellite tags – are currently thriving."
But she added: "We want to see more hen harriers on grouse moors. Persecution should not occur and must cease in order to give hen harriers the best chance of survival. Seventy per cent of hen harriers perish in their first year from natural causes. However, when a satellite tag fails unexpectedly, persecution may be a factor."
Join our commenting forum
Join thought-provoking conversations, follow other Independent readers and see their replies