Himalayan balsam: Call the Marines! It's an alien plant invasion
Scientists, and now the military, are battling the spread of Himalayan balsam
David Randall
Sunday 21 July 2013 00:05 Comments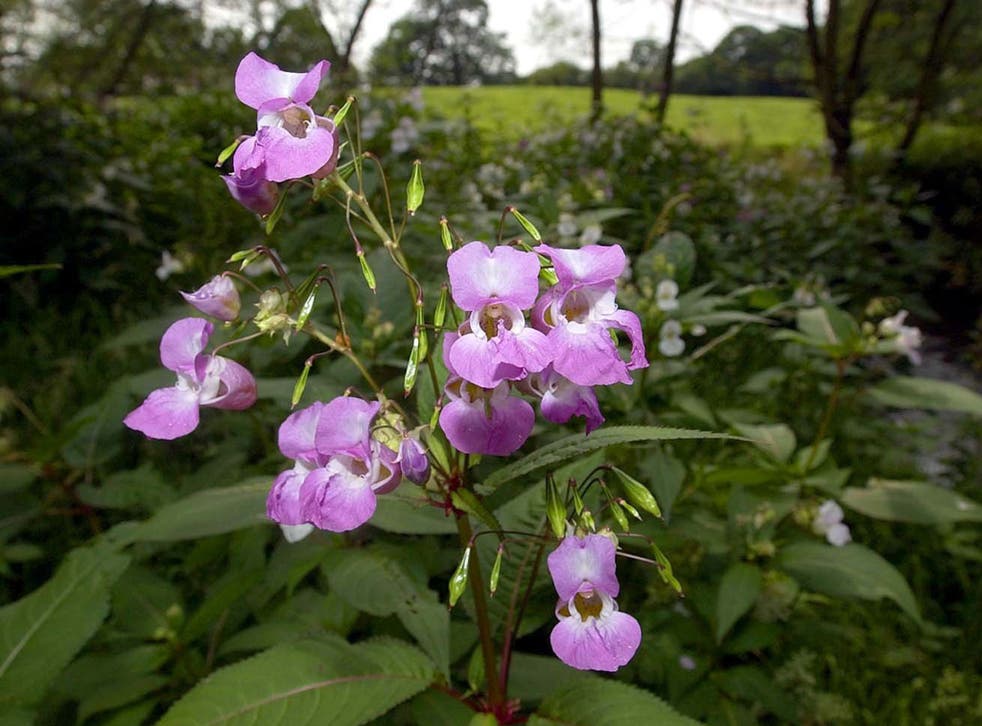 An alien plant, so bothersome that Royal Marines have been called in to try to eradicate it, and so persistent that a top laboratory is working on a biological "secret weapon" to defeat it, has been helped to invade the British countryside by a fifth column of subversive flower lovers.
The Himalayan balsam grows up to 10ft (3m) tall and has colonised large areas beside rivers and woods throughout Britain, smothering any indigenous plants. The Environment Agency, Plantlife, Wildlife Trusts and the National Trust all say the species is a headache, and its total removal could cost as much as £300m.
But, with its pink orchid-like flowers, it is also attractive to many people. It's so attractive, in fact, that a big factor in its invasive spread is people scattering its seed in the wild, according to research by Professor Ian Rotherham of Sheffield Hallam University and author of Invasive and Introduced Plants and Animals.
He has plotted its spread around the UK, and the novel reasons for it. Himalayan balsam (also known as Indian balsam) was introduced here in 1839 as a greenhouse and warm garden plant and, within a few decades, had escaped into the wild. It gradually established bridgeheads, and then, especially after the Second World War, spread rapidly. Professor Rotherham's researches show that enthusiasts scattering its seeds far and wide were responsible.
Professor Rotherham's work, presented to environmental managers some years ago but not to a wider audience, quotes some examples of people who assisted the invader. There was a Miss Welch who, in 1948, collected seeds from Sheffield and took them to the Isle of Wight, where she sprinkled them beside a river near Newport; a Mrs Norris of Camberley in Surrey, who spread them to local waste areas and woods, gave them to passers-by, sent seeds to Ireland and even took them on holiday to France and Spain; plus people who, in recent decades, have carried the species from Norfolk to Newcastle, Aberdeenshire to Leicestershire, Hertfordshire to Essex and Bedfordshire, and Sheffield to the Peak District. Thus, the plant, also known because of the shape of its flowers as "policeman's helmet", spread. As Professor Rotherham puts it succinctly: "People like it!"
And once growing, Himalayan balsam can proliferate at a fearsome rate. Each plant produces an average of about 800 seeds, which means that a dense mass of the plants can contain a potential 30,000 seeds per square metre. And the explosive fruit pods can project the seeds several metres. So entertaining can it be to see the pods "pop" that it has even been marketed as a novelty for children – "Mr Noisy's Exploding Plant" – once sold by, among other outlets, Birmingham Botanical Gardens.
The upshot is that there is barely a part of lowland Britain free of this pretty menace. Fat stands of it clog small streams in places such as Somerset, and mass on the banks of rivers and woods from Cornwall to Scotland, with Norfolk, the Isle of Wight, New Forest, Hampshire, County Durham, Yorkshire, west Cumbria, Lancashire and North and South Wales especially troubled by it. The species is so prolific near Liverpool that it is known there as "Mersey weed". Himalayan balsam grows in almost impenetrable thickets and will bully out any other species; its plentiful nectar means that bumble bees pollinate it rather than native species, and, being an annual, it dies down, leaving riverbanks bare in winter.
That is why, every summer weekend, conservationists organise clearing parties. This month, Royal Marines from the Commando Training Centre at Lympstone, Devon, joined volunteers to uproot the plants growing beside tributaries of the River Otter. Wildlife Trusts as far apart as North Wales, Surrey and Cambridgeshire are calling up volunteers for anti-balsam efforts, and Professor Rotherham is working with groups on the urban River Don.
But, as fast as it is cleared, it pops up elsewhere. A native of India and Pakistan, it has invaded 23 European countries, New Zealand, the US and Canada. The ecological and financial cost of this is one reason why the laboratories at the Centre for Agricultural Bioscience International (Cabi) in Surrey have been working on a biological solution.
Cabi scientists have discovered a rust fungus which seems to attack only Himalayan balsam and no other plant. If their safety tests find no problems, permission for the controlled release of the rust species will be requested from UK regulators. And, if all else fails, we could always eat it. All parts of the plant are edible, and the seed pods, according to Richard Mabey's authoritative Flora Britannica, have "a pleasant nutty taste".
Register for free to continue reading
Registration is a free and easy way to support our truly independent journalism
By registering, you will also enjoy limited access to Premium articles, exclusive newsletters, commenting, and virtual events with our leading journalists
Already have an account? sign in
Join our new commenting forum
Join thought-provoking conversations, follow other Independent readers and see their replies