'Himalayan viagra' under threat from climate change, study finds
Global warming on course to claim another casualty – but this time it is in the bedroom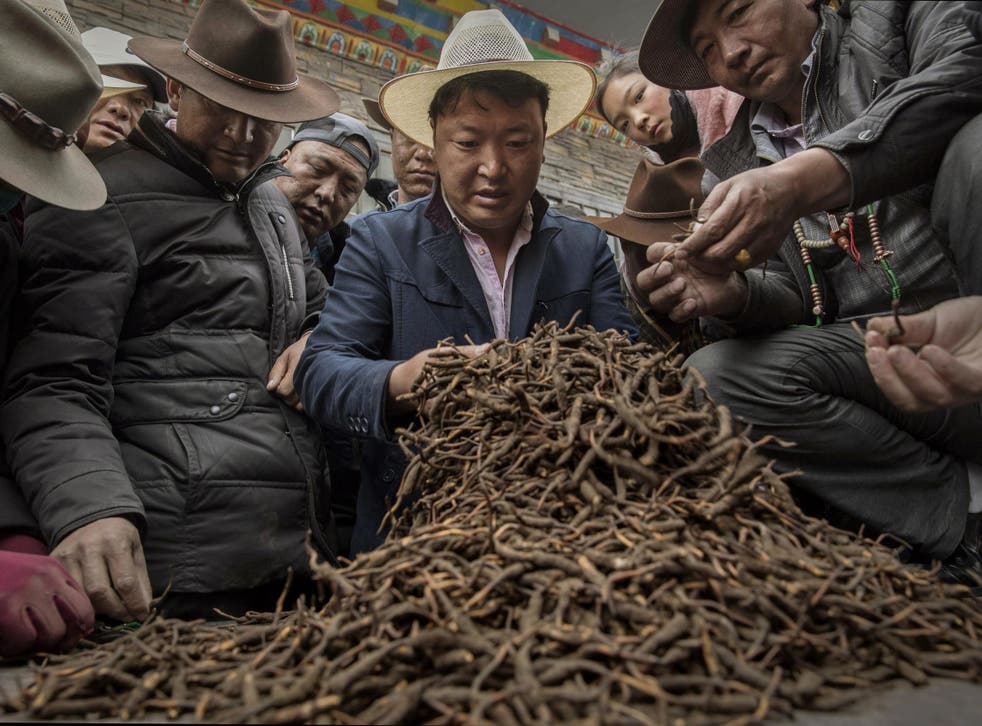 A popular fungus farmed for use in various herbal remedies and known colloquially as "Himalayan viagra" is at risk of vanishing if current harvesting and climate trends continue, scientists have warned.
The fungus, ophiocordyceps sinensis, is worth three times more than gold by weight, and survives by preying on ghost moth caterpillars in some of the highest reaches of the Himalayas.
Its unique survival technique depends on its spores landing on the caterpillars skin, which infect it, with the fungus eventually erupting out of the dead creature's head.
"It kills them and then sprouts out of their heads, like a unicorn horn," said the study's lead author Kelly Hopping, an ecologist who conducted the research as a postdoctoral scholar at Stanford's School of Earth, Energy & Environmental Sciences.
It is at this stage that the fungus is prized by collectors, who are able to sell a supposedly healing bowl of aphrodisiac soup for over £500.
As well as being highly regarded in traditional Asian medicine as an aphrodisiac, it is also sold as a remedy for afflictions including impotence, the deadly SARs virus, kidney disease, inflammation and is sometimes said to stop the ageing process.
However, the fruiting caterpillar bodies harvested usually contain high amounts of arsenic and other heavy metals so they are potentially toxic.
The parasite has become a primary source of income for hundreds of thousands of people in China, Bhutan, Nepal and India, with the market valued at $11bn (£8.5bn).
Glacier collapse shows climate impact

Show all 20
"Caterpillar fungus collection has emerged as a way for people in these areas to make relatively easy money," Dr Hopping said. "And in some cases to really raise their standard of living."
But there are mounting concerns harvesting rates have become unsustainable.
This is partly due to warmer winters in the Himalayas.
Winter temperatures in some parts of the world's tallest mountain range have already increased by as much as 4C since 1979, the study noted.
Using existing location records combined with interviews of collectors, the research team built models predicting how much fungus would grow in a given area based on factors including climate and elevation.
They found the fungus tends to be more prolific in higher, colder areas around the margins of areas underlain by permafrost.
The study's co-author, Eric Lambin, a Stanford professor of Earth system science, said one aspect of the research was to examine how a niche biological product such as the fungus gives wealthy consumers large amounts of influence over rural livelihoods, land-use choices and ecosystems in certain regions.
Support free-thinking journalism and attend Independent events
"An emblematic mammal species is being brought to extinction due to the demand for a product which is viewed in some traditional cultures as having virtues," Professor Lambin said.
The study is published in the Proceedings of the National Academy of Sciences.
Register for free to continue reading
Registration is a free and easy way to support our truly independent journalism
By registering, you will also enjoy limited access to Premium articles, exclusive newsletters, commenting, and virtual events with our leading journalists
Already have an account? sign in
Register for free to continue reading
Registration is a free and easy way to support our truly independent journalism
By registering, you will also enjoy limited access to Premium articles, exclusive newsletters, commenting, and virtual events with our leading journalists
Already have an account? sign in
Join our new commenting forum
Join thought-provoking conversations, follow other Independent readers and see their replies