National Audit Office slams Government's 'high cost and risky deal' for Hinkley Point nuclear power station
'What might have looked good value 10 years ago, looks much less so now,' says analyst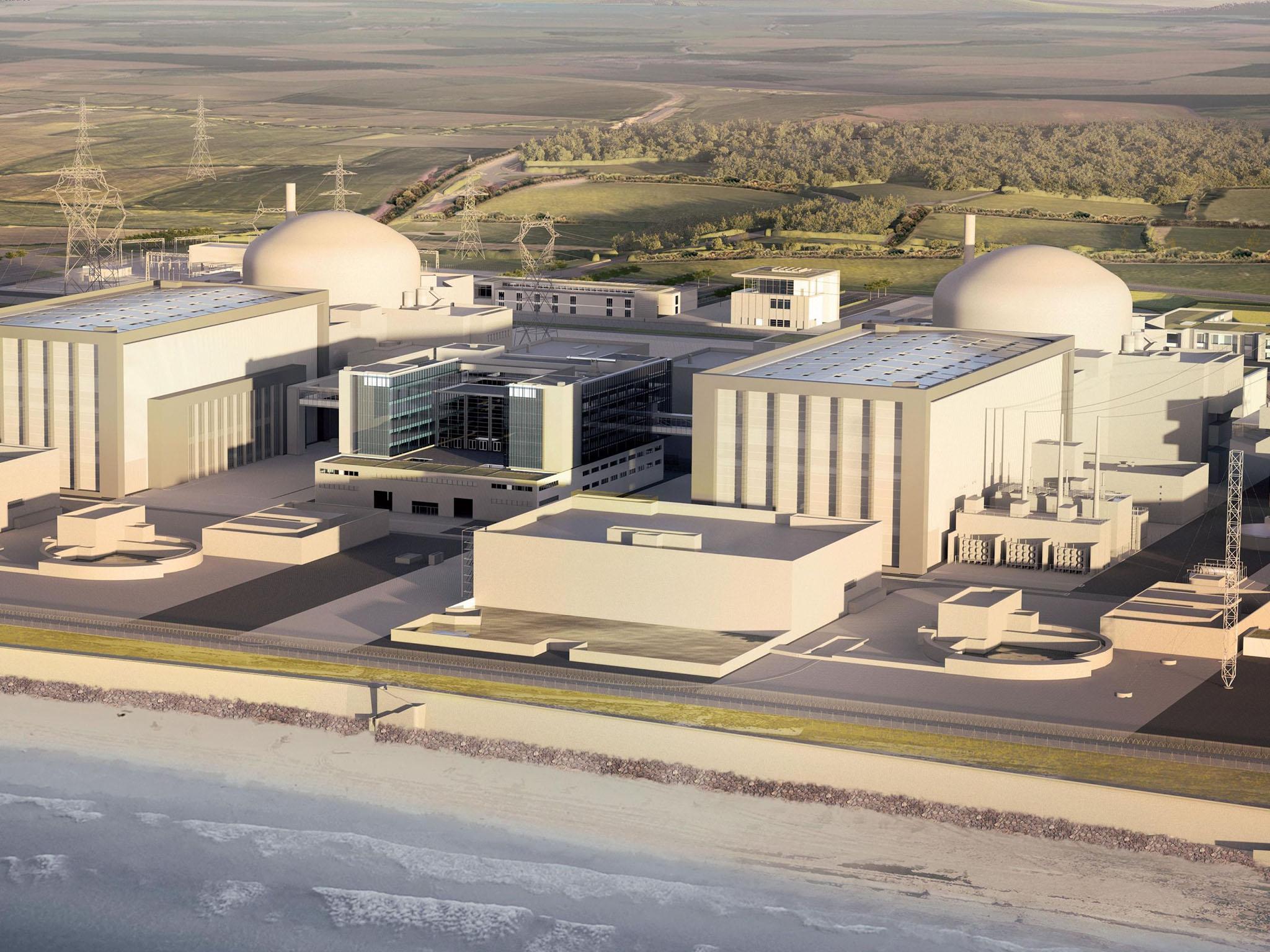 The Government's decision to commission a new nuclear power station at Hinkley Point – which will receive an estimated subsidy of £30bn – has been condemned as a "high cost and risky deal" by the head of the National Audit Office (NAO).
In a scathing report, the NAO said ministers had failed to look at alternative ways of funding the power station to get the best deal possible, saying officials expect it will add up to £15 to annual electricity bills up to 2030.
The renewable energy industry accused the Government of "ignoring the most cost-effective forms of electricity generation" – onshore wind and solar.
Greenpeace pointed out that this year's school leavers would "still be paying for Hinkley when they approach their pension age, so it is concerning that the National Audit Office is suggesting it may not be worth their money".
Construction of Hinkley Point C, which is being built in Somerset by French power firm EDF and the China General Nuclear Power Group, has just begun amid concerns about whether the type of reactor to be installed will actually work.
Similar projects in France, Finland and China have been "best by delays and cost overruns", the report said, and there are "no examples of [the] reactor technology working anywhere in the world".
But, assuming such problems can be overcome and the two new reactors start generating, the NAO questioned whether it would prove to be a wise decision.
Amyas Morse, head of the NAO, said: "The Department [for Business, Energy and Industrial Strategy] has committed electricity consumers and taxpayers to a high cost and risky deal in a changing energy marketplace.
"Time will tell whether the deal represents value for money, but we cannot say the department has maximised the chances that it will be."
Under the deal, ministers agreed the plant would get a guaranteed price of £92.50 per megawatt-hour of electricity for 35 years. This means that if the market price falls below this level, energy-bill payers will be forced to make up the difference.
The price of renewables, particularly solar and onshore wind, has fallen dramatically in recent years, and, at times, has turned energy prices negative.
In 2015, after an auction for the lowest guaranteed price, a solar power plant came in at £79.23 per megawatt-hour; onshore windfarms have achieved similar rates.
Further reductions are expected; tycoon Sir Richard Branson has even predicted there will be "almost ... no energy costs at all" within a few decades.
The rapidly decreasing price of renewables, coupled with the guaranteed price over such a long period, threatens to make the Hinkley deal even more expensive than the estimated subsidy of £30bn.
The NAO report criticised the chosen method of subsidising the £18bn plant, which could not have been built without some kind of support because of high upfront costs.
"The department's deal for Hinkley Point C has locked consumers into a risky and expensive project with uncertain strategic and economic benefits," it said.
"While committing the developer to bearing the construction risks means taxpayers and consumers are protected from costs over-running, consumers could end up paying more for Hinkley's electricity than if the Government had shared these risks."
And the NAO warned that the taxpayer or energy consumer might end up footing the bill anyway if Hinkley hits major problems.
"Past experience shows that ultimately these risks could shift back to taxpayers or consumers," the report said.
"If the project runs into trouble, the Government may need to fund alternatives to ensure secure supply, or come under pressure to renegotiate its deal. The department did not sufficiently appraise alternative ways to structure the deal."
Richard Black, director of the Energy and Climate Intelligence Unit, praised the NAO for highlighting "a number of factors that potentially made Hinkley Point C more expensive than it needed to be".
"The costs of renewables and smart power technology are changing much faster than the Government predicted, and what might have looked good value 10 years ago looks much less so now," he said.
"Arguably new nuclear build isn't compatible with the Government's smart grid ambitions, and the NAO is surely right to recommend reviewing the case for nuclear power once in every parliament."
Boris calls Hinkley 'a disgrace'
And Nina Schrank, an energy campaigner at Greenpeace UK, said the report was "a damning indictment" of the Government's decision to go ahead with the deal.
"It reveals that by the time the Government had signed off the deal, it was already a busted flush," she said.
"This year's school leavers will still be paying for Hinkley when they approach their pension age, so it is concerning that the National Audit Office is suggesting it may not be worth their money.
"The Government didn't even consider the impacts on bills beyond 2030. Their assumptions about the cost of renewables, especially offshore wind, were wildly inaccurate.
"Long before Hinkley is even finished, offshore wind will be producing far cheaper and safer power. The nuclear new-build programme should be halted for better alternatives that will meet our energy needs and provide jobs in the regions."
James Court, head of policy at the Renewable Energy Association, said the Government had spent 10 years pushing for Hinkley Point C to be built, stressing its "value for money".
But he said: "The Government has recently been ignoring the most cost-effective of all forms of electricity generation available right now – renewables.
"Solar and onshore wind are now cheaper than new gas and can be built quickly. New energy storage and flexibility technologies are rapidly developing and can be relied on to manage variability.
"Renewable energy and clean tech costs are rapidly falling. Renewables are now providing around a quarter of the UK's power and have composed the overwhelming majority of new generation capacity installed in the past five years."
EDF insisted the NAO report showed the power station "remains good value for consumers compared with alternative choices".
"Consumers won't pay a penny until the power station is operating and it is EDF Energy and CGN who will take the risk and responsibility of delivering it," it said.
"The project is having a major impact on the UK's industrial capacity, jobs and skills. Relaunching the UK nuclear new build industry at Hinkley Point C will enable costs for future projects, in particular Sizewell C, to be lower."
The Department for Business, Energy and Industrial Strategy said in a statement: "Hinkley Point C will be the first new nuclear plant in a generation. This was an important strategic decision to ensure that nuclear is part of a diverse energy mix.
"Consumers won't pay a penny until Hinkley is built; it will provide clean, reliable electricity powering six million homes and creating more than 26,000 jobs and apprenticeships in the process."
Join our commenting forum
Join thought-provoking conversations, follow other Independent readers and see their replies