Could the Government's £18bn Hinkley Point power station deal really collapse?
The Big Question: An EDF executive has resigned over concerns the project could bring the company to financial meltdown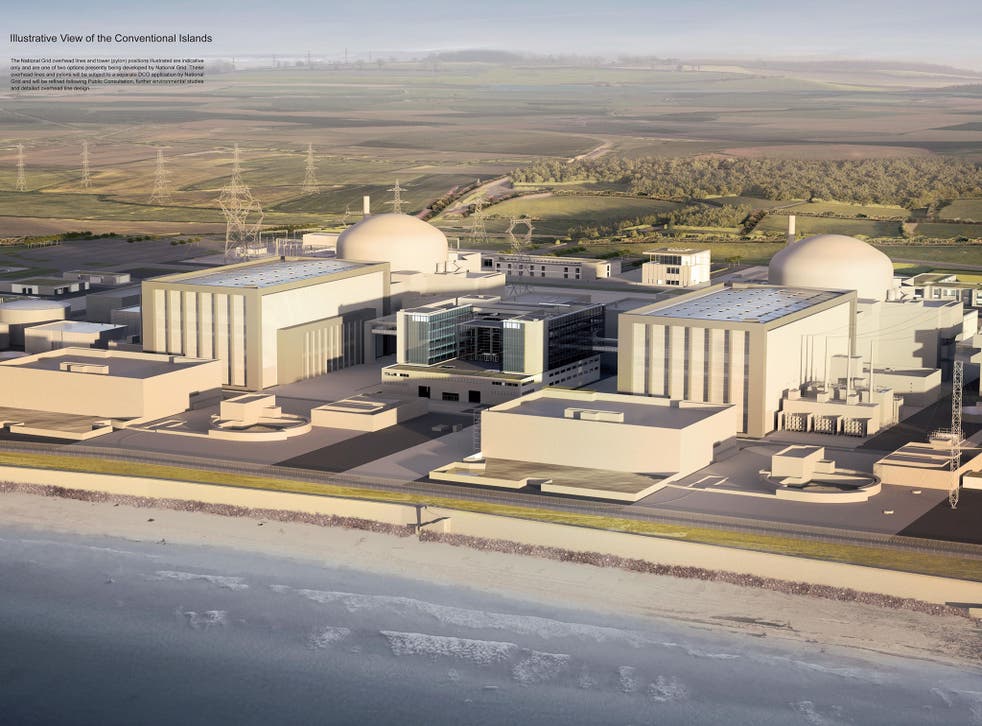 Why are we talking about this now?
Thomas Piquemal, the financial director of EDF, has resigned amid fears that the £18bn project to build two new-generation nuclear reactors at Hinkley Point in Somerset could bring the company to financial meltdown. He had wanted to delay a decision on whether to proceed by another three years.
His departure is particularly damaging to the project, coming less than a month after its director, Chris Bakken, quit for another job. It sent shares in EDF tumbling by more than 8 per cent at one point on Monday, as the departure of such a major industry figure undermined claims by the project's supporters that opposition is driven by a general hostility to nuclear power or French involvement.
Martin Young of RBC Capital Markets, a highly respected utilities analyst, summed up the growing opposition to the project by declaring that "to proceed with Hinkley Point C at this juncture would be verging on insanity. Mr Piquemal's resignation arguably suggests exactly that".
---
Why is the project so radioactive for EDF?
Because it relies on a highly complex and largely unproven new nuclear technology that is yet to generate a single unit of electricity – and comes as EDF finds itself under huge financial pressure from issues elsewhere in its business.
Two projects using the same generation of technology as that planned for Hinkley Point – known as European Pressurised Reactors – are in the works in Finland and France, but are already years behind schedule and billions of euros over budget. China agreed in October to invest £6bn in the project, but EDF has struggled to find the other backers it needs to reduce its share of the bill to 50 per cent or less.
---
Could EDF still ditch the Hinkley project?
That is a very real possibility. Although EDF continues to be bullish about the project, it has yet to make a final decision on whether to proceed, pushing back its deadline to decide time and time again over the past three years. The company's board is now due to consider its options at the end of this month, although many expect the decision will be postponed once again.
Several board members representing trades unions and non-state shareholders (the French government owns 85 per cent of EDF) are known to favour cancellation or delay. Mr Piquemal's resignation may have been a last-ditch attempt to influence the board's decision – or a recognition that he had lost his battle against Hinkley Point.
---
Why has the UK agreed to such a high price?
At £18bn, it would be the most expensive power station ever built. EDF insisted on securing a significant financial support. And because the plant would generate 7 per cent of the UK's entire electricity consumption (enough to power five million homes) without producing carbon emissions and without the problems of intermittent generation posed by renewable energy, the UK Government apparently felt it had little option but to agree.
Chancellor George Osborne has also closely aligned himself with the project, adding to the incentive to strike a deal with EDF.
The Government has agreed a deal that would guarantee EDF a price of £92.50 per megawatt hour of the electricity it generates, rising with inflation, for the first 35 years of its expected 60-year life. The price guarantee will see EDF receiving an estimated total of between £4.4bn and £19.9bn, with the precise amount depending on the cost of electricity, which will determine how much money needs to be added to reach the guaranteed price.
Although that is lower than the guarantee that offshore windfarm developers are currently securing – which varies from project to project but is around £120 megawatt hour at the moment – this lasts for only 15 years, meaning the support for EDF is likely to be considerably greater over the course of its lifetime.
---
Click HERE for larger annotated version of the graphic
When is construction due to begin?
Terracing and other site preparations have been going on intermittently for several years, but the first concrete is not due to be poured until 2019. Generation is scheduled to begin in 2025, eight years later than originally planned.
Assuming the project does go ahead, construction is expected to create 5,600 building jobs at its peak and up to 25,000 positions in total.
---
Why is the Government supporting nuclear power while cutting subsidies to green energy?
The Government believes that nuclear is the best way to keep the lights on in the future because it is able to generate huge quantities of low-carbon electricity and deliver it in a consistent, predictable flow. This gives it an advantage over renewable power, which is intermittent because the wind doesn't always blow and the sun doesn't always shine. In addition, nuclear has a big advantage over fossil fuels, which emit huge amounts of CO2.
But campaigners argue that nuclear power is rapidly losing its advantage over renewable energy because methods of predicting wind activity, managing energy consumption and storing electricity are rapidly improving.
---
What are the alternatives if the Hinkley deal collapses?
It would leave a big hole in Britain's electricity supply from the second half of the 2020s – and, if not dealt with, the shortfall would be closer to 15 per cent of consumption than the 7 per cent Hinkley would have represented. That's because another nuclear plant at Sizewell in Suffolk is planned on the heels of Hinkley, and it's generally accepted that one won't happen without the other.
Even if both projects fell through, however, Britain still has time to find alternative sources that should avert the danger of regular blackouts. Hinkley Point isn't due onstream until 2025, and the Sizewell one year later, leaving time to install other forms of energy, all of which are quicker to get up and running than nuclear. To a certain extent, gas may be able to pick up some of the slack. But because of tough climate targets and an end to onshore wind, offshore wind is looking like the best bet.
Register for free to continue reading
Registration is a free and easy way to support our truly independent journalism
By registering, you will also enjoy limited access to Premium articles, exclusive newsletters, commenting, and virtual events with our leading journalists
Already have an account? sign in
Register for free to continue reading
Registration is a free and easy way to support our truly independent journalism
By registering, you will also enjoy limited access to Premium articles, exclusive newsletters, commenting, and virtual events with our leading journalists
Already have an account? sign in
Join our new commenting forum
Join thought-provoking conversations, follow other Independent readers and see their replies