Holidaying with a bike nut: Cycling obsessive Rob Penn convinces his wife to saddle up
Rob has made several attempts to turn his wife into a cyclist, but Vicky has never taken the bait. This spring, he decided to try a new approach...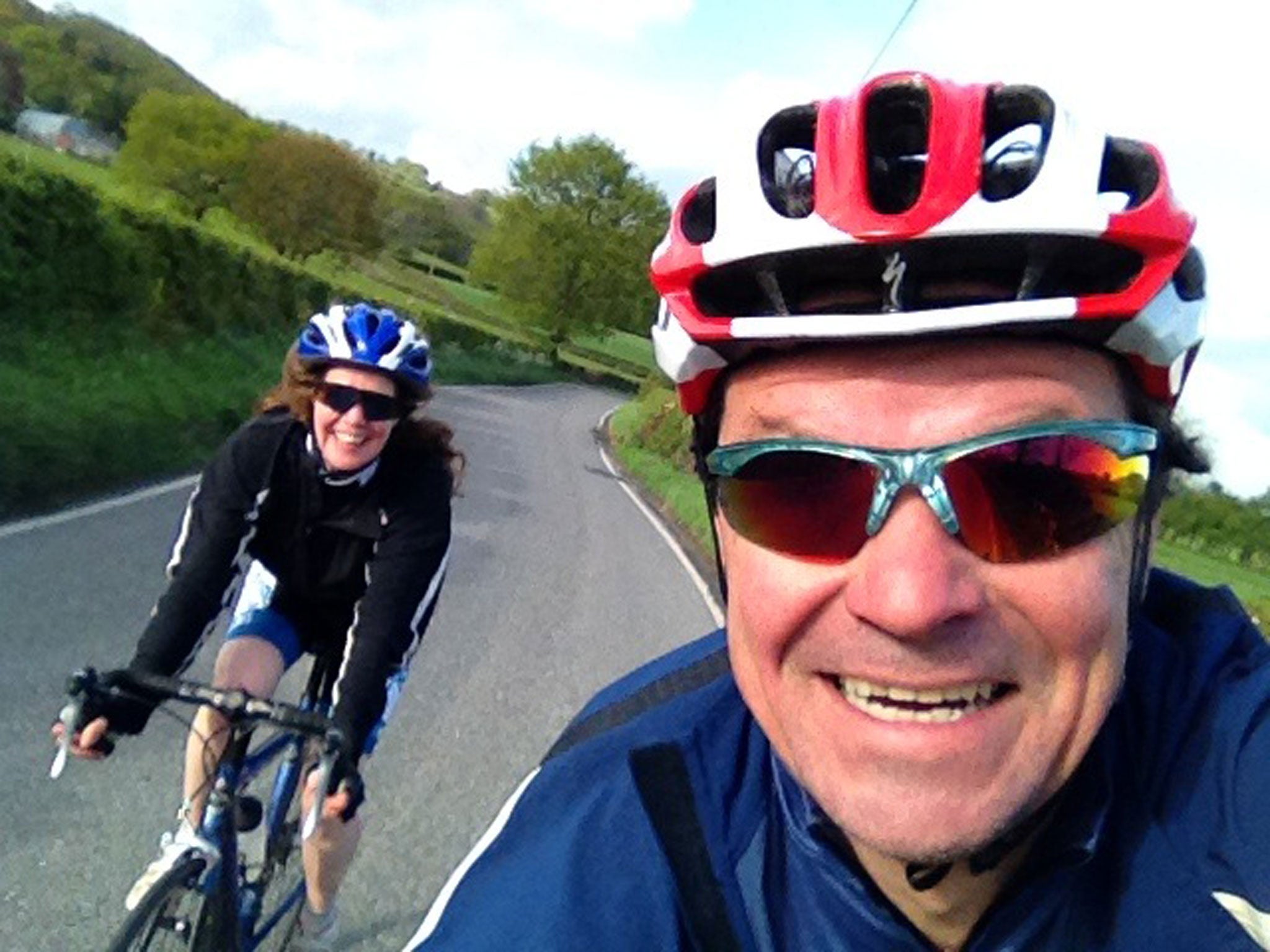 The Prologue
Rob: I have made several attempts to turn my wife into a cyclist, but Vicky has never taken the bait. Nearly 15 years ago, when we were engaged, I gave her a mountain bike; 10 years ago, I lovingly restored an old ladies' hybrid; a year ago, I bought her a second-hand road bike and a pair of shoes with cleats. We did go for a few short rides together, along the lanes where we live in the Black Mountains. Soon enough, though, that bike was gathering dust at the back of the shed, alongside the mountain bike and the hybrid. I'm a great believer that you should have your own individual interests within the framework of a marriage, but cycling is different – at least for me. There's nothing I don't like about riding a bike, and I feel the need to share that passion.
Vicky: Rob rides a bike every day, for a variety of reasons. He takes the dogs mountain-biking; he travels round the UK by bicycle and train; he's involved in a cycling-holiday company; he has written books about the bicycle; he even rode a bicycle around the world. I suppose I'm a cycling widow, but I don't mind. Generally, he's in a better mood after a ride, and our three kids are into it. Very sweetly, he has tried to encourage me over the years. He has bought me bikes and various bits of gear. Most recently, he bought me a road bike with a saddle hewn from granite. I'm still waiting for the penny to drop, though. I'm just not sure how you can have a moment of epiphany when your bum is hurting.
Holidaying with a bike nut
Show all 17
Grand Depart
Rob: This spring, I decided to try a new approach – combine cycling with things that Vicky loves: swish hotels and good food. I first read about the Harbourmaster Hotel in the pretty, Georgian seaside town of Aberaeron long ago, but I came across it again when I was researching routes for a ride across Wales with my daughter at Easter. Glyn Heulyn, the hotel owner, is a keen cyclist; there are cycling routes on the hotel website and Glyn writes a blog about his rides around the scenic lanes of Ceredigion, a distinct and beautiful part of the country. The hotel is renowned as a bastion of chic, and faces the Irish Sea. Perfect, I thought: boutique hotel, good food, sea air and a couple of bike rides. I would sell it as a "mini-break". Later, I'd suggest throwing the bikes in the car.
Vicky: Even though it was a poorly disguised attempt to lure me into going for a bike ride, I could hardly resist a night at the Harbourmaster Hotel, and I love west Wales. More than that, though, it's time I took cycling more seriously. My daughters, aged 12 and 11, can now cycle further and faster than me. Rob takes them off on two-wheel adventures and they always come back saying I wouldn't be able to keep up.
Stage One
Rob: Glyn was in the hotel when we arrived mid-afternoon. His wife, Menna, is also a keen cyclist and Glyn was sympathetic to Vicky's request not to be "killed by the hills before dinner". He lent us an OS map and suggested a route. I tuned the bikes and pumped the tyres while Vicky had a cup of tea. A blustery wind was blowing off the sea and up the Aeron Valley as we set off.
I tried to get Vicky to "hold my wheel" – pedal close behind me, to reduce the wind resistance and make the cycling easier. She was having none of it. I also encouraged her to pedal hard through dips and over the top of rises, to keep momentum. She wasn't having any of that either.
We crossed the Aeron and Arth rivers, then it was up through Pennant, Cross Inn and Bethania, on to an escarpment. I could feel the mountains on the horizon beckoning: Glyn had mentioned some of the climbs you can take in on a long day-ride from the Harbourmaster (Abergwesyn, up to Llyn Brianne and the road over to Ammanford are all "climbs with boasting rights attached", as one friend put it). Another time, perhaps.
Vicky tired a bit on the road back to the hotel, but she was soon smiling again when we hit the sea. We had clocked 48km, with 546m of vertical ascent, at an average speed of 18kmh. Vicky wasn't very interested in the ride stats.
Vicky: I was nervous riding along an A-road as a few big trucks passed us heading out of Aberaeron. Rob was full of advice and encouragement – change gear, pedal hard, stand up, ride closer to his wheel – but it was all white noise. Once we were on the lanes, I was busy looking at the wild hedgerow flowers: lovely clumps of greater stitchwort, pink campion and bluebells.
There seemed to be a lot of climbing. I have different gearing on my bike (Rob told me that), which makes pedalling uphill easier, but slower. I'm always thinking of ways to distract Rob and slow him down. At one point, on the long climb to Bethania, I asked him what he thought about teenage pregnancies. We have a daughter about to become a teenager. He went off on a long rant and that took the wind out of his sails for a bit.
I loved the ride along the escarpment – the grand views towards the Cambrian mountains, the rows of beech trees leading to old farmsteads, the unpronounceable poetry of the place names. At one point, on a very steep section, Rob asked me to model for a photo: he made me ride up and down one section of road three times, and I'm not good at hill starts with cleats. There'd have been trouble if I'd fallen off. Then, suddenly, the pain was over as we whooshed down past green fields, back to the sea and a glass of beer overlooking the harbour. Rob always says one of the reasons he rides a bike is to renew the pleasure in eating. I was hungry – and dinner tasted really good.
Stage Two
Rob: Sea air, exercise and a comfortable bed meant we both slept well. Glyn recommended another route, following the coast south, past New Quay. Vicky was in good spirits when we set off, but the first 15km were uphill, with one brief interlude. The 40kmh headwind was a killer. I tried to keep close to Vicky, to shield her from the wind. At one point, labouring up a steep, exposed incline, we were going so slowly that my GPS device thought I had actually stopped.
At the café by the beach in Cwmtydu, Vicky suggested I ride back to Aberaeron on my own. I could then pick her up in the car. Obviously I couldn't have advocated it myself – you don't ask your wife to go for a bike ride and abandon her halfway, when you're bored – but I was secretly delighted. I tanked the 25km back to the hotel, releasing the endorphins that keen cyclists come to crave. The climb, away from the sea through the heavily wooded valley to Llwyndafydd, was spectacularly lovely, sunlight illuminating the fresh, lime-green leaves.
Vicky: I loved breakfast. I had granola, fruit, yoghurt and honey followed by smoked salmon and scrambled eggs with toast, all consumed guilt-free. Rob tuned the bikes again – it's handy having a mechanic on call – and we set off along the coast in sunshine.
My legs were tired from the previous day and I found it hard going uphill. We were going slowly, very slowly for Rob, and he was getting frustrated. We've been married for 13 years and I know the signs: think of a grumpy bear in a cage, being prodded with sticks. We got some wind protection from a high hedge of electric-yellow gorse then, finally, we started to descend, 10km down to the tiny pebble beach at Cwmtydu.
It's amazing how your mood changes from one moment to the next on a ride. We had a coffee outside the café, in warm sunshine. It was lovely. But I knew I didn't want to cycle back. I also knew Rob wanted to have a "proper stretch of the legs", as he says – so I ordered another coffee and sent him back for the car. I felt a bit like a princess, but it was the perfect arrangement. Inadvertently, we'd stumbled across a way we could go for a ride together yet both get what we wanted out of it. We might even do it again.
Robert Penn is the author of 'It's All About the Bike: the Pursuit of Happiness on Two Wheels', published by Penguin
Join our commenting forum
Join thought-provoking conversations, follow other Independent readers and see their replies