How 2012 cold spring drove away long-distance migratory birds
Huge numbers of Sand Martin and Grasshopper Warbler either died or flew on the sunnier climes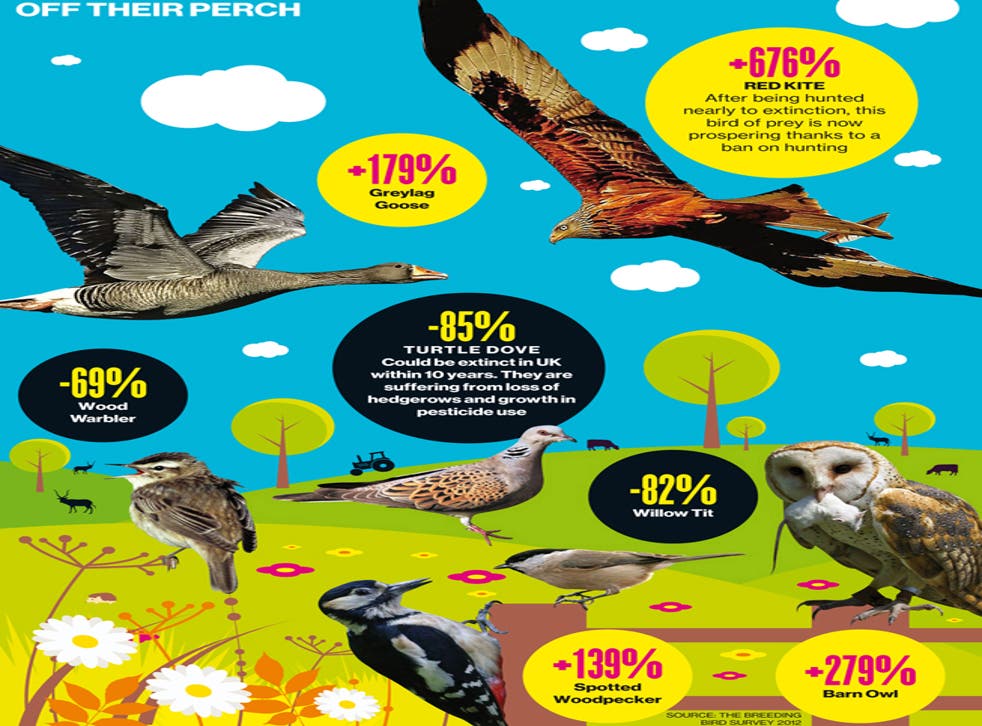 Long-distance migratory birds such as the Sand Martin and the Grasshopper Warbler stayed away from the UK in droves last year as a brutal combination of cold and wet spring weather killed huge numbers on route from Africa and forced others with enough energy to fly on to sunnier climes.
Click image above to enlarge graphic
The number of Grasshopper Warblers visiting Britain dropped by nearly three quarters last spring, while the seasonal Sand Martin population fell by more than half. Wood Warbler and Sedge Warbler populations fell by about a fifth, according to the latest Breeding Bird Survey.
Every year millions of birds migrate to the UK in April and May to breed, many of them from as far away as Africa - a journey made considerably more difficult in the face of the wettest UK spring since records began in 1766 and an unseasonably cold snap.
"It takes a lot of energy to fly thousands of miles and many birds either die on the way or arrive exhausted and then die. It is especially tough for a small bird like a warbler which can't hold much energy," said Nik Shelton, of the RSPB, one of the organisations behind the survey.
But while seasonal fluctuations are unfortunate, longer-term declines in Britain's bird populations are of much greater concern, the survey warned.
The turtle dove population has dived by 85 per cent since the survey began in 1995 as these seed-eating migratory farmland birds suffer from a loss of countryside hedgerows and rising pesticide use.
If the decline continues, the species could become extinct in the UK within a decade, Mr Shelton warns.
The insect-eating, woodland-dwelling Wood Warbler is also suffering badly, with its numbers down by 69 per cent in the past 18 years. The bird is suffering from bad woodland management, which has left many areas too densely-populated with trees, Mr Shelton says.
But there is considerable cause for comfort. The Red Kite has made a remarkable comeback in recent years after a sustained period of hunting over the centuries had left the bird of prey close to extinction. But a ban on hunting and the injection of 93 new birds into the countryside in the late 1980s and early 1990s has pushed up the Red Kite population nearly seven times over since 1995.
Last spring's disappointing migrant bird turnout was in stark contrast to 2011 when high levels of rainfall in the Sahel region of Africa, increased the number of migrant warblers in the UK. This year the number is expected to be lower than normal - but higher than last year - because the spring was much drier, Mr Shelton said.
Join our new commenting forum
Join thought-provoking conversations, follow other Independent readers and see their replies